US automakers aim for luxury market in China
China is the new El Dorado for US automakers looking to develop sales of their luxury brands, which globally are lagging behind German and Japanese competitors.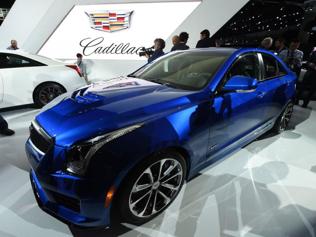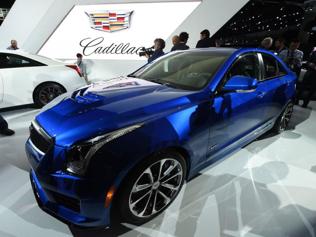 The-Cadillac-2016-ATS-V-coupe-and-sedan-make-their-world-debut-at-the-LA-Auto-Show-Photo-AFP
China is the new El Dorado for US automakers looking to develop sales of their luxury brands, which globally are lagging behind German and Japanese competitors.
General Motors, the largest US automaker, already sells more cars in China each month than it does in its home market and expects that to continue.
'Our joint ventures in China are working to boost production capacity by 30 percent to more than five million units annually by 2015,' GM executive Mary Barra told the firm's annual shareholders meeting.
GM launched a Chinese-produced luxury sedan, the XTS, last year and is steadily adding more vehicles to its Cadillac range.
'Cadillac is already a very profitable business for us today and GM expects to see substantial growth for its luxury brand over the next few years, particularly in China where young consumers are open to new brands,' said Dan Ammann, GM president.
GM a few months ago poached Johan De Nysschen, the former executive of Nissan's luxury Audi and Infiniti brands, to head the Cadillac brand.
The nameplate, part of GM since 1909, traces its roots to the French founder of Detroit -- today the heart of the US auto industry -- Antoine Laumet de La Mothe, Sieur de Cadillac.
China will become a 'volume hub' for the Cadillac brands, De Nysschen said recently.
China, the world's largest auto market, accounts for about 25 percent of global luxury car sales and its share is only growing. German automakers including Audi, BMW, Mercedes and Volkswagen hold about 80 percent of the 'premium' market.
Cadillac will soon launch in China a new full-sized sedan for owners who use a chauffeur and a smaller sports utility vehicle, burnishing the brand's reputation for building distinctive vehicles, he said.
'China has indeed has been a very rewarding market for GM. We've benefited from the tremendous growth. China has taken a very big role in GM and China's voice is a very strong voice within GM,' GM China president Matt Tsien said during a recent conference in Wuhan. GM created the post in January to coordinate the US company's growing operations in China.
- Ford in Lincoln drive -
But General Motors is not the only US company looking at luring the Chinese high-end buyer. Ford Motor Company has just launched its Lincoln nameplate there.
The Dearborn, Michigan-based Ford, the number-two US automaker, hopes to sell more than a million cars in China this year for the first time and is banking on the appeal of a reimagined Lincoln.
The best-selling luxury brand in the United States two decades ago, Lincoln has been lagging behind luxury German and Japanese sedans.
In October Ford launched its first vehicles under the Lincoln brand in China, especially designed for the market: a mid-sized sedan, the MKZ, and a compact SUV, the MKC.
In early November, Lincoln opened its first dealerships in Beijing, Shanghai and Hangzhou.
Kumar Galhotra, president of Lincoln, said a total of eight Lincoln stores will open in China by year's end and by 2016, 60 Lincoln stores will be open in 50 cities nationwide, under a marketing program called 'The Lincoln Way'.
'The Lincoln Way demonstrates how a storied brand with a nearly 100-year history is innovating for our Chinese customers while staying true to our roots of personal service,' Galhotra said.
Created in 1917 by former Cadillac executives, Lincoln is named after Abraham Lincoln, the 16th president of the United States. Ford has owned the brand since 1922.
The first US automaker to launch itself in the Chinese market, in the 1980s, is Chrysler, which today is part of Italian group Fiat Chrysler Automobiles (FCA) based in Milan.
But it was a bumpy road for Chrysler, which had teamed up with Germany's Daimler AG, maker of Mercedes-Benz vehicles.
FCA, which sells about 130,000 vehicles a year in China, will soon launch there Fiat, Alfa-Romeo and Chrysler vehicles as well as Jeep, a brand that belongs to Chrysler, with its Chinese partner Guangzhou Automobile Company.
First Published Date:
02 Dec 2014, 15:18 PM IST
TAGS:
NEXT ARTICLE BEGINS