Too refined a sports car?
The GT is Mercedes' replacement for the iconic SLS AMGs. It ticks all boxes but, may not be iconic enough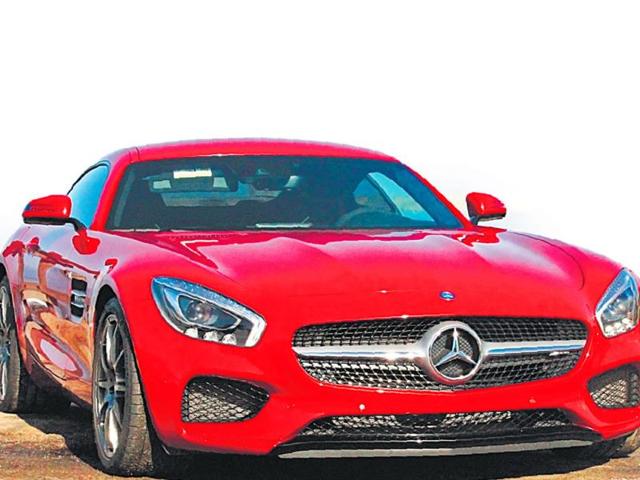 EVERY GREAT car on this planet must have that chutzpah, which differentiates it from every other car. For Mercedes that car was the gull-winged SLS AMG. However, after a near 4-year reign, the SLS has been consigned to the dustbin and we get the AMG GT as replacement.
It is not a direct successor and you may not see it replacing safety cars on Formula 1 circuits. But it is pretty much the halo atop the Merc pyramid. But is the halo big enough?
HEAD TURNER BUT...
A car that costs over a million pounds must surely be turn heads and the AMG GT does. But without those impractical gull wings that made girls swoon and jaws drop it isn't quite as dramatic. Its long snout hosts a V8 4.0 litre bi-turbo engine that takes most of its 4.6 metre length. It isn't quite a looker though. The roof tapers-off to the wide rear, flanked by long LED tail lamps. LEDs also grace the front lamps so there is everything that you desire but nothing that you haven't already seen.
IN COMMAND INSIDE
We have to say upfront that the cabin of Mercedes' GT is by far the best we have seen. The Porsches and Jaguars are built to perfection but this Mercedes benefits from the eye for detail and ergonomics that only premium mass-market manufacturers command. Focussed purely on the driver, it is a welcome change to not have too many buttons as technologies such as the touch pad, roller dial and voice commands take care of most needs. The seats are low-slung and visibility is compromised, but they are comfortable for the long haul. While the Porsche's cabin feels a little dated and the F Type's a trifle tacky, the AMG GT has the perfect seat behind the wheel.
AT EASE ON TRACK
The ultimate test for a sports car is on the track and the AMG GT fares surprisingly well there. Why surprising? Because it has the mighty 911 to contend with. The bi-turbo engine that belts out 462 PS power and 600 NM torque for the GT version helps it hit 100 kph in 4 seconds or a shade under that. That is better than the F Type but not quite there with the 911 Turbo. It is an engineering marvel with a lot of weight reduction over the SLS AMG and an almost ideal 47:53 weight distribution between the front and rear of the car. Power is channelled through a 7-speed dual-clutch transmission, which together with everything else makes the GT a car that both novices and experts would love.
SO WHAT'S BUGGING?
A big draw for any super car is its sound and while AMGs have a sweet note of their own, the GT falters here. An Italian car would have won hands down. But for the lack of them and the fact that Porsche too doesn't produce many singers, it is the F Type's baritone that wins the round. GT's suspension set up feels a little too hard, which would be great for a sportscar but a bit off-mark for a cross-country haul. Beyond a hundred kilometers, it will give you a back ache. Its balance and poise remain its greatest strengths and the GT is the perfect hallmark of all things Mercedes. If only, it had those gull wings we would not be looking for a chink in its armour.
First Published Date:
26 Dec 2014, 03:07 PM IST
TAGS:
NEXT ARTICLE BEGINS