Tata Nexon vs Ford EcoSport: We have a clear winner in this battle of petrol engines
The Nexon diesel has received quite a lot of praise, but is the petrol version as good. We pit it against the petrol version of Ford's EcoSport to find out.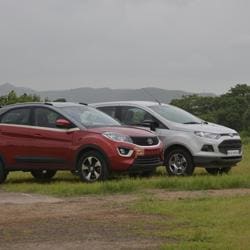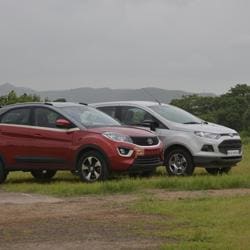 It's Tata's new Nexon, powered by a 1.2-litre turbocharged petrol engine, against Ford's 1.5-litre petrol EcoSport. Who will be the winner?
With prices of fuel only heading north In India, and with diesel not as affordable as it once used to be, we're seeing a shift from diesel to petrol as buyers slowly become wary of diesel cars. For this test, we've pit Tata's new Nexon, powered by a 1.2-litre turbocharged petrol engine, against Ford's 1.5-litre petrol EcoSport.
What are these cars like on the inside? With most recent Tata cars, the company has drastically improved its quality of interiors. The Nexon's interiors are the best yet - the design isn't over the top but is stunning. Material quality is better than that of the competition, and that includes the plastics, metallic bits and chrome surfaces. And while, fit and finish, though, could have been a bit better, there' very little to faulr in this otherwise stunning interior. The front seats are nice, broad and have soft cushioning which feels quite snug. At the back, the sloping roofline and high beltline rob it of some airiness, while the narrow rear windshield does obstruct your view out the back. This is a spacious cabin - you get good legroom and enough headroom for large frames, but the rear seats do feel a bit too soft, which could be an issue on longer drives.
The Nexon in its top 'XZ+' avatar here is generously equipped with features. You get climate control, cruise control, drive modes, a smart band to use as a secondary key, rear AC vents, a 6.5-inch touchscreen compatible with Android Auto and the Harman-developed audio system. On the safety front, you get dual airbags and ABS as standard, apart from EBD and Isofix mounts for child seats.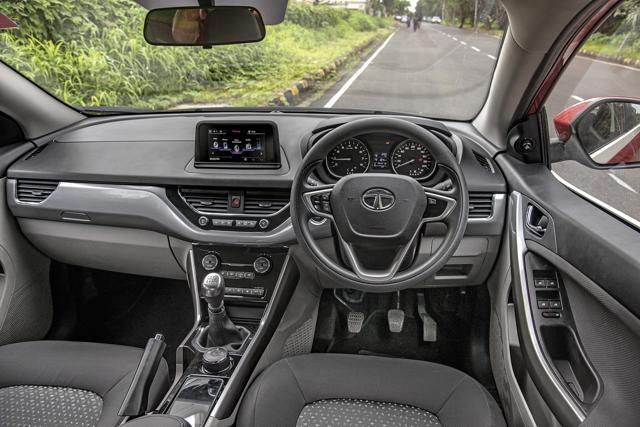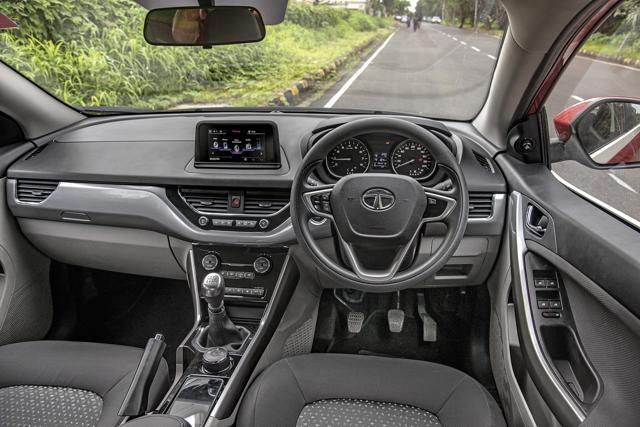 The EcoSport has started to feel dated on the inside - the dashboard layout looks almost primitive in comparison. Despite fit and finish being better than the Tata, the Ford lacks the Nexon's feel-good factor. There is a lot stuff that is appealing though - the seats have better cushioning for long drives (they are a bit harder), the legroom in the rear is just as good, visibility out the back is better and headroom is better too. All in all, it's still a practical cabin. The EcoSport's Titanium trim comes with an 8.0-inch touchscreen but without Fords SYNC 2 infotainment system, and Apple CarPlay or Android Auto. As optional extras on the Platinum version, you can opt for bigger 17-inch alloy wheels, cruise control and a rear-view camera as well. On the safety front, you get two airbags, ABS, EBD and Isofix mounts.
The Nexon's newly developed three-cylinder engine is based on the petrol unit used in the Tiago, and it makes a strong 110hp here. The Nexon's petrol engine feels refined and silent - you can set the car to run in three drive modes, Eco, City and Sport. The engine responds in a positive manner, and the Nexon marches forward smartly for the most part, it's only when you put your foot down that you can feel a slight hesitation before power comes in. The engine feels smoothest in 'Sport' mode - performance is quite strong in this mode and you can hit 100kph in a time of 12.33sec, which is over a second faster than the 1.5 petrol EcoSport. Eco mode, as expected, is by far the least exciting of all modes. The gearbox wasn't the best to use - gears don't always slot in well, you 'miss' gears at times when you are in a hurry.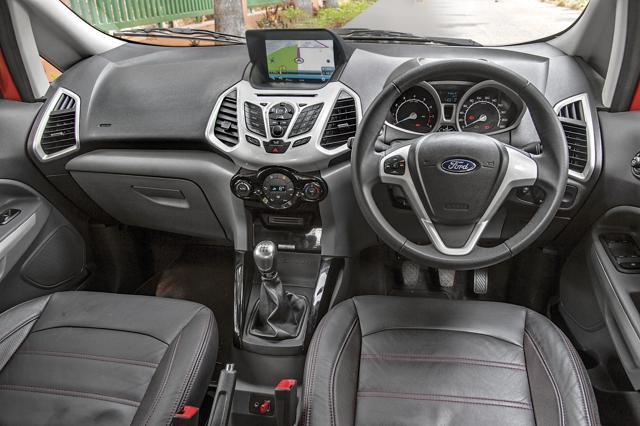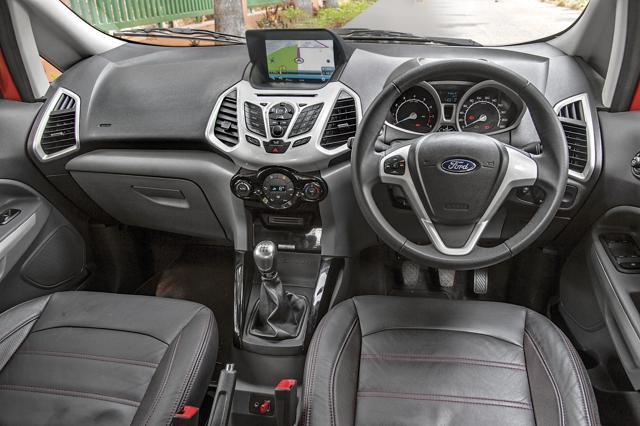 The Nexon handles well, it's light, fast and zippy and there's a fair amount of grip. The car feels confidence-inspiring even when you're taking turns briskly. Ride quality is supple and absorbent, and while most bumps and broken roads are tackled well, it's only the really sharp ones that enter the cabin. At highway speeds though, the EcoSport feels a lot more stable than the Nexon.
While the Ford's engine is more powerful (on paper) and initial responses are good, once you put your foot down on the accelerator, power takes quite long to come in. You need to constantly work the five-speed manual gearbox and keep going down a gear. Flat-out, this car feels better and more responsive though, but its 0-100kph time of 14.01sec is telling is a good 1.7sec off the Nexon's time. The Ford feels more stable in a straight line and it handles sharp turns better as well. Ride isn't as absorbent as the Nexon but it's decent, albeit a bit firm, at low speeds.
Prices aren't out yet but the Nexon XZ+ could undercut the EcoSport, which is priced around ₹8.50 lakh. While the EcoSport's performance, comfort and overall driving manners are impressive, and it is a great car to own, the Nexon just does a lot of things better than the Ford. It's more attractive, features a much nicer interior and the car comes loaded with tech, while the EcoSport has started to feel a little dated. The petrol engine in the Nexon offers a good amount of punch, the car is quite agile and ride is very comfortable overall. Of the two cars in this test, the Tata makes the most sense.
First Published Date:
23 Sep 2017, 12:03 PM IST
TAGS:
NEXT ARTICLE BEGINS