Suzuki's sporting bet
Fairings bring a whole new dimension to the Gixxer, the Japanese major's flagship motorcycle in India, making it track-ready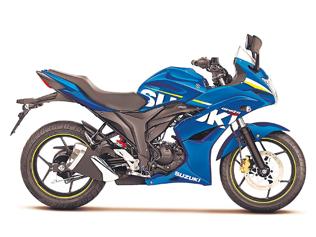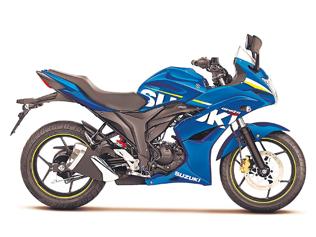 Gixxer-Not-just-good-looking
Japanese bike maker Suzuki launched its big g est bet on India, the Gixxer, last September. Though the company has been present in India for long, first in tie-up with TVS and later on its own, it has never had a flagship model in the country, and that was what the Gixxer was.
Modelled on Suzuki's iconic litre-bike, the GSX1000 (called Gixxer by its fans worldwide), the Gixxer is a modest 155-cc sportsbike that aims to fill the youth's yen for adrenaline without busting the bank.
While it has not exactly set the market on fire, the Gixxer has met with decent success and bagged numerous awards in 2014. Suzuki has now gone ahead to give it what it really needed - fairings. Thus was born the Gixxer SF, launched in the first week of April, priced just short of ₹ 84,000 (ex-showroom, Delhi).
The premium looking Gixxer SF has aerodynamic full sport fairing (hence SF). Suzuki says the fairing has been developed in the same wind-tunnel where the company's legendary superbikes, the Hayabusa, GSX-R and MotoGP machines, are developed.
The results are obvious. Apart from looking great, the bike performs a whole lot better than the 'naked' version. There can be no better proof of it than a ride through blasting cross-winds in the highways of Delhi and NCR, and the Gixxer acquits itself creditably, hitting three-digits and holding its line with great stability for a light bike.
The riding stance is nice and upright, as befits a bike designed for commuting, even if 'sporty'. The ride is nice and spunky, though, and taking curves is not an issue at all, though for the track - Suzuki is back on the track with the Gixxer, and is participating in the one-make championship races in Chennai and Coimbatore - the footpegs would have to be suitably pushed back as they tend to scrape the road at the drop of a hat.
The fairing is not just about maximising speed, it also develops high down-force which keeps the bike hugging the road at high speeds, crucial for stability, and for braking at high speeds. On both fronts, the Gixxer acquits itself creditably.
The colour scheme is funky, to say the least - excellent graphics, far-forward mirrors, fluorescent pinstripe on the wheels, aluminium doublebarrel exhaust covers, naked looking rear-end, all give the bike an edgy look that make it a traffic-stopper, and helps it stand out against the competition - mainly the Yamaha FZS, Honda CBR 150R and TVS Apache RTR 160. The exhaust note is a bit muted, though, despite the futuristic outlet.
If there is something one has to complain about, it could be the rear brake. Why, on a premium vehicle, can we not see a rear disk? Especially in a bike that has got the magic branding of the legendary Gixxer, a vehicle that's capable of hitting 120-130 kph! The nation surely wants to know!
First Published Date:
29 May 2015, 11:03 AM IST
TAGS:
NEXT ARTICLE BEGINS