Self-driving cars take a small step closer to reality
Audi and GM luxury brand, Cadillac, have both set their sights on bringing autonomous driving features to their cars in 2016.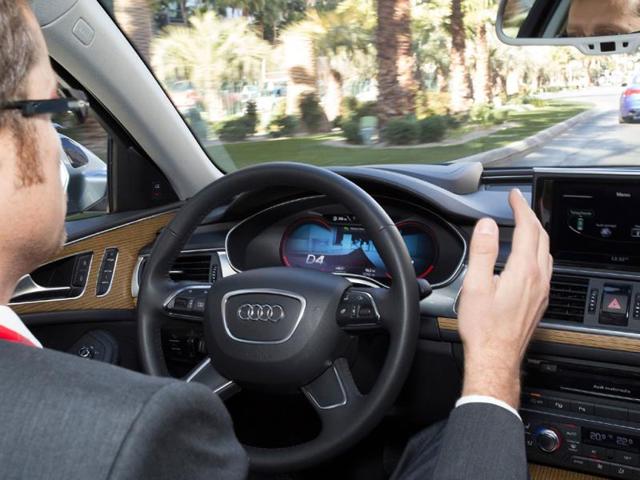 Audi and GM luxury brand, Cadillac, have both set their sights on bringing autonomous driving features to their cars in 2016.
Audi has been wowing the crowds at technology events and auto shows for the past two years with demonstrations of the autonomous driving capabilities it's currently developing.
But until now, the Volkswagen-owned company has been less than willing to put a timeframe on when some of the self-driving features would be leaving the lab and becoming features on actual cars.
However, during a keynote address at the Frankfurt School of Finance, attended by Bloomberg, Audi's CFO Axel Strotbeck detailed a system that would enable a car to follow at a safe distance from the one ahead, automatically accelerating and braking and capable of autonomously adjusting steering to maintain the line, too. He said that the feature would be coming 'very soon', but that statement is being interpreted to mean in 2016.
The date hasn't been plucked out of thin air. BMW, Mercedes and Volvo are all currently putting similar systems through their paces, getting them safe and reliable enough for the real world and, on Monday, GM's CEO Mary Barra confirmed that car2car communication and 'super cruise' technologies would be coming to the Cadillac range in 2016. Super Cruise is GM's term for the same enhanced cruise control technology that its Germany luxury competitors are developing offering semi-autonomous driving capabilities in very specific circumstances, such as on freeways and in traffic jams.
Announcing the addition of car2car communication, a technology that uses wi-fi signals and 3G or 4G mobile internet for vehicles and elements of road infrastructure to talk to each other in order to avoid collisions and eliminate blind spots, Barra said 'We are not doing this for the sake of the technology itself; We're doing it because it's what customers around the world want.' And a report by ABI Research out this week backs up her statement that driverless vehicles will be increasingly in demand, predicting shipments to go from 1.1 million in 2024 to 42 million in 2035 and projecting an 'installed base' of 176 million driverless vehicles.
Mary Barra was speaking at the Intelligent Transport System World Congress in Detroit where a host of car companies demonstrated their latest breakthroughs in the field of autonomous and connected driving. Honda showcased how its system is capable of controlling a car as it merges on to or exits the freeway, as well as changing lanes and making allowances for other cars merging on to the road.
'The creation and deployment of advanced, intelligent transportation systems represent the new frontier in the effort to one day eliminate traffic collisions, injuries and fatalities,' said Frank Paluch, president of Honda R&D Americas, Inc.
As innovative as these new technologies are, none of them can truly replace a human driver, yet and that's because there is still a long way to go before driverless cars are a reality.
The picture that Google paints of a future full of fully autonomous vehicles is very exciting and appealing but we're a long way from that future. Google's fleet of autonomous cars have covered nearly three quarters of a million miles but they're only capable of driving on roads where detailed maps have already been generated. They don't recognize temporary traffic lights, are yet to prove they can drive in snow or rain and they don't know how to navigate carparks.
In a recent MIT Technology Review article, Lee Gomes lists in detail the obstacles still facing Google in getting its cars to be as observant and understanding as even the least attentive human driver when it comes to things like knowing the difference between a pedestrian and a policeman, a piece of crumpled paper and a rock in the middle of the road.
The head of Google's autonomous car project, Chris Urmson has set himself a deadline of solving all of the problems by 2024, when his son is old enough to drive. But in the meantime, traditional carmakers will continue their slow and steady progress towards offering individual autonomous systems that are ready for the road.
First Published Date:
16 Sep 2014, 11:37 AM IST
TAGS:
NEXT ARTICLE BEGINS