Renault Duster without airbags fails Global NCAP car crash test
In the latest Global NCAP safety test results, the Duster scored zero stars in adult occupant protection without airbags and three stars with single front air bag. The child occupant safety was two star with or without the front airbags.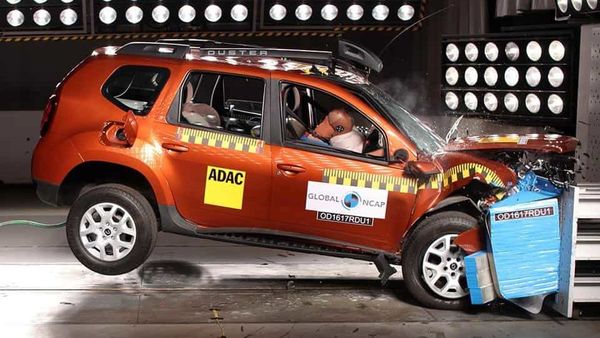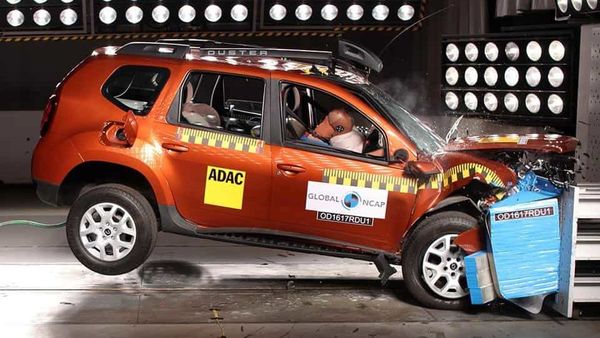 Without airbags, Renault Duster failed to score a single star in the Global NCAP tests.
Popular Indian SUV Renault Duster has flunked a crash test, failing to protect occupants without an airbag, a global safety rating agency said in a report on Wednesday.
In its basic version RXE -- without airbags - the car couldn't even get a single point in Global New Car Assessment Programme's safety test.
India doesn't have vehicle safety norms but the government is working to have guidelines in place by October.
When tested for head-on collision at 64kmph, the Duster was found unsafe for an adult sitting in the front and scored a poor two stars for a child seated in the back.
Five stars is the highest rating the consumer safety testing body gives to cars.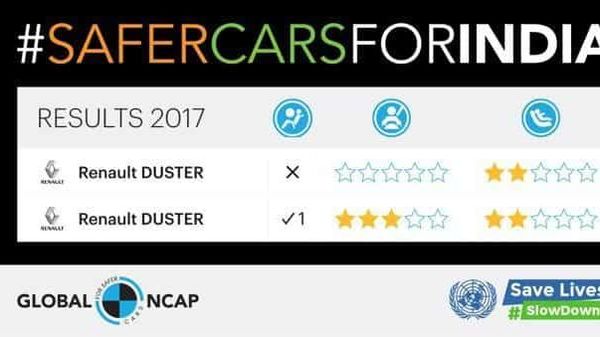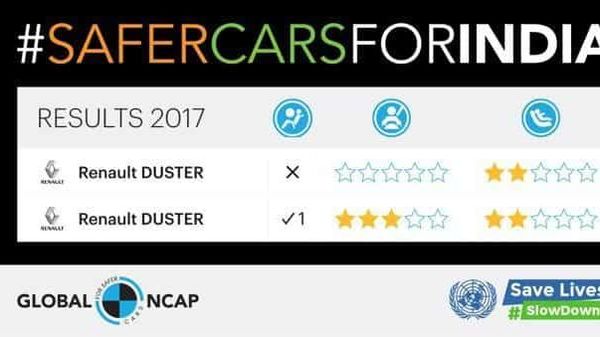 Renault Duster without airbags fails Global NCAP car crash test
"It is troubling that during the UN road safety week we yet again encounter a zero-star car in our crash testing in India," Global NCAP?secretary general David Ward said.
The test says injuries to a Duster driver would be unacceptably high in the absence of airbags.
On the request of Renault India, Global NCAP tested a single driver-airbag version of the Duster, which scored three stars for adult occupants, while the child protection safety got two stars.
The company sells the Duster in three trims of petrol and 13 trims of diesel. The entry-level variants of RXE come with safety features like the antilock braking system, child safety locks, electronic brakeforce distribution (EBD) with brake assist (BA) and engine immboliser.
"Renault produces the Duster in a number of markets and yet it seems content to provide a version for India which falls so far short on safety," Ward said.
This the second Renault vehicle to fail the NCAP test in two years. Last year, the French automobile giant's blockbuster hatchback Kwid failed the test.
"It is very surprising that a manufacturer like Renault introduced the Kwid initially lacking this essential feature. Global NCAP strongly believes that no manufacturer anywhere in the world should be developing new models that are so clearly sub-standard," the NCAP had then said.
Responding to the results, Renault India said: "Safety is of paramount importance for Renault and all our products meet and exceed the requisite safety standards set by Indian regulatory authorities. India is gradually moving towards international safety norms by including more robust safety regulations and the assurance of the Bharat NCAP is a positive step in this direction.
As a customer-focused company, Renault fully supports this initiative and we are already future-ready in terms of technology, design and engineering for enhanced safety for all our vehicles. Indian Government has announced that the crash test regulation for the existing cars will come into effect in 2019 and for the new cars in 2017. Renault fully supports this," the company added in its statement.
Institute of Road Traffic Education president Rohit Baluja called for high safety standards for manufacturers. The maximum speed limit for passenger cars in India was notified at 100kph... "therefore it is of utmost importance that our new generation cars are built to the highest safety standards".
As Duster is a sporty vehicle targeted at the young, drivers tend to speed. "Renault must make the Duster with an airbag as standard, as they do in other parts of the world. Indian consumers should no longer be subject to second-class status from global manufacturers who achieve high levels of safety in other markets," Baluja said in a statement.
Indian cars first entered Global NCAP's test labs in 2014 when Volkswagen Polo, which came with two airbags, scored the highest, three-star, rating. Cars such as Tata Nano, Maruti Suzuki's Alto and Swift, Hyundai i10 and Ford Figo failed the test.
Last year, five Indian cars -- Kwid, Maruti Suzuki Celerio and Eeco, Hyundai Eon and Mahindra Scorpio - didn't even get a single star.
Here's how the vehicle was tested by Global NCAP
First Published Date:
10 May 2017, 02:59 PM IST
TAGS:
NEXT ARTICLE BEGINS