Porsche Panamera Turbo review: This stunner has an engine that could power a rocket
The second-gen Porsche Panamera is a whole lot sportier and it's quite the looker too. There is much more to it than just four doors and four comfy seats. The all-new Panamera has a lot to surprise you with.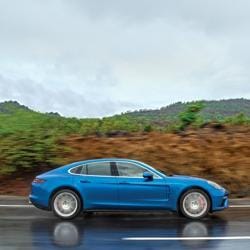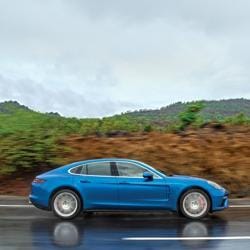 Porsche has unveiled an all-new Panamera seven years after the first model.
Five metres, two tonnes and four doors shouldn't corner, but it does! Just like the bumblebee that shouldn't fly, the Panamera corners like a pro. And this second-generation car does so while looking great too; something the previous one didn't quite manage to pull off.
Seven years after the first model, Porsche unveiled an all-new Panamera. The styling was stealthier, and the profile and rear section looked more 911. The initial reaction was one of immediate appreciation, not quite what the first car enjoyed. The world was warming up to the Panamera, and it's now here to charm Indian audiences. For our drive, we decide to head out of Mumbai onto the fast, straight highway to Gujarat, but there's a light drizzle and grey monsoon clouds ominously loom ahead.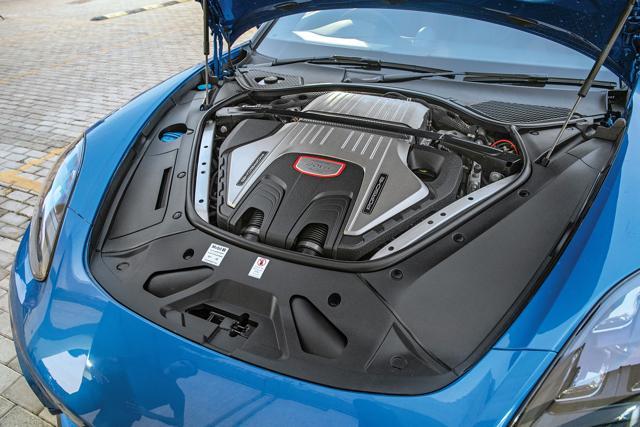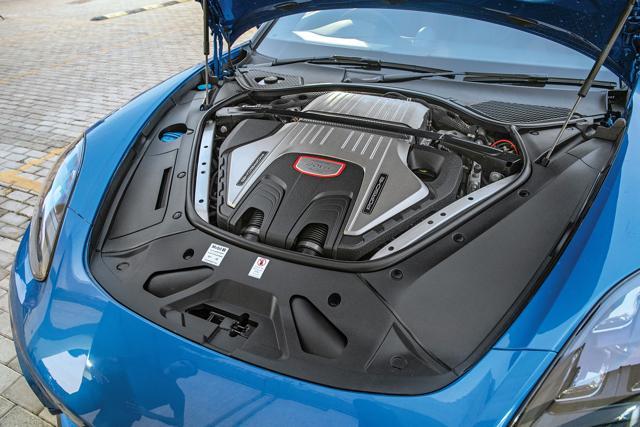 I switch to 'Sport Plus' and the exhausts burble, clearing their throat in anticipation of a stellar audio performance. And the 4.0-litre twin-turbo V8 comes to life, but it isn't as wild or loud as many would like. It's like the car is shying away from the guttural German tone; pity! Velocity build-up, however, is warp quick, and the car despatches straights in one mad headrush. Our testing showed the 550hp V8 pushing the car to 100kph in just 3.58sec. 20-80kph in 3rd is achieved in an equally stunning 2.51sec. Of course, the V8 does have a saner side; it features cylinder deactivation, which means at light loads it runs on only four cylinders.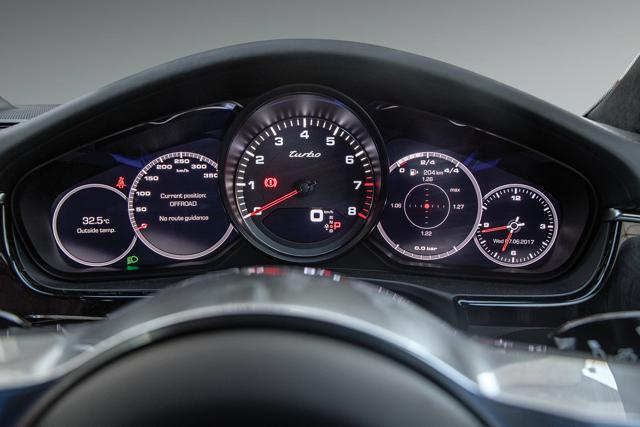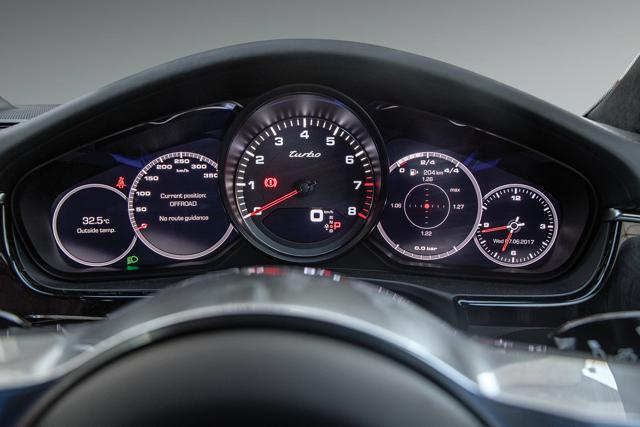 Overtaking on the straights isn't a worry, you can safely and quickly pick out one, two and even three vehicles in one go. The optional Sport Chrono package gets you Launch Control and direct access to the four driving modes - Normal, Sport, Sport Plus and Individual - via a handy steering-mounted rotary switch. 'Sport Plus' calls upon optimal powertrain response and all the complex electronic chassis control systems like the ride-height-adjustable air suspension, the electronic damper control (Porsche Active Suspension Management - PASM), the electromechanical roll stabilisation (Porsche Dynamic Chassis Control Sport - PDCC Sport), and rear-axle steering switch, to a maximum performance setting.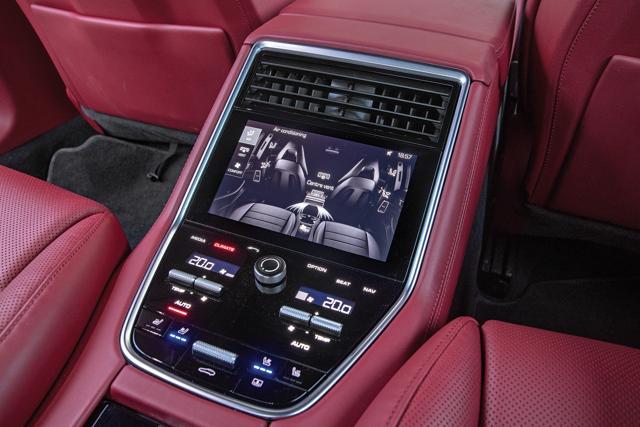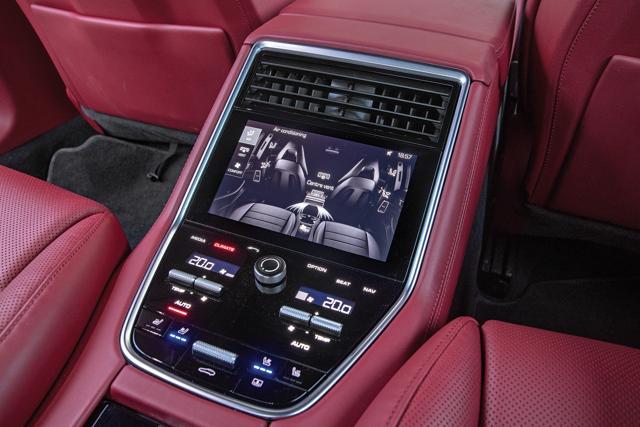 Ever fantasised about nitrous boost in the tuned street racers? Depress the Sport Response button at the centre of the mode dial and you're rewarded with a manic 20sec burst of maximum performance. When activated, the engine response and gearbox shifts are a lot more dynamic than in Sport Plus. The Panamera Turbo rides on air springs all around. The ride is comfortable enough and far from bone-jarring, but there is a hard edge to it in all modes (remember, this four-door has sportscar duties too). On uneven roads, this hunkered-down sedan jiggles about. However, the faster you go the better the Panamera feels, and at high speeds, especially in Sport Plus mode, it feels superbly planted. It is unfazed by crests and undulations but is sensitive to the contours of the road; you have to watch out for sharp ruts and potholes though - the ride height cleverly alters from low, medium to high.
The command centre is suitably impressive for a ₹2 crore car. Gone is the vast array of buttons of the earlier Panamera and instead, you're presented with touch-sensitive surfaces. The centre screen is a large 12.3-inch touch display that is easily one of the best systems around. It's very intuitive to use, has a load of functions and the haptic touch makes you feel like you are pressing real buttons.
The traditional Porsche five-dial display is nestled behind the steering wheel but only the central tachometer is an actual analogue one. It is flanked by two 7.0-inch screens that display the other dials. The screens are customisable for various functions, including a navigation display. Oh, and the front seats have a rather interesting feature - a massage function.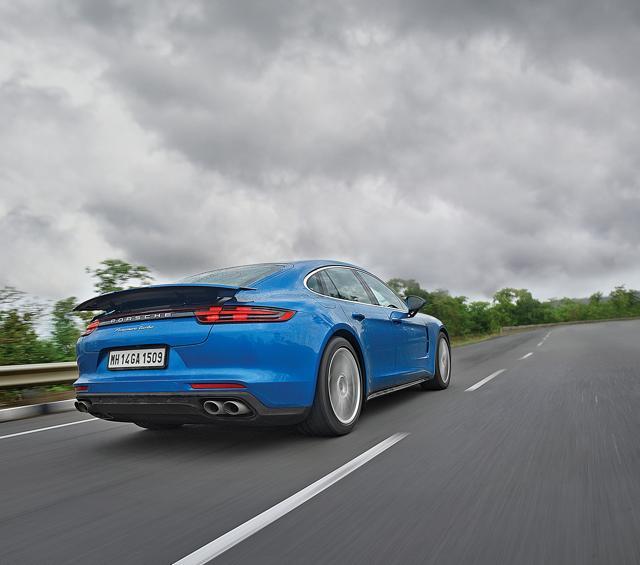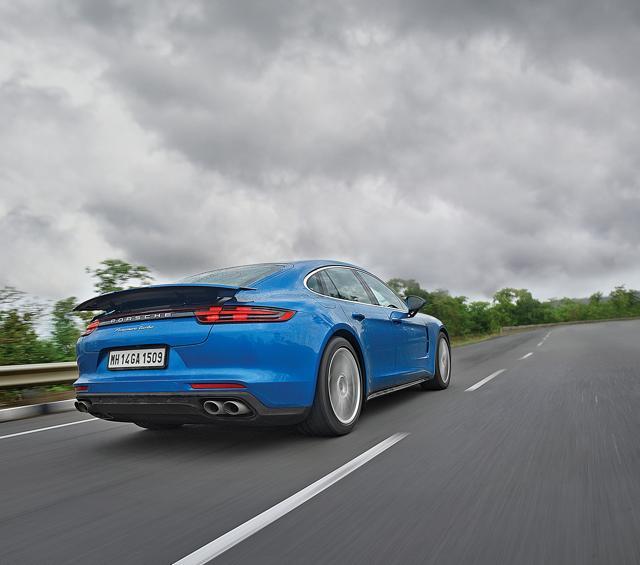 In what seemed like a few fleeting moments, I cover 10km of ghats and our photographer Kuldeep still needs a few more shots. No complaints, I happily do multiple runs. It really is that effortless and rewarding a car to drive. Besides, the roads are drying up, letting me go even faster. But while the brilliant chassis dynamics melt away the size of the car, the five-metre length and near-two-metre width do demand attention on narrow road sections.
After a few hours, I do the unthinkable; I give away the keys to the Porsche and ask to be chauffeured around. Legroom at the rear is more than enough for my 5ft 8in frame. Headroom too is sufficient but with the smaller windows, tapering sides and massive central tunnel, the overall feeling of space isn't that of a luxury sedan. You have to bear in mind this car's alter ego. The large dual sunroofs do help in freeing up some visual space. The seats are individual buckets, power-adjustable for recline and with extendable lower thigh support. Like the ones at the front, they feature the massage function too. The rear centre console has an elegantly styled touchscreen and a few buttons that give you control over the entertainment, climate, navigation and other functions. Like at the front, the centre AC vents are electrically controllable via the touchscreen.
We stop for a break and I, along with a dozen or so bystanders, begin to take in the styling. One glance and there is no mistaking this for anything other than a Panamera. But with a 5mm increase in maximum height and a 20mm reduction towards the rear, the new car has a sleeker and sportier profile; it now looks less wagon-like and is more in tune with the car's sporty nature. Based on Volkswagen's new MSB modular platform, the car has grown to be 34mm longer, 6mm wider and 5mm taller, with a 30mm wheelbase extension. Interestingly, there is also a long-wheelbase version christened 'Executive', and an estate version called 'Sport Turismo'; yes, you read that right. Porsche sees good demand for such cars and they're both heading our way soon.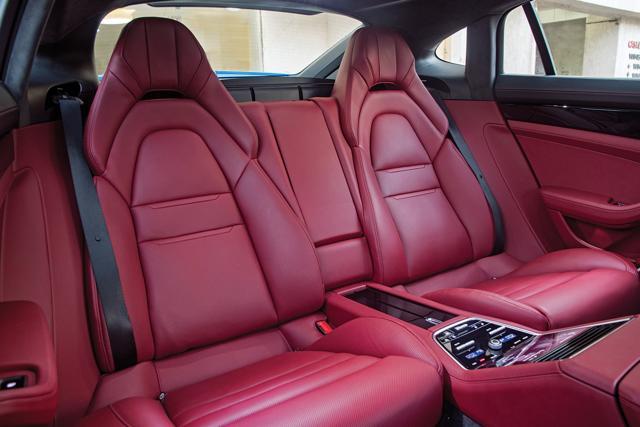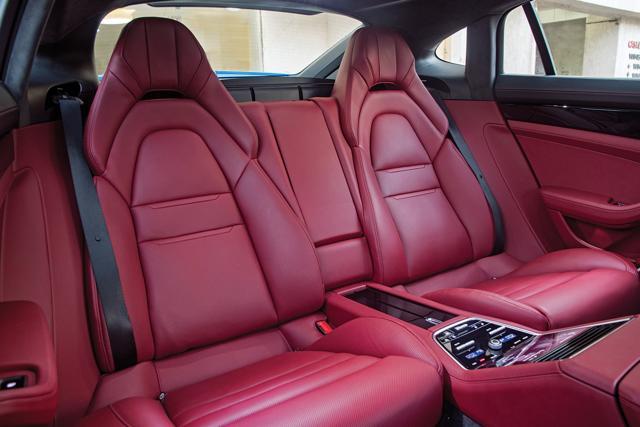 The new Panamera seems all set to eclipse the success of its predecessor. It's a very striking car that's well-specced and thoroughly modern. In its time with us, it managed to impress everyone at the office. The athlete levels of dynamism, an engine that seems like it could power a rocket and a brilliant gearbox, all make for a very rewarding drive experience. And to think this is just a four-door with four pretty comfy seats. Sure, there's no point buying this car if you'd be spending all your time at the rear, but if you're the generous kind who likes to take your friends and family on thrilling drives, the new Panamera fits to a T.
First Published Date:
30 Dec 2017, 09:56 AM IST
TAGS:
NEXT ARTICLE BEGINS