Nexa: Maruti Suzuki's desperate attempt to shed 'common' tag?
Maruti Suzuki India Ltd's (MSIL) Nexa, a range of over 100 all black-and-white designer showrooms across the country, could well be a masterstroke the automajor has been searching for all these years.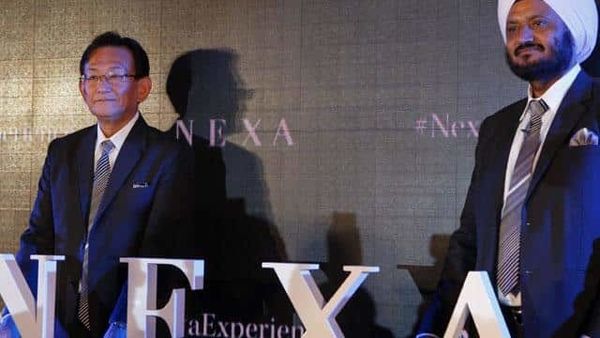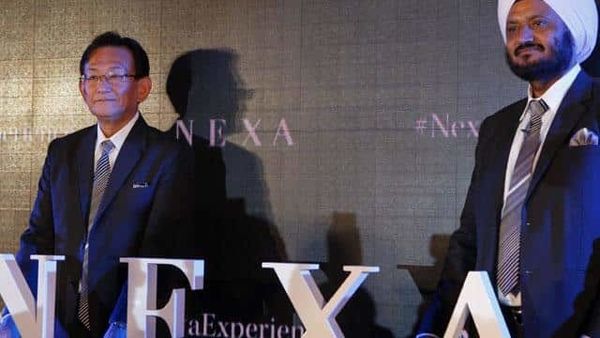 Maruti Suzuki India Ltd 's MD and CEO Kenichi Ayukawa with R. S. Kalsi, Executive Director, Marketing & Sales, Maruti Suzuki (India) during launched ' NEXA''its new premium sales channel in New Delhi, India, on Thursday, July 23, 2015. Photo: Arvind Yadav/Hindustan Times
Maruti Suzuki India Ltd's (MSIL) Nexa, a range of over 100 all black-and-white designer showrooms across the country, could well be a masterstroke the automajor has been searching for all these years. While only the S-Cross, which will be launched in August, will feature in these showrooms, the plan is to eventually include other new 'premium' models in it.
Many would say Maruti should have woken up to market realities much earlier. In over three decades since its inception, it is one brand that has monopolised the entry- to mid-segment market, never letting go of its iconic hold as the common man's brand.
But with direct competitions from brands like Hyundai, and some from Chevrolet, Ford and Toyota, MSIL realised that in the past half-a-decade, the common man has got slightly deeper pockets than before.
Launching the new showrooms, Kenichi Ayukawa, managing director and chief executive, Maruti Suzuki, said, 'Indian market and society are rapidly changing and new segments of customers are emerging. We have to take new initiatives to meet diversifying expectations from our customers."
First-time car buyers now go for cars priced above ₹ 3 lakh, ignoring the entry-level Alto from Maruti Suzuki or even the Hyundai Eon and Tata Nano, until they're really keen on their looks or purpose. Cars like Maruti Suzuki Swift, Celerio, Hyundai Grand i10, Chevrolet Beat, Honda Brio, Toyota Etios Liva and Ford Figo are among the first choices in most 'first-car' households today.
So is Maruti Suzuki trying to uncleave the tags like "cheap" or "low cost" or "common man" from its brand image in the market?
Well, seems so!
In February 2011, Maruti Suzuki Kizashi was launched in the D-segment (premium sedan) with a price tag of above ₹ 15 lakh. It had impressive looks and good features, but a badge of Maruti Suzuki. Kizashi flopped so badly that just within 18 months, the sales came to less than 10 units per month across India.
The reasons were simple: Why would you spend anything above ₹12 lakh to get a Maruti? Rather, any intelligent buyer would walk with that much cash into a Honda, Skoda or a Toyota showroom.
MSIL's attempt to impress the premium class failed and Kizashi was sent packing.
Recently, Ratan Tata confessed that his ambitious baby Tata Nano failed not just because of the technological shortcomings, but also majorly due to its mis-branding as the "cheapest car" instead of the "most affordable" car.
Maruti also learnt a lesson and brought back a "more affordable" deal in the form of a look-alike of Kizashi, and called it Ciaz. Priced between ₹8 lakh and 9.5 lakh, Ciaz came as a competition to Hyundai Verna and Honda City. With apt marketing, roping in the flamboyant Ranveer Singh, the car created quite a buzz in the motorheads' fraternity and is turning heads on the roads across the country.
And though Ciaz replaced the Maruti Suzuki's very successful SX4, the car has been styled to impress the buyers who liked Kizashi for its looks but not for its price-tag.
Motive: Going premium more affordably!
With Nexa, MSIL have taken another leap at impressing the premium car-buyers who want to see beautiful cars fit for their pockets and nothing cheaper. The Nexa showrooms are designed in black-and-white to "enhance the vehicles displayed in their full glory".
The company wants to enhance the customers' retail experience for which it has hired about 1,000 relationship managers from the sectors like aviation, hospitality and financial services.
The website of the new service uses terms like 'pampering' and 'hospitality' at the showrooms which buyers seldom identified Maruti Suzuki with. The site also promotes how at Nexa, "the customer will have the right to expect an enhanced experience, unmatched hospitality, innovative technology and seamless digital connect."
Motive: Going premium by pampering.
And Nexa showrooms will digitally welcome customers via Apple TVs, the relationship managers will be equipped with iPads to explain cars' featrures through interactive graphics, and, what more, a Nexa Owner's App.
Yes! Learning from big brands, Maruti Suzuki has gone digital by providing a smartphone application that will maintain service history, emergency support, event updates, booking and managing service requests.
Motive: Go premium digitally!
Clearly, Maruti Suzuki has tried to charm the deep pockets by going beyond making just another car or offering occasional discounts. The project Nexa is a manoeuvre to rebrand Maruti Suzuki as a premium car maker.
MSIL, currently with 45% of market share, said the new initiative is important for it to attain its medium-term goal of two million annual sales by 2020. The company plans to start nearly 100 Nexa showrooms across India over the next 6-8 months.
First Published Date:
24 Jul 2015, 03:13 PM IST
TAGS:
NEXT ARTICLE BEGINS