New 2014 Mercedes C-class pictures leaked
The new Mercedes-Benz C-class has been shown in its final production form for the first time, after a set of pictures were leaked online.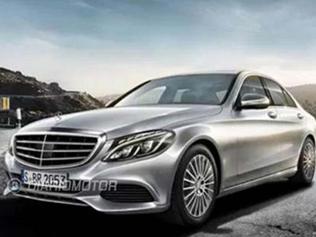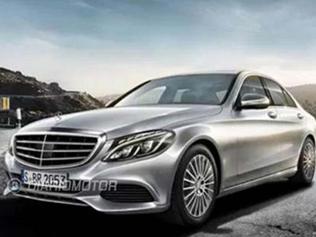 New 2014 Mercedes C-class pictures leaked
The new Mercedes-Benz C-class has been shown in its final production form for the first time, after a set of pictures were leaked online.
Details remain scarce, although sources suggest the new C-class Sportcoupé will use the same lengthened wheelbase as the Chinese-market C-class saloon, providing it with additional levels of rear seat legroom over the standard saloon, estate and coupé models.

Also under development but yet to receive a definitive production date is a C-class cabriolet. Conceived around what will be the second-generation C-class coupé, the BMW 3-series convertible and Audi A5 cabriolet rival is earmarked to use a fabric hood. Topping the line-up will be a replacement for today's C63 AMG, running a newly developed twin-turbocharged 4.0-litre V8 petrol engine — the same unit earmarked for use in Mercedes' performance division's upcoming Porsche 911 rival, the C190.


All the new models are based on a new modular architecture, which goes under the internal codename MRA. As well as serving the C-class, the new platform will also be used underneath the second-generation GLK SUV, which will once again be closely aligned to the C-class and, for the first time, be offered in right-hand-drive form when sales begin in 2015. The MRA underpinnings also provide scope for a stretch in dimensions, with the new C-class set to shift further upmarket.
Sources say the new C-class will have a wheelbase of around 2850mm, or 90mm longer than today's model. With a corresponding increase in length and appreciably wider tracks permitting greater body width, the new car is claimed to offer greater accommodation and load capacity than its predecessor.

Despite the increase in external dimensions, a series of lightweight construction initiatives, including a greater use of tailored blanks within the monocoque steel floorpan, inner body structure and other load-bearing elements, are claimed to reduce weight by up to 80kg compared with today's C-class.

Further weight saving is evident in the body panels, which are made of aluminium, steel and composites.Stylistically, the new C-class borrows heavily from the latest S-class, albeit with a more sporting grille treatment similar to the facelifted E-class's. The move is aimed at giving Mercedes's key models a more cohesive look.But while Mercedes is quick to talk up the look of the new C-class's exterior, it says the real progress has been made inside. The new model features high-quality fascias, new-generation switchgear, the largest display monitor in its class and more intuitive touchpad controls, which is all set to provide what one source describes as "the best and highest-quality interior in the class".Added to this will be a vast array of driver assistance, entertainment and safety systems, all brought over from the E-class and S-class.

The new C-class's engine line-up includes improved and carry-over four, six and eight-cylinder units, along with various hybrid options. All retain a longitudinal mounting, but changes to the front-end architecture see the engines mounted further back for improved weight distribution and improved safety thanks to better-controlled deformation zones than those seen in the current C-class.

At the more affordable end of the engine line-up will be the M274 four-cylinder petrol unit in both 1.6 and 2.0-litre guises, currently used in the A and B-class and the CLA, albeit in a transverse layout.


They will be joined from the outset by a lightly revised version of the OM651 ECO four-cylinder common-rail diesel unit in both 2.0 and 2.2-litre forms, both featuring Euro 6 emissions compliance without the need for NOx-reducing urea injection, according to Autocar sources. Mercedes-Benz also plans a continuation of its six-cylinder engines. Included is the M276 V6 petrol unit in both naturally aspirated 3.5-litre form as well as turbocharged 3.0-litre guise, the latter set to appear in a new performance-orientated C400 BlueEfficiency model. Also planned is the latest evolution of the OM642 V6 common-rail diesel in 3.0-litre form.

Alongside a standard six-speed manual gearbox, selected engines in the fifth-generation C-class will come with the option of Mercedes-Benz's new 9G-Tronic nine-speed automatic, which was revealed at the recent Frankfurt motor show. Other engines will be mated to the existing 7G-Tronic seven-speed automatic unit until a planned mid-life facelift in 2017.

Holding true to tradition, all models are rear-wheel drive, with a limited number set to offer optional 4Matic four-wheel drive.Significantly, the German car maker's development boss, Thomas Weber, has confirmed that the new C-class will be the first Mercedes-Benz saloon to offer right-hand drive compatibility with its 4Matic four-wheel drive system.

First Published Date:
29 Oct 2013, 19:03 PM IST
TAGS:
NEXT ARTICLE BEGINS