Mercedes-Benz launches armoured version S600 Guard at
₹

8.9cr

It is one of the most expensive as also safest cars around, but only money cant buy it. Being the head of a state, helps.
Mercedes-S600-Guard
German luxury car maker Mercedes Benz on Thursday launched the next generation armoured version of its top of the line S class sedan, which it claimed is the world's safest vehicle from ballistic attacks.
The S 600 Guard does not come cheap at ₹8.9 crore (ex showroom Delhi) but as a preferred choice by 91 heads of states around the world including President Pranab Mukherjee and German chancellor Angela Merkel, just having the money is not enough to buy the car. Mercedes conducts rigorous due diligence of each prospective customer to ensure it does not end up with gangsters, terrorists or those associated with the mafia.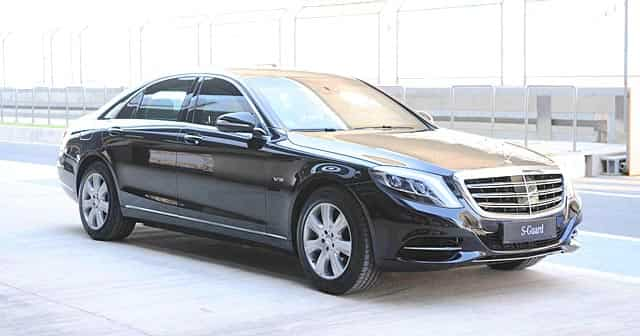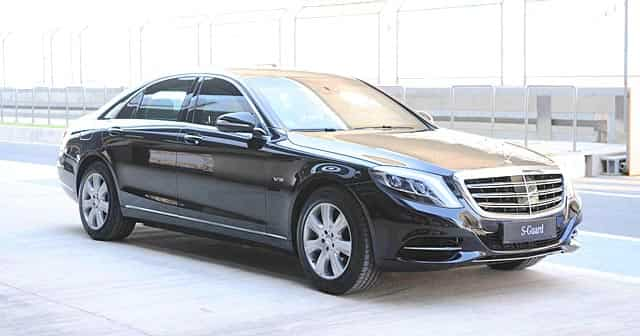 While the car retains the overall look of a regular S class sedan, a critical element so it cannot be distinguished from outside, it is engineered to the VR9 level that is the highest level of protection for a non armed forces car worldwide. In effect, it can withstand ballistic attacks from almost all kinds of pistols, revolvers or rifles from a 0.45 magnum pistol to an AK47 rifle fire from various quarters while it is also immune to hand grenade attack two at a time, land mines as also chemical weapons.
The underbody of the car is completely sealed from outside and a fire extinguisher system with automatic activation makes it next to impossible to set it on fire. Further, a separate oxygen cask activates an emergency fresh air system that protects occupants from the ingress of smoke or irritant gases. The car is equipped with Michelin PAX run-flat tyres with an additional tyre pressure monitoring system that allows an escape from the danger zone up to a distance of 30 km at speeds of upto 80 kph even with damaged tyres.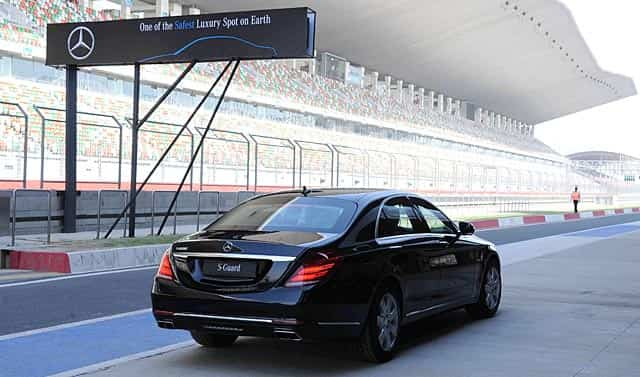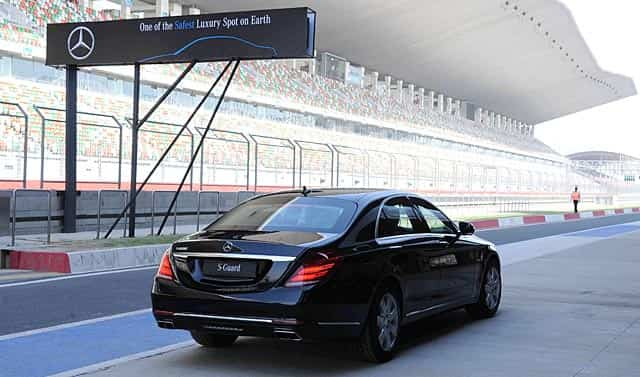 At nearly 4.5 tonnes, the heavy armouring makes the car twice as heavy as a regular S class sedan but powered by a V12 engine with a maximum 530 hp and 830 NM on the tap, the car can sprint along at a maximum 210 kph.
Mercedes does not divulge details on sale of Guard vehicles worldwide but said markets like South America, Mexico, Russia and Middle East see maximum sales. Sources said around 25 units of such vehicles are sold every year in India
'The demand for such vehicles in India is not higher or lower than many other parts of the world,' Rubenbauer added. 'So India is not necessarily any safer or less safer than other parts of the world.'
President Pranab Mukherjee currently uses the limousine version S 600 Pullman guard that offers VR7 protection for the car's glass area and VR9 on the rest of the body. The Special Protection Group is expected to study the latest version and the new S600 Guard could end up replacing the current vehicle.
First Published Date:
21 May 2015, 07:59 PM IST
TAGS:
NEXT ARTICLE BEGINS