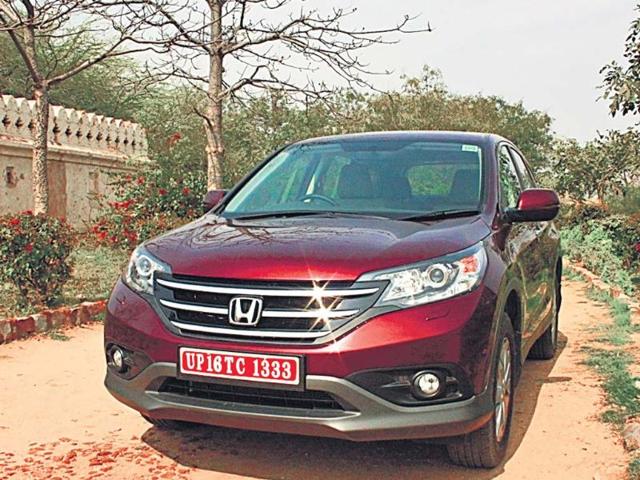 Honda harks back to its CR-V
3 min read

.

Updated: 22 Feb 2013, 10:53 AM IST

Late realisation? Japanese auto major Honda has brought the latest version of its offroader to India a full year after its Europe launch. Sumant Banerji writes.

A long, long time ago, there was a car that could do a little bit of everything on the kind of streets where few cars ventured. It was made by one of the more technologically-oriented companies in the world, and this did manifest in that car. Called the CR-V, it was one of the first soft roader SUVs to grace our roads, and everybody who had the money (or hoped to have enough) wanted to own one.
Similar Cars
Times have changed, though, and a rush of bigger burlier vehicles, powered by the masculine fuel called diesel, are crowding the roads. The CR-V has languished - and the same Japanese tech-pioneer allowed it to stagnate - to the point that it came to the verge of extinction.
Suddenly, Honda has woken up and decided to bring the fourth-generation CRV to India, a full year after its global debut. Will it roll back the years?
Exteriors
The CR-V has always been a soft-on-the-eye, please-all kind of car. It is a mini SUV, more like an oversized hatchback than an undersized butch. There are changes galore, but the new version does not stray from the template. It remains one of the more compact SUVs, and at 4.5 metres, is a full yard (or two) smaller than the Fortuners, Endeavours, Outlanders and Pajeros. Of course, there is no third row of seats.
Built as a crossover, the new car looks even more like a coupe with its distinct rear-sloping roof, and hence is more aerodynamic. The headlamps are larger and the three slat grille gets chunks of chrome. The rear quarter glass is also bigger and extends further back to make a pleasant combination with the tail lamps. Overall, a neat looking vehicle.
Interior
Often, the interiors of a Honda car are the most impressively put together, but you come away disappointed by the lack of features, where it clearly loses out to the new contender, Hyundai.
With the new CR-V, though, Honda has attempted to address this aberration. The addition of features such as a rear parking camera, bluetooth connectivity, navigation and touch screen puts the CR-V back in the game. The dashboard and instrument cluster are all neatly packaged with a minimalist approach. There is not one knob or button more than you would need.
Given Honda's exalted standards though, the overall package does look a little unimaginative. Even the touch screen felt like an after-market inclusion. Maybe just nitpicking, though.
Performance, drive, handling
Not much has changed under the hood. It gets the same 2.0-litre petrol engine devised for economy and the 2.4-litre elder brother for performance.
We do not see too many petrol SUVs in India these days, and the CR-V immediately reminds you of the advantages of one. The lack of engine noise, the refinement and the jerk-free linear power delivery recall a bygone era. Smoothness personified, it handles better too, thanks to a slightly stiffer suspension. The bigger engine with its 190 PS peak power is obviously the pick when it comes to performance.
It comes at a high 7,000 RPM, a level you will never touch in India, but in between it does manage to show off what it is capable of. In comparison, a Santa Fe develops the same horses but at a lower, saner 3800 RPM. And the Fe weighs much more, too.
What is missing, is the turbo of a diesel that we have become so used to. The initial burst of power is absent and only when you go beyond 5,000 rpm does the engine turn devilish. A refined devil? Ha!
Offroading capabilities, never a strong point, are negligible too. At 170mm, it has the lowest ground clearance among SUVs, good enough only to pass over giant craters. In essence, CR-V remains a high riding family car that is perfect for highways.
Verdict
Honda does have an in-house 2.2-litre iDtec diesel engine, which does duty in the CR-V in Europe. So the question remains; what is stopping it from bringing it to India? A lack of confidence? Or laws of economy? We don't know. The CR-V continues to be an emotionally delightful car. Once you own it, you become so biased that you don't see merit in other cars. It has enough power for our roads, handles well and is by far the most refined vehicle in its class. It also gets dollops of features and is priced well. The absence of a diesel variant will continue to hamper its prospects, though.