Going places: These made in India cars are super-hits globally
From Latin America to east Europe, Africa to South East Asia, made in India cars are making great waves across the globe.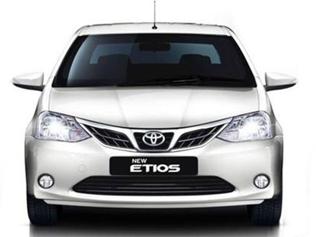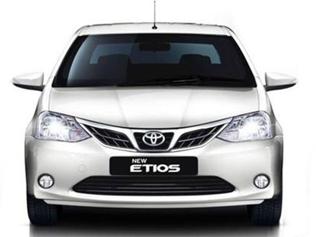 Toyota-launches-Etios-Liva-facelift
From Latin America to east Europe, Africa to South East Asia, made in India cars are making great waves across the globe.
It is a story of Indian engineering graduating from jugaad and coming of age to develop cars that stand the test of quality in global markets.
Volkswagen's entry-level sedan Vento, which was developed specifically for India, is in great demand in — of all the places — Mexico. In 2014-15, it found 45,814 customers and was the fourth largest selling car there. Similarly, Nissan's small car Micra, which has had lukewarm response in India, is the fifth largest selling car in — again — Mexico. In both the cases, the export numbers are far higher than their tally in the Indian market.
Ford's entry level small car Figo and compact crossover EcoSport, made at its Chennai factory, trade places with each other in the top 10 in South Africa. As does Toyota's most affordable offering globally, the Etios, which was developed for India and manufactured solely at its factory near Bangalore.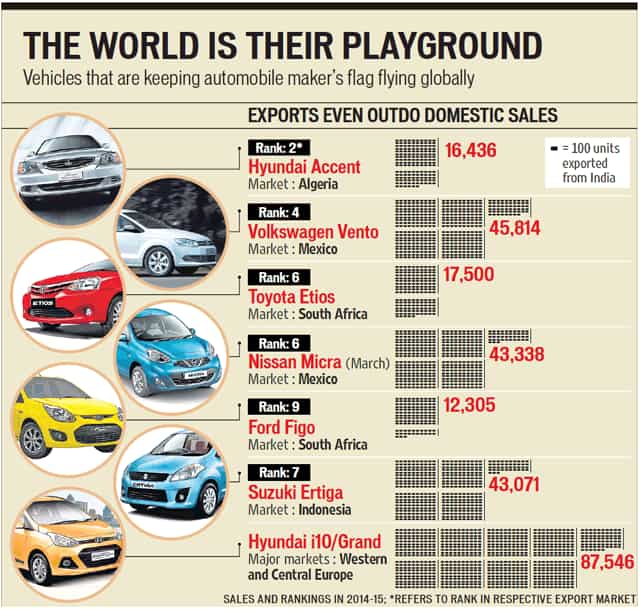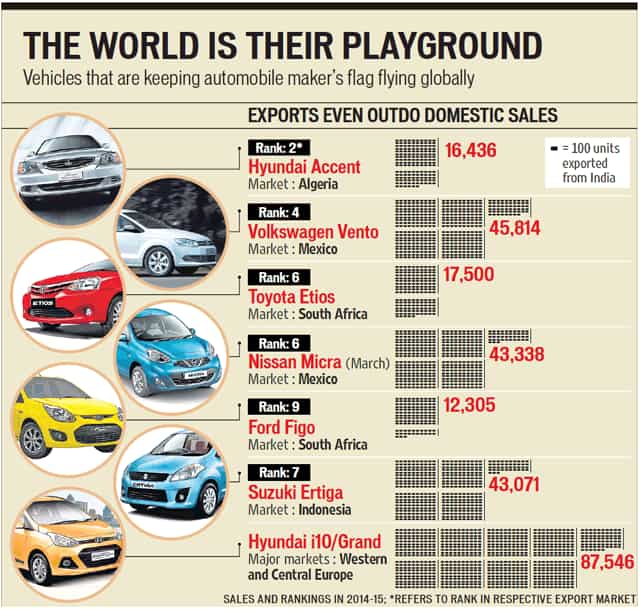 It is a similar story for Chevrolet Beat, which is being exported from General Motor's Talegaon factory in Maharashtra to far away Chile in South America — where it is one of the top 5 best selling cars.
Korean car maker Hyundai, one of the first companies to develop India as an export hub, still makes the previous generation Accent at its Chennai plant for exports to Algeria, where it is the second largest selling car.
"We started exporting the left hand drive Beat from India last September and it was a big milestone for us," said Arvind Saxena, president and MD, General Motors India. "It shows that our engineers in India are as capable and talented as GM engineers anywhere else in the world, and demonstrates the enormous capability that our engineers and manufacturing operations have in churning out global products."
"We will start exports of the car to Mexico as well later this year. Our export tally for Beat this year would be around 19,000 units and we will double it to around 40,000 units next year," he added.
Closer home, Indonesia shares India's craze for small people movers. And Maruti Ertiga has found enough takers to be in the top 10 selling cars in the island nation.
"I have been a big admirer of India's frugal engineering. We are using our expertise in France, the engineering prowess of India and some know how from Japan to develop new cars," said Carlos Ghosn, global chairman and CEO, Renault Nissan. "If an affordable car succeeds in India with big numbers, it will be successful in whichever global market we launch it in. And when it succeeds globally, it will highlight the strengths of Indian engineering."
India's emergence as an export hub comes on the back of the huge potential for growth in the domestic market that guarantees economies of scale.
"The engineering prowess for automobiles has grown commensurate with the growing importance of India as a market for cars," said IV Rao, executive advisor-engineering, Maruti Suzuki. "With the growth anticipated in passenger car segment, almost all major car manufacturers have set up R&D facilities with varying degrees of expertise. From a time when cars were largely developed in Japan for Maruti, we have come a long way and our engineers are participating in model development activities with Suzuki."
First Published Date:
08 Jul 2015, 10:00 AM IST
TAGS:
NEXT ARTICLE BEGINS