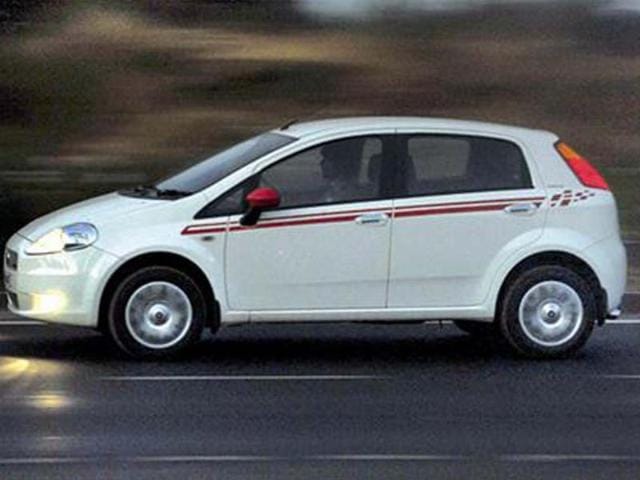 Fiat Punto (First Report)
4 min read

.

Updated: 03 May 2013, 06:18 PM IST

It has long been said that Fiat makes some of the best-looking cars in the country, and the proof of that is here before our eyes. The moment the white Punto with red stripes entered our garage, it stood out from our jumble of regular long-term cars.

It has long been said that Fiat makes some of the best-looking cars in the country, and the proof of that is here before our eyes. The moment the white Punto with red stripes entered our garage, it stood out from our jumble of regular long-term cars. Sure, Fiat may not have had the smoothest journey in India so far, but it still has some of the most beautifully designed and balanced cars around.
Similar Cars
And if you're wondering why this car is such an eyeball magnet, let me remind you that it's been designed by Giorgetto Guigiaro, the famed Italian automobile designer who was awarded the title of 'designer of the century'. And then there's the fact that its Multijet diesel engine powers no less than 11 car models in India, Maruti Swift included. Stunning looks, a Multijet diesel heart and Fiat's legendary suspension make for one hell of a combo punch. But can Fiat's more powerful 89bhp Grande Punto, complete with go-faster stripes, rank highly on the desirability charts? That's just what we intend to find out with the newest addition to our fleet.
The car that's joined our fleet is the recently introduced Absolute Edition of the 90HP Grande Punto. Apart from getting a variable geometry turbo and more power (it's the same engine as the Linea diesel), what you get on this edition is a 3G-enabled navigation device, smartphone compatibility that allows you to stream music via the audio system, and steering-mounted audio controls. You also get red wing mirrors and 'Punto' badging on the floor sills. The bad bit however is that the GPS system is an aftermarket stick-on-the-windscreen type.

There's nothing like a long drive to really get to know a car, and after spending close to 8,000km in the Punto 90HP, we've warmed up to it quite well. It was on one of our drives to Pune via the expressway - with a full complement of people - that the full effect of this 89bhp diesel engine came shining through. Out on smooth and empty tarmac, we found it to be considerably quicker to 120kph than its 75bhp sibling, the car pulling well in the taller third and fourth gears. And the Punto's excellent ride characteristics allowed me to maintain a very healthy pace without too much effort or concentration. The seats were also comfortable enough to enable us to walk away from the journey without having to massage our backs. Legroom in the rear isn't anything to write home about, but the comfortable seats more than make up, and space is only restricted if you are really tall.

Once off the expressway though, and into the traffic-riddled roads, I'm reacquainted with some of the 89bhp Punto's not-so-charming traits. Turbo lag can be quite an issue even though this car has a variable-geometry turbo, which can be a pain in traffic. There's not enough grunt to dart into that rapidly closing gap fast enough without selecting a lower gear. It takes a bit of getting used to, this. But you soon subconsciously learn to keep the revs up. And first and second gears still feel way too short. The narrow powerband of the diesel is further truncated due to the short gearing.

Incidentally, Fiat had given the Punto a mild facelift earlier in 2012, which included an increase in ground clearance. And while this has resulted in more body roll around corners, ride quality is improved. The suspension is now more pliant. Large dips are ridden over with less movement from the body and the suspension is still pretty silent.

The Punto also has plenty of boot space, which comes in handy on long trips. The 280-litre boot is quite large for even a largish hatch, and that means it can hold on to weekend luggage for four quite easily. The luggage-carrying capacity has already been a lifesaver. Road tester Ameya, once desperately late for a flight, crammed three weeks worth of luggage into the back of the Fiat and drove himself to the airport. Colleagues say the accelerator and the carpet were rarely apart and Ameya managed to make it to the start of the ASEAN-India car rally in Singapore thanks to our quick and compact Fiat.

Initial figures suggest the Grande Punto is giving us between 12.5kpl and 13.5kpl, but it's still early days, and we expect the figures to settle down once staffers begin driving it more 'normally'. Compact, comfortable, stunning to look at and well equipped, our new long-term Fiat is slowly working its way under our skin.

Sure, we would have liked to 'feel' more of the 89bhp in the city and the Fiat is not as sporty as the stripes suggest, but our new long-termer does feel special. There's a healthy amount of demand for the keys and its combination of weekday workhorse and weekend getaway car means it's a car that rarely gets a day off. Will it grow on us even more or will we grow a bit weary of it? Time will tell. We'll keep you updated, too.
Raunak Ajinkya
Fiat Punto 90HP Absolute Edition
Odometer: 7,844km
Price: ₹ 8.75 lakh (on-road, Mumbai)
Test economy: NA
Maintenance costs: None
Faults: None