Electric cars: three of the best
Electric cars might still be a rarity on many roads but, thanks to improvements in battery technology and charging infrastructure, price cuts and government grants and other schemes, the vehicles are starting to gain in popularity.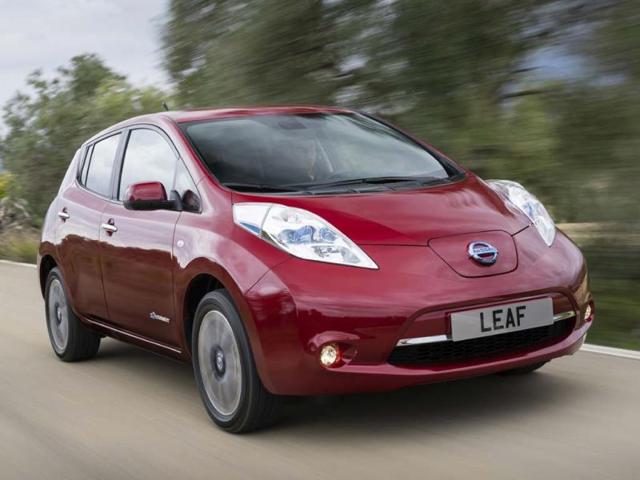 Electric cars might still be a rarity on many roads but, thanks to improvements in battery technology and charging infrastructure, price cuts and government grants and other schemes, the vehicles are starting to gain in popularity. A look at three of the best currently on the road.
The Nissan Leaf
Hyundai Kona Electric
cc | Electric | Automatic
In 2010, Nissan and Renault were bullish about the impact the car would have and set a target of selling 1.5 million Nissan and Renault-branded electric vehicles before the end of 2016. Although the companies have since been forced to rein back their enthusiasm -- the target is now 1.5 million cars by 2020 -- sales of the Nissan Leaf alone already account for nearly 10 percent of that target.
Since its launch in 2011, the Leaf has achieved sales of over 100,000, making it the world's most popular electric car. Part of this has been achieved through aggressive advertising, by discounting and through government-backed schemes, but, fundamentally by constantly improving the car as technologies develop.
As a result, the latest generation Leaf is capable of traveling 124 miles (200km) on a single charge. It is also more comfortable and roomy when traveling that distance, thanks to reworked suspension, the introduction of higher cabin specifications and the relocation of the charging point to the car's nose. This has freed up space in the rear for back-seat passengers and their luggage.
The other big change since the car's launch has been available charging points. Nissan and Renault have worked hard to extend the Leaf and other Nissan and Renault-branded electric vehicles' desirability by investing in supercharging infrastructure. There are now over 1000 fast charging points across Europe that can add an 80 percent charge to the car's batteries in roughly 30 minutes. The company aims to hit the 1800 charger mark in Europe by the end of this year.
Technical specifications:
0-100km/h (0-62mph): 10.1 seconds
Power: 107bhp
Range: 124 miles (200km)
Price: €26,000/ $28,800
Tesla Model S P85 Performance+
The Leaf might be the world's most popular green car, but there is little doubt that the Model S is the world's most desirable electric car.
And, in P 85 Performance + guise it can compete with the best that BMW and Mercedes have to offer in terms of performance, comfort and looks, while still offering emission free motoring. The Model S comes with a premium price tag -- in excess of $87,000 once the customization options are selected -- but it also offers a premium range for an electric vehicle of 265 miles (426km).
Initially only available to US customers upon its launch in 2012, it quickly became the vehicle of choice in Silicon Valley where it is known as the Apple Mac because of the devotion it creates with owners. Since August 2013 it has also been on sale in left-hand drive form in Europe and a right-hand-drive version is in development for the UK and Japanese markets. At the beginning of 2014 it also officially went on sale in China.
Like Nissan, Tesla has been hard at work putting in the charging infrastructure necessary to make its cars more practical and has already managed to build a US-wide network of superchargers that can add a 50 percent charge to a battery in 20-30 minutes.
It also has similarly comprehensive plans for Europe and has set itself a deadline of the end of 2014 for electrifying German, Norwegian and Dutch roads and for providing access within a 320km (200-mile) radius to Tesla owners in France, England, Wales and Sweden.
Technical specifications:
0-100km/h: 4.2 seconds
Power: 416bhp
Range: 265 miles (426km)
Price: $87,000 / €95000
BMW i3
The German company, with a reputation for building drivers' cars has, unsurprisingly, taken a slightly different approach to a number of electric carmakers with its first truly environmentally friendly offering.
Its lightweight, battery-powered city car, the i3, uses carbon fiber to keep weight down and rear-wheel drive to make the car fun to drive. It's also pretty fast -- 0-100km/h (62mph) in just a smidgen over 7 seconds.
However, the nimble handling and acceleration come at a cost -- range. To keep the weight down, the battery is small and is only good for 130-160km (about 99 miles) before a recharge is needed.
However, the car's navigation system, smartphone and smartwatch apps are designed to factor available range and closest charging points into route selection and there's a 24-hour helpline for anyone who might end up stranded on mile 100.
Other steps BMW is taking to increase peace of mind is to offer the car with an optional generator -- a 650cc gas engine that can be installed to charge the batteries, essentially turning the car into a series hybrid. However, it only has a 9-liter tank so is there as an emergency range extender, good for a further 100km or so and not for a real cross-country adventure.
That's why BMW also plans to offer owners access to other types of cars, such as big SUVs and larger sedans for longer-distance trips and weekends away so that they keep the i3 solely for week-day commuting.
It looks as if BMW could be on to something. It is struggling to meet demand. Over 11,000 have already been sold and in the US the company has had to impose a three-to-six-month waiting list for new customers.
Technical specifications
0-100km/h (62mph): 7.2 seconds
Power: 168bhp
Range: 99 miles (160km)
Price €34,990/$41,350
First Published Date:
26 Mar 2014, 05:11 PM IST
TAGS:
NEXT ARTICLE BEGINS