Ducati Scrambler Desert Sled: How good is it on and off the road?
This retro-styled Scrambler packs oodles of style and attitude. But how good is the Desert Sled on and off the road?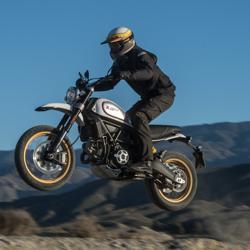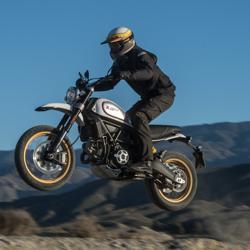 The Desert Sled is the version of the Scrambler that Ducati claims is off-road worthy.
Meet the Desert Sled. It's the version of the Scrambler that Ducati claims is off-road worthy. But, with a lineage that dates back to the 1960s and a name that's associated with bikes that could race across treacherous North American deserts, the Desert Sled has some big shoes to fill. And, at first glance, it certainly seems to look the part.
Now, we're all quite familiar with the Scrambler look; retro is certainly in. The Desert Sled has roughly the same basic silhouette as the regular Scrambler, but there's more. For starters, it's a lot taller now, but quite deceptively so, as it looks like the smaller street-oriented Scramblers from afar. It's got a nice raised front mud guard and a more upright handlebar, but it's beneath the surface where all the real magic has taken place.
The bike's frame has been strengthened to ensure that it will be standing, no matter what you throw at it. In fact, this version of the Scrambler has definitely been designed with airborne shenanigans in mind.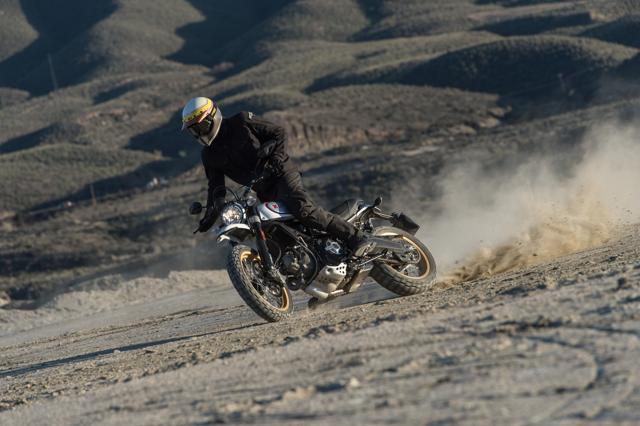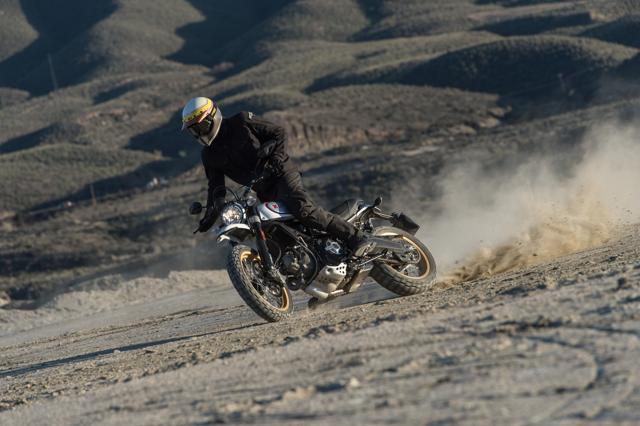 Ducati has equipped the Desert Sled with a fully adjustable 46mm Kayaba fork at the front, and an adjustable Kayaba shock at the rear; quite a big upgrade from the base Scrambler that gets 41mm Kayaba forks. Both ends have a whole 200mm of travel, which is more than what some of the larger adventure bikes have. It's also equipped with 19-inch front and 17-inch rear spoked wheels that are shod with dual-purpose Pirelli Scorpion Rally STR tyres. And boy, are these tyres great! In damp conditions on the street they provided more than sufficient grip, and on the dirt, they were just excellent.
The only thing that has remained relatively unchanged is Ducati's 73hp, 803cc L-twin engine which was recently updated to meet Euro-IV emissions standards. Thanks to all the reinforcements, the weight too, has gone up to about 207kg, which is roughly 20kg more than the Scrambler Icon.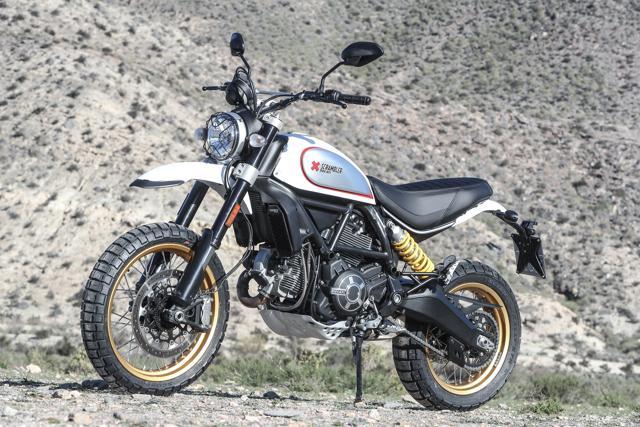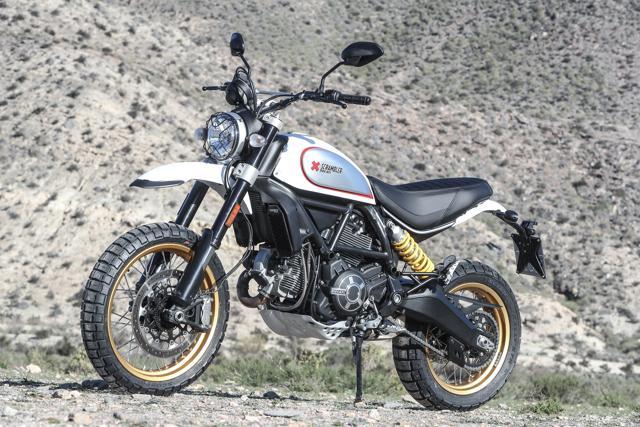 Get into the saddle and, initially, it is a bit intimidating. The saddle height has gone up to 860mm, although there is a lower 840mm seat available as an accessory; still very tall for the average Indian frame. Once you get moving though, the seating posture is just brilliant. On the street, the bike gives you a really commanding feel thanks to its tall stature. It doesn't just ride well over bumps and undulations, it obliterates them, and that is perfect for holding a decently quick pace over any road.
But on the dirt is where this bike really shines. Standing ergonomics on the Desert Sled are again very natural; the handlebars are raised and wide, and you get a nice, comfortable lean into them thanks to the foot-peg position. And the tank is just wide enough to grip well with your knees. Thanks to the rain spells during our test ride, the off-road course Ducati laid out for us had turned into a combination of soft slush, hard-packed gravel and wet sand. And for those of us who hadn't spent too much time in the dirt, a really intimidating proposition. After switching off the ABS and a few minutes trudging through all this, those qualms were quashed; the Desert Sled was just phenomenal off-road. It held its composure so well that it really encouraged you to push it harder.
In fact, it handles the rough stuff better than most large-displacement adventure bikes, and that's because it's more of an actual big dirt bike than a pseudo off-roading one. There's no big fairing up front to hamper your vision or break when you fall over. Instead, you get a bash plate as standard and optional engine guards. Off-roading is just so much easier than it should be on the Sled, and the only issue I seemed to find with the bike is the engine heat, which is going to be quite a pain here in India.
As expected of Ducatis, fit and finish is solid and the bike simply sounds, looks, and feels great. For all you adventure-bike enthusiasts out there, you might want to seriously consider the Desert Sled before you put your money down on bulkier, big-displacement adventure bike. Of course, at ₹9.32 lakh, it's a bit expensive, which is partly justified, considering the quality of components the bike is fitted with. But, its real appeal lies in the fact that this bike can go almost anywhere an actual adventure bike could.
First Published Date:
02 Sep 2017, 01:34 PM IST
TAGS:
NEXT ARTICLE BEGINS