Cyclone Tauktae: Five tips to keep your vehicle safe
Cyclone Tauktae has emerged as a major threat to western Indian states including Maharashtra, Goa and Gujarat and is expected to make landfall by Monday evening. Even as lakhs of people are being shifted to safer grounds, the damage Cyclone Tauktae has already started in several places.
The weather department had said that Gujarat may see gusts up to 200 km per hour and it is likely to hit the state by evening.
As the state governments and people brace for Cyclone Tauktae, the need to also protect property, while saving lives, is crucial. As such, here are five points to keep in mind to keep your vehicles safe during the cyclone.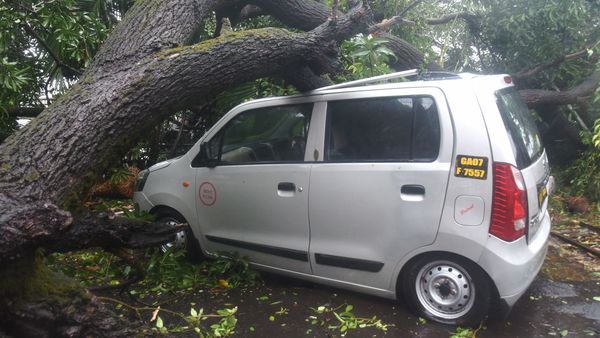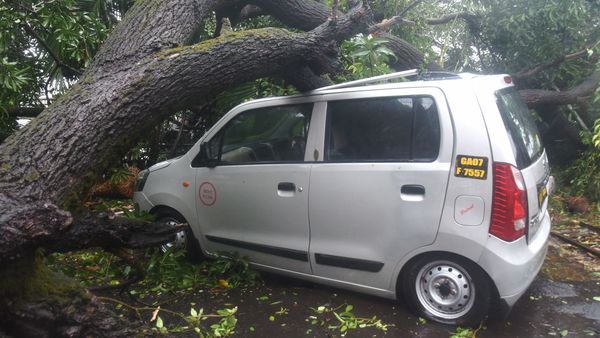 A car damaged by an uprooted tree due to strong winds during the formation of Cyclone Tauktae, in Panjim.
Park in open space: As the cyclone will bring heavy to very heavy rains and winds with speeds up to 100 km per hour, it is advisable that vehicle owners must try to park their vehicles in open spaces far from trees, light poles or walls. This might protect the vehicles from escaping serious and irreparable damage. If at all it becomes difficult to find a vacant spot, one can also take pictures of exterior and interior of the vehicle so that in case of damage, one can reach out to an insurance company for the loss by showing the before and after picture.
Steer away from from low-lying areas: As the weather department has predicted heavy to very heavy rains, vehicle owners must avoid spaces which has high chances of getting inundated. The water logging may cause some serious damage inside and outside the vehicle. Once the storm passes, check the level of flooding and if it is at a danger level, inform your insurance company as soon as possible.
Keep important documents handy: Documents like vehicle registration paper, insurance papers and license should be preserved with utmost care. Try zip-locking these papers if you prefer to keep these inside the vehicle and also keep back up of these in picture format, or make copies. It is also highly advisable, keeping in mind the current scenario and the necessity to visit a hospital in case of a Covid emergency, to keep the tank of your vehicle full.
Check for external and internal damage: After the storm passes, as you venture out to check your vehicle, make sure you give your vehicle a thorough check by looking under the vehicle. Also, do check if there has been any denting or breakage of the exterior due to the flying debris. In case of serious water logging, note if water has reached your vehicle's grille, in case of a car. Do look out for any wire on or around the vehicle and stay clear of it. High chances that inundation will dampen your interiors and upholstery. Make sure you clean the floor mats and dry out your vehicle after situation returns to normal.
Look out for leaks and corrosion: Before you start using your vehicle again, make sure you check any kind of leaks like brake fluid, fuel or coolant. In case there is such a situation, call a mechanic to repair it or if the damage is beyond repair, inform the insurance company. Do check the oil indicator for any moisture and also check the engine before starting the vehicle.
First Published Date:
17 May 2021, 12:25 PM IST
NEXT ARTICLE BEGINS


Shop Now

70% OFF

5% OFF