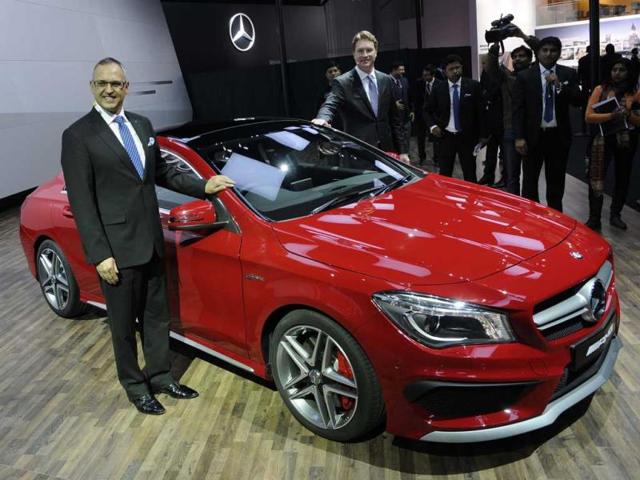 Be safe: Merc launches armoured SUV M-Guard at
₹

2.49 crore

1 min read

.

Updated: 08 Feb 2014, 09:29 PM IST

German luxury car maker Mercedes Benz on Wednesday launched the armoured version of its M-Class sport utility vehicle ML Guard, and unveiled the CLA45 AMG sports car.

German auto major Mercedes-Benz has taken its armouring capability to its off-roader ML Class range, and launched the M-Guard at the Auto Expo on Wednesday.

The leviathan is priced at ₹2.49 crore (ex-showroom Delhi), and can protect people with threat perception from machine-gun fire and even grenade attacks.

The SUV is the latest addition to the extensive Mercedes-Benz 'Guard' range, which now includes the S-, E-, G- and M-Class.
Similar Cars
Bmw 2 Series Gran Coupe
1998 cc|Petrol|Automatic (Torque Converter)
Bmw X3-m
2993 cc|Petrol|Automatic (Torque Converter)
Bmw X5 M
4395 cc|Petrol|Automatic (Torque Converter)
It has competition back home from BMW and Audi, which also have armoured sedans and off-roaders such as the X5 and the Q series respectively.
Back home, last year Tata Motors launched an armoured variant of the Safari priced at ₹60 lakh, but that could only withstand bullets. Tata Motors has been increasingly foraying into defence projects and lobbying for army contracts.
Markus Reubenbauer, head, International Guard Division with the M-Guard, told HT, "The maximum demand has come from governments wherever it has been launched. In India to we expect the same."
#AutoExpo2014 in pics: Bikes get leaner and meaner
With corporate and film personalities seeking special protection in growing numbers, this could be the vehicle of choice for people such as Mukesh Ambani and Salman Khan, known automobile aficionados.
According to the company, the M-Guard meets the VR4 protection level in BRV 2009 testing guidelines for special-protection vehicles. Driving the car, however, requires special training as its handling is nothing like typical roar-ready vehicles.
#AutoExpo2014 in pics: Driving into the future
"The drivers may be sent to Germany or trained in India for two days, to get a feel and importantly control these heavy vehicles," says Reubenbauer. Armouring makes the M-Guard 385 kg heavier than the ML Class.
#AutoExpo2014 in pics: Cars on display
The increased weight however does not affect comfort or agility of the vehicle, he said, while adding that areas such as gaps between doors and windows receive special attention to make them more secure.
#AutoExpo2014 in pics: Motoring heaven!