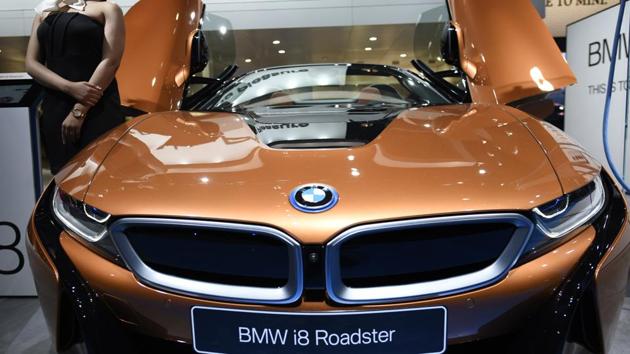 Auto Expo 2018 Highlights: BMW launches 6 Series Gran Turismo at
₹

58.9 lakh, bookings started

5 min read

.

Updated: 07 Feb 2018, 11:51 PM IST

The 14th edition of Auto Expo 2018 kicked off at the India Expo Mart in Greater Noida on Wednesday. Here are the highlights.

The 14th edition of the biennial Auto Expo kicked off in Greater Noida's India Expo Mart on Wednesday, with a slew of launches and unveilings on the opening day. While the show kicked off with the global premiere of the Maruti Suzuki's Concept Future S, South Korean giant Kia Motors announced its entry in the Indian market with the unveiling of its SP Concept car.
Maruti Suzuki baleno
1197 cc | Petrol | Manual
Maruti Suzuki ertiga
1462 cc | Petrol | Manual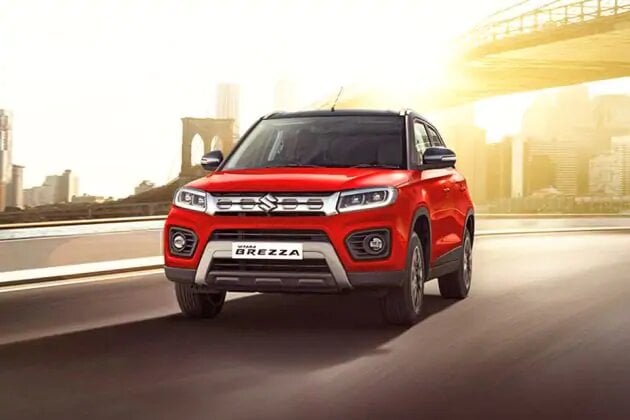 Maruti Suzuki vitara-brezza
1462 cc | Petrol | Manual
Other big names on the first day included Tata Motors' global premiere of the H5X concept and 45X, Hyundai's Elite i20, Renault's Trezor Concept and the second-gen Honda Amaze, among others.
For Auto Expo full coverage, click here
More than two dozen vehicle launches and about 100 unveilings are scheduled during the expo, which will close on February 14. While Maruti Suzuki India will launch the new-generation Swift at the expo, nearly 50 electric and hybrid vehicles will also be unveiled at the event. Tata's new hatchback, X451 was also launched on the first day. The expo opens for the public on February 9.
German luxury car maker Mercedes-Benz also launched its Maybach S 650 and showcased the Concept EQ.
Here are the highlights:
6:50pm: Sachin Tendulkar is in the house. 'Master Blaster' makes an appearance as BMW unveils the 6 Series Gran Turismo. The car is priced at ₹58.9 lakh and can be booked starting today.
6:35pm: BMW unveils i3s and i8 Roadster. The i3s has an all-electric range of up to 280km and the i8 Roadster has a 55km all-electric range. The open-top, two-seater i8 Roadster goes from 0-100kmph in 4.6 seconds and will debut in India later this year.
6:00pm: The new Mini Countryman unveiled at the #AutoExpo2018. Will be made in India. It will be available in three variants — two petrol and one diesel. Deliveries start later this year; test-drives begin within two weeks.
5:30pm: Maruti Suzuki India CEO says the company will launch its first electronic vehicle in India in 2020. Also showcases e-SURVIVOR Concept, an EV design and working model of the next generation Suzuki Hybrid system. It is a concept for a compact SUV.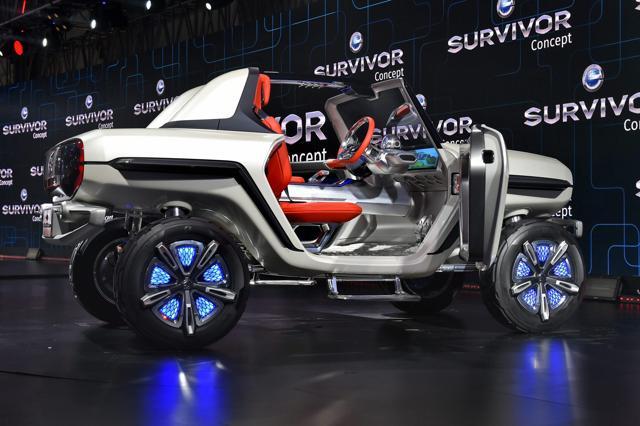 4:55pm: Mahindra's electric KUV named the eKUV. #AutoExpo2018
4:50 pm: Mahindra unveils an EV platform named Mesma. It is meant to be a modular concept that can take many shapes and forms.
4:40pm: Mahindra concepts UDO and Atom at the #AutoExpo2018. UDO, the company says, is neither a motorcycle nor a car. Atom is a mass mobility vehicle aimed at last-mile connectivity.
4:10pm: There will have to be a new expo on the future of living, says @anandmahindra at the #AutoExpo2018. His colleague adds the company is speaking on a subset of that today — future of mobility, electric vehicles.
4:00pm: Toyota unveils the Yaris. The Yaris — expected to compete with the likes of Honda City and Hyundai Verna — will be launched later this year.
3:50pm: Toyota adds a little song and dance to the mix as it unveils the Toyota Yaris at the AutoExpo2018.
2:15: Mercedes talks about commitment to electric vehicles, their scope in India; unveils Concept EQ. Luxury car Mercedes-Benz Maybach S650 and the new E-Class All-Terrain also announced. S650 will sell at ₹2.73 cr onwards. The S560 is priced at ₹1.94 cr.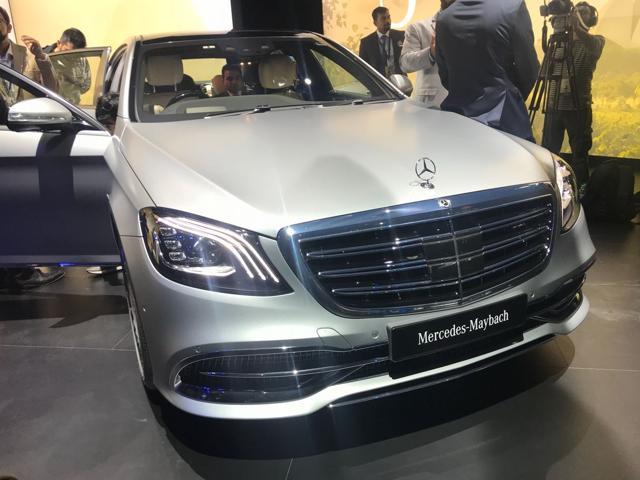 1:45pm: Actor Akshay Kumar makes an entry on top of Tata's commercial vehicle, Intra. Poses with the H5X concept, an SUV model developed in collaboration with the Jaguar Land Rover.
1:20pm: Tata Motors unveils the H5X concept. This is also the global the premiere of the Tata Motors 45X.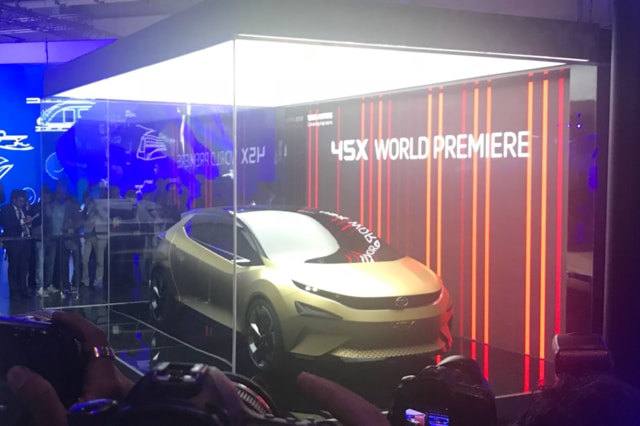 12:50pm: India Kawasaki Motors launches special edition Ninja H2 SX SE. In India, H2 SX SE and the standard H2 SX are priced at ₹26,80,000 and RS 21,80,000 respectively.
12:30pm: The new Yamaha R15 V3.0 launched in India. It will be priced at ₹1.25 lakh (ex-showroom Delhi).
12:15pm: Honda 2Wheelers has unveiled the 160cc motorcycle X-Blade. It has also unveiled the new Activa 5G with a full-LED headlamp and a new look.
11.50am: Piaggio India launches the Aprilia SR 125 and unveils the Aprilia Storm. It also introduces a smart mobile connectivity feature for the scooters Vespa and Aprilia.
11.30am: Apart from introducing two new scooters — the Maestro Edge 125 and Duet 125 — Hero has also unveiled the XPulse 200.
11:12am: Hero announces the launch of two new 125cc scooters: The Maestro Edge 125 and the Duet 125.
10:50am: Suzuki unveils its new flagship scooter, the 125cc Burgman Street; announces the GSX-S 750 for the India market; launches the Intruder fuel-injection variant.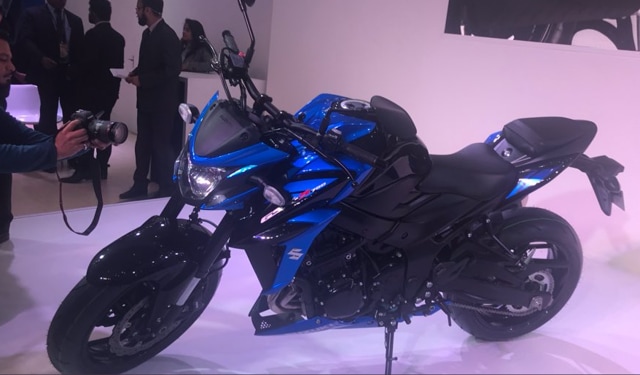 10:10am: The new car comes in two variants - Era and Asta (O) - and prices are as follows:
Petrol
Era - ₹5,34,900
Asta (O) - ₹7,90,500

Diesel
Era - ₹6,73,00
Asta (O) - ₹9, 15, 500
10:07am: Hyundai launches 2018 Elite i20. The car will come with a three-year/1,00,000km warranty and a three-year roadside assistance.
9:49am: Hyundai says it will come out with nine new products by 2020.These will include two facelifts, two new segments, four model changes and one electric vehicle.
9:35am: Renault unveils the Trezor Concept.
9:28am: Await clear policy by the government, says Renault as it talks about electronic vehicles in India.
9:25am: Since its launch, the Renault Kwid has been among the top 10 selling cars in India, according to MD and country CEO of the company, Sumit Sawhney.
9:10am: Company launches SP Concept car.
9:08am: The company introduces its global models as it announces entry into the Indian market; says will launch vehicles tailored to the Indian market.
9:03am: "Der aaye, durust aaye (better late than never)," says KIA as it officially launches its brand in India.
8:50am: This is Honda's second generation Amaze, 5th generation CR-V and 10th generation Civic. The company says it is committed to the Indian market and will launch six new models in the coming three years.
8:43am: Honda unveils three models that will be launched in FY 18-19 — the 5th gen CR-V, the new Amaze and Civic.
8:21am: Maruti launches the Future S Concept car.
8:03am: Maruti Suzuki will continue to pursue Make in India, says Maruti Suzuki India CEO Kenichi Ayukawa.
8am: AutoExpo 2018 kicks off.
7:48am: Maruti says the concept car will redefine the compact vehicle design in India.
7:45am: The Delhi Auto Expo 2018 will kick off at 8am with the global premiere of the Maruti Suzuki Concept Future S.