As Jim Hackett takes charge, Ford needs new products urgently to catch up with GM
There\'s a lot that Jim Hackett needs to do as he picks the reins of Ford Motor Co, especially when GM under Mary Barra is already on its path of resurrection.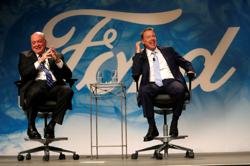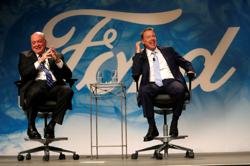 Ford Motor executive chairman Bill Ford (R) and James Hackett answer questions from the media after announcing Hackett was named as Ford Motor Company president and CEO, succeeding Mark Fields, in Dearborn, Michigan.
James Hackett spent the last year plotting Ford Motor Co's long-term self-driving car strategy. In his first week as chief executive, he has more immediate concerns: stopping a skid in North American sales and fending off a market share grab by resurgent arch rival General Motors Co.
The US No. 2 automaker is stuck in a product drought that shows no signs of easing until 2019, according to two sources who track Detroit's launch plans. Given the auto industry's long product cycles, it is not clear what Hackett can do immediately to get Ford out of its predicament, which can be traced back to decisions by former CEOs.
Hackett was tapped to run the company's autonomous car and ride-sharing unit a year ago. On Monday he unexpectedly found himself at the helm of the whole company as Ford axed CEO Mark Fields.
He now has to face up to a void of new vehicles, partly caused by former CEO Alan Mulally, who focused much of the company's resources on an expensive 2014 redesign of Ford's crown jewel, the F-Series pickup.
That safeguarded America's longtime best-selling vehicle, but it prevented Ford from developing other hits. Given that it typically takes three to four years for a new or redesigned vehicle to get into production, the full effect of Mulally's narrow focus is now being felt.
Mulally also gambled heavily on making an expensive shift to aluminium from steel to lighten up trucks and make them more fuel efficient, a bet that looks questionable in retrospect, as gas prices have remained far lower than anyone expected.
If Fields had immediately started pulling forward product launches when he took over from Mulally in July 2014, the first of those would likely reach the market in the autumn of 2018 at the earliest. As it is, Ford must wait until early 2019 for its first big slug of new models to hit showrooms.
There is not much Hackett can do about that. Any product moves he makes today would not likely show up in the market before 2021.
"Ford needs to move faster," said RBC auto analyst Joseph Spak.
Hackett, only three days into his new job, has not yet laid out his plans for Ford publicly.
Ford spokesperson Michael Levine side-stepped questions of a short-term product drought. "We're bullish on our strong pipeline of all-new cars, trucks and SUVs coming in the next five years," he told Reuters. "What's more, the vehicles that we are launching ... will continue to deliver high transaction prices and good business."
Profit per vehicle
For much of the past decade, Ford has benefited from management and marketing problems at GM, including GM's 2009 bankruptcy and a safety scandal that hobbled the company in 2014.
Now, however, Ford confronts a crosstown rival largely free of debt and focused on grabbing market share from Ford, particularly in the truck and SUV segments which account for most of both companies' profits.
GM, the No. 1 US automaker, is in the midst of a prolific four-year patch of new vehicle launches, many approved by Mary Barra, the company's former head of global product development who was named CEO in January 2014.
In hindsight, GM benefited from its bankruptcy, as it emerged essentially debt-free and able to spend more on new products. Ford did not seek bankruptcy during last decade's auto industry crisis, and instead borrowed heavily to survive it, leaving it short on cash to invest in new vehicles.
That result of that disparity is now becoming evident. A Reuters analysis shows that over the past two years GM has surpassed Ford in pretax profit per vehicle in North America. In 2016, Ford made $2,981 per vehicle, calculated by dividing pretax earnings by the number of vehicles sold, compared with $3,044 for GM. And GM plans to solidify that lead by rolling out a volley of new models aimed at the heart of Ford's lineup.
GM has invested billions of dollars over the past three years to overhaul many of its best-selling truck and SUV models, including the full-size Chevrolet Suburban and Cadillac Escalade SUVs that dominate their sector and typically boast pretax margins of $20,000 or more.
GM also has boosted its share of the US truck market with the 2014 launch of the mid-size Chevrolet Colorado and GMC Canyon pickups. Ford's rival to the Colorado - an all-new Ranger pickup - is not expected to debut until early 2019.
Over the past five years, both companies have spent roughly the same - about 8% to 10% of revenue - on capital equipment, engineering, and research and development, Reuters analysis shows. But GM has brought far more new and redesigned vehicles to market in the United States in the past three years.
"GM seems to be getting more for its money and realising the results sooner," said Joe Langley, an analyst with IHS Markit.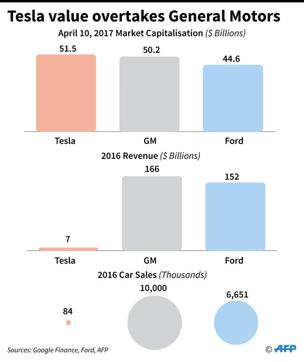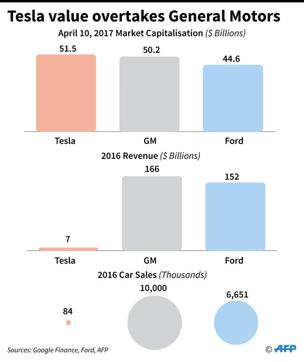 Missed opportunity
Earlier this month, Ford's US sales and marketing chief Mark LaNeve acknowledged the company had missed an opportunity by "not participating in" the mid-size truck and compact crossover segments where GM is well positioned.
Ford also has lagged in redesigning its eight-year-old Expedition and Navigator SUVs, which go up against GM's Suburban and Escalade, and finally will be overhauled this fall.
One of the biggest challenges for Ford will come next year, when its market-leading F-150 truck will be challenged by GM's redesigned Chevrolet Silverado and GMC Sierra pickups.
A year after that, GM is expected to launch new heavy-duty editions of the Silverado and Sierra to challenge Ford's F-Series Super Duty, which is one of the industry's most profitable vehicles.
Altogether, GM plans five launches in 2018 and eight in 2019, according to industry sources familiar with the company's plans. In comparison, Ford expects to unveil only two redesigned vehicles in 2018 and will only reach some kind of parity with six launches in 2019.
First Published Date:
25 May 2017, 03:50 PM IST
TAGS:
NEXT ARTICLE BEGINS