A3: 'affordable' bite of luxury
The cheapest Audi is sure to draw customers initially but the question is, will it be able withstand competition within and outside the house?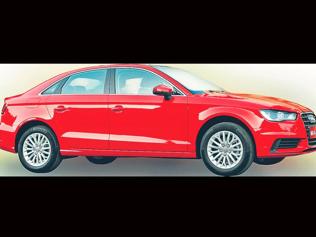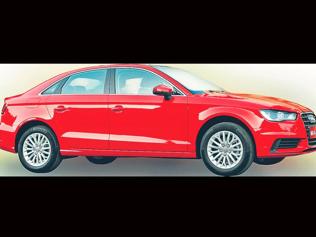 A3-affordable-bite-of-luxury
There is a lot riding on the relatively slender shoulder of the Audi A3 sedan. As the most compact and affordable Audi in town, it is bound to get its fare share of attention. At the same time in a fiercely competitive luxury car market the going is getting tougher. Audi is hoping A3 will bring in new customers to its fold — people who have never owned a luxury car before — and account for 15% of its sales. But the question is whether there is anything new in the car or is it just another Audi in a sleeker packet?
Design and style
The A3's design takes its cues from the trademark Audi design language. At a glance it seems to mirror the A4 and if you ignore the dimensions it is difficult to tell one from the other.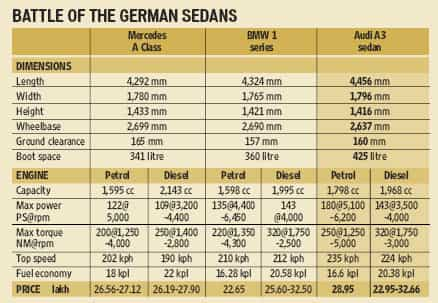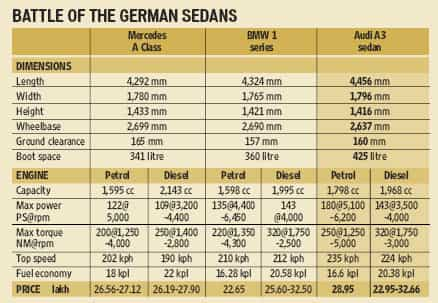 The company has also consciously decided to not go overboard with chrome that enhances the understated appeal of the car. With its large air inlets, trademark grille and LED headlamps it is sporty to the core. The sharp lines all around the body and short rear overhangs give the car dynamism. At 4.5 metres it is a well proportioned car and does not look like a hatch with a boot. Which it actually is.
The cabin is spartan by Audi standards but exudes high quality. The interiors come in dualtone colours and particularly striking are the turbine shaped air-conditioning vents. Fit and finish is top notch and there are is a long list of features such as 7 airbags including a knee airbag, and a retractable display screen.
These are the things that make a luxury car stand out over executive sedans and thankfully there has been no compromise on that. On the flip side, rear seats feel cramped and can accommodate two adults at best. Also day time running lights, sun roof, and fog lamps are not standard.
Performance, ride and handling
The A3 shares its engines with the entry-level Q3, so the performance is a no brainer. The 2.0 litre diesel engine makes 143 PS of power and 320 Nm of torque while the 1.8 litre petrol motor belts out 180PS power and 250 Nm torque. Considering that the diesel gets four variants to one for the petrol, it is clear which engine will be fired the most on Indian roads.
And thanks to the smaller size and lighter weight, the diesel version seems more lethal in the A3. The torque well spread out and kicks in below 2000rpm, stretching over to 3000rpm. In effect there is no lag in acceleration. We expected the engine to drain out a bit beyond 150 kph but were pleasantly surprised to find it shoots readily till 180 kph. We could not test the top speed of 224 kph, for obvious reasons, but we will not bet against it. The steering is well balanced and mated with 6 speed dualclutch gearbox. It is not an out an all out performer but one that is at ease in city and highway.
Verdict
With a starting price tag of ₹ 22.95 lakh (ex-showroom Delhi), it is clear who Audi is trying to lure. The entry version does not have many features and we doubt if that would draw in numbers. But the price is certain to bring eager customers into showrooms and most of them will walk away with the higher spec variants.
It is a good car for those looking at forfirst bite of luxury and comes at a time when Audi is at its peak. The challenge would be to ward off in-house competition from the A4 and the Q3. In the past, cars with aggressive prices have initially flown off the shelves but have not sustained in the long term.
Audi would not have a problem so long as customers stick to the brand, but how A3 creates a space for itself within its own showroom will decide its fate.
First Published Date:
20 Aug 2014, 13:17 PM IST
TAGS:
NEXT ARTICLE BEGINS