2013 Mercedes E63 AMG review, test drive
Ive got the Buddh International Circuit all to myself for an entire day. Im glad, because under my right foot are the 557 horses from Affalterbach and a sledgehammer 73kgm of torque playing supporting role.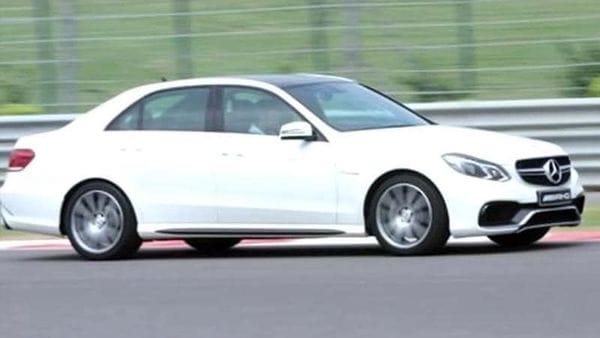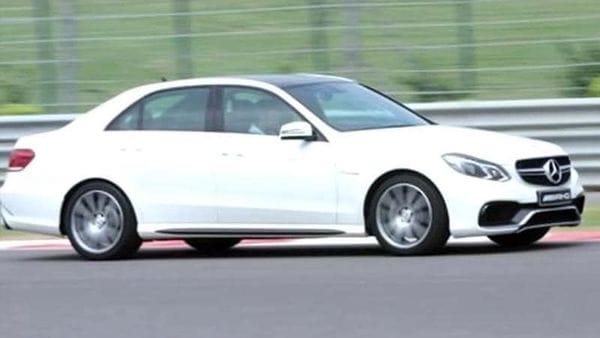 Mercedes
I've got the Buddh International Circuit all to myself for an entire day. I'm glad, because under my right foot are the 557 horses from Affalterbach and a sledgehammer 73kgm of torque playing supporting role.
These not so inconsequential numbers are wrapped in the rather subtle looks of the new Mercedes-Benz E-class and that, forgive the cliché, makes for a brilliant wolf in sheep's clothing kind of car. Now, I'm glad I have the BIC at my disposal because its huge run-off areas will allow me to get to know what those horses can do in a way no public road can. Time to twist the key.
Blat! And then it settles down to an unobtrusive idle. It's the one thing I don't like about the E 63 AMG. The sound coming from those quad pipes at the back is a bit unspecial. Sure it's loud under full throttle (not sportscar loud though) and there's a bassy growl to it, but I think those two turbochargers aren't letting the V8 sing freely. There are however, no complaints at all about how this car moves. It takes off like a scalded cat -- peak torque kicks in at 1750rpm and stays there all the way to 5250rpm. So, there's plenty of shove from the word go and its shove that gets stronger as the rev needle arcs past 4000rpm and onto its 6400rpm limiter. AMG claims a 4.2sec 0-100kph time, our VBOX recorded a 4.5sec time, which, is impressive considering the outside temperature is a not too cool 36 deg Celsius.
This new E63 AMG also comes with AMG's 7-speed SpeedShift twin-clutch gearbox that's very responsive and mostly obedient to paddleshift inputs, save for one small glitch. We will come to that later. The gearbox has four modes -- comfort, sport, sport+ and manual. The big difference between the modes is that in sport, gearshifts are 25 percent faster than in comfort and in sport+ and manual, they are a further 25 percent quicker. And, in manual, you get full control of the gearbox -- it won't downshift on its own and it won't upshift at the redline either. Still, because the engine is so rev-happy, in manual mode, its easy to run into the redline before you know it. Once this happens, the gearbox takes its time to upshift when you pull the paddle -- its like its protecting itself from the assault of a full bore upshift.
Then there are other modes -- press the ESP off button and the traction control switches to a sport mode that allows a lot more sideways action than with it off. Holding it down for a few seconds turns it off completely for completely uninterrupted oversteer. Then there's two settings for the damper stiffness and an AMG button that dials up Sport+ for the gearbox, sport mode for the traction control and the stiffest damper settings at the press of a button.
I find that, on the track atleast, the most fun setting was to turn the traction control off completely, have dampers on the stiffest and the gearbox in sport+. That way, you can really take advantage of the E63 AMG's bespoke chassis.
And what a chassis it is. AMG has engineered it to be safe on the limit, and that means it has a certain amount of understeer dialled into its suspension. However, there's such a great big whack of power and torque coming in so fast that it's easy to kick the tail out. Catching the rear is easy too -- the quick steering, electrically assisted ofcourse -- gives you some hope of reacting fast enough to catch the breakaway. The quick steering is also very precise and allows you millimeter perfect precision through the techincal section of the Buddh circuit.
The problem is -- for someone not used to the track layout and with so much easily accessibly power -- it's easy to arrive at a corner too fast and then waste precious seconds scrubbing speed off and trying to get the car turned in. No, in an E63, you need to shed speed, line up, clip apex and power out as quickly and smoothly as possible. Trouble is, despite its amazingly linear power delivery, the turbo-motor still doesn't give you the millimeter perfect throttle control that a large hearted naturally-aspirated motor does.
In my case, I found myself almost always feeding in too much power and wasting time with wheelspin on the exit. Get your line right though and you can really, really lean on the tyres, the E63 displaying really good chassis balance, loads of grip and exceptional body control.
It's plenty quick down the back straight too -- 240kph and a bit more is easily achieved before you stand on the brakes for the tight right hander. Oh, the brakes! Phenomenally effective and much stronger than you expect. They are remarkably fade free too, despite this car running steel discs (carbon ceramic brakes are optional).
As for the rest of the car, it's everything an E-class is and slightly better. The interiors for example, get a whole lot of carbon fibre treatement -- its on the strip that runs actoss the dashboard, it's on the doorpads and it surrounds the gearlever. Other differentiating factors from a regular E-class is that fantastic to gold alcantara and leather steering wheel, the stubby, gearlever and those excellent AMG sport seats with active bolstering. Under cornering, they adjust the bolstering to provide you with support against cornering forces.
As for real world situations, the Buddh circuit is so smooth that it was impossible to tell how good (or bad) the ride is. We also don't know how the E63 AMG will handle big speed breakers or tight traffic.
As is, the E63 AMG is priced at ₹ 1.29 crores (ex-showroom, Delhi) which makes it rather expensive. However, for this money you get a car that can seat five, carry their luggage and possibly give a Ferrari a few nightmares.
Fact File
Price Range (in lakhs)*
Ex-showroom price ₹ 1.29 crore (ex-showroom, Delhi)
Engine
Fuel Petrol
Installation Front
Type 5461cc twin-turbo V8
Power 557bhp at 5,500rpm
Torque 76.4kgm at 1,750 - 5,250 rpm
Transmission
Type rear-wheel drive
Gearbox 7-speed DCT automatic
Dimensions
Length 4891mm
Width 2071mm
Height 1442mm
Wheel base 2875mm
Chassis & Body
Wheels 19-inch alloy.
First Published Date:
26 Jul 2013, 17:29 PM IST
TAGS:
NEXT ARTICLE BEGINS