Volvo's 2020 vision
Volvo has this week been demonstrating six new technological world firsts to the world\'s motoring press that the company hopes will help it reach its ultimate goal to ensure that by 2020 no one is seriously injured or killed while driving or traveling in a new Volvo car.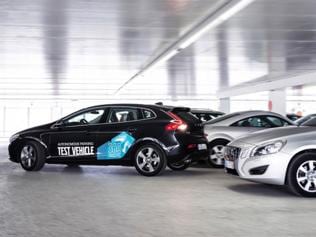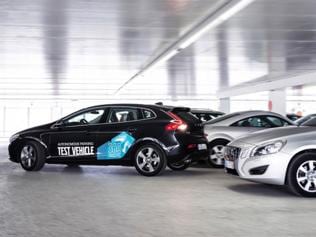 Volvo-Autonomous-Parking-Concept-Photo-AFP
Volvo has this week been demonstrating six new technological world firsts to the world's motoring press that the company hopes will help it reach its ultimate goal to ensure that by 2020 no one is seriously injured or killed while driving or traveling in a new Volvo car.
The company is famous for its obsession with accident data and statistics and has come to the conclusion that developing and deploying technologies that eliminate driver distraction and that stop vehicles from departing the road will be critical to meeting its 2020 aims.
Therefore, the new features include detection and auto brake for pedestrians and large animals, whether in bright sunshine or at night; autonomous steering intervention to help prevent cars from veering off the road; and an adaptive cruise control with steer assist to take the stress and strain out of motorway and stop start driving. But perhaps most impressive is that none of these technologies are mere prototypes -- they will be debuting on the company's next XC 90 flagship 4x4 when it officially launches in 2014.
'Our aim is to gain leadership in the field of autonomous driving by moving beyond concepts and actually deliver pioneering technologies that will reach the customers. Now, we are taking the first steps towards our vision by introducing the first Volvos with autonomous steering to avoid accidents and make driving more comfortable,' says Thomas Broberg, Senior Safety Advisor Volvo Car Group.
There is a huge buzz around automomous driving technolgies at the moment. In January, Audi wowed the crowds at the International CES with its self-parking car (complete with iPhone app) and its intelligent motorway cruising car that could not only accelerate, brake and steer with autonomy, but could also change lanes to allow other cars to pull onto the road ahead of it.
However, as with wearable technology, the focus has been on this 'wow' factor rather than the use case scenario, and technological limitations (the sensors alone in Audi's cars cost more than a Porsche 911!). Volvo's approach is to take existing technologies and build on them to create clearly defined features with an equally clear use case and benefit.
Advance detection
For example, according to STRADA (Swedish TRaffic Accident Data Acquisition), 58 percent of all the pedestrian fatalities occur in darkness, at dusk or dawn. Volvo's Pedestrian Detection in darkness system is focused purely on identifying people on or near the road, including cyclists, and tracking their movement. If a pedestrian has moved into the vehicle's path, the system sends a warning to the driver and if he or she fails to take action, the car will automatically stop in order to avoid collision.
However, from a technological standpoint, it is comparatively easy to identify a person, as anyone who uploads photos to Facebook will know. Identifying large animals, such as moose and deer is much more difficult considering that they are naturally camoflauged. Yet hitting one is a serious risk in a number of countries -- in Canada there are 40,000 such accidents a year. What's more, at crusing speeds of 70-100km/h there is a 70 percent chance that such a collision will result in severe injury to a car's occupants. 'It is a huge challenge to detect what nature has done its best to conceal. Initially, we are focusing on large animals as they cause the most damage and the most severe injuries,' said Broberg.
On the road -- not off
Volvo's data shows that around 25 percent of all accidents involve an initial road departure and that in Sweden, road departures cause 53 percent of all traffic fatalities and 42 percent of all severe injuries. Therefore, keeping the car on the road and keeping the driver aware of what is happening around him or her could mean the difference between life or death if an accident were to occur.
Road edge and barrier detect uses a camera and radar sensor to recongize where the road stops and a barrier, verge or embankment begins and ensures that the car is traveling parallel with them. If the car moves too close to the edge, a warning light comes on and the steering automatically adjusts to keep the car on course, even at highway cruising speeds.
Adaptive Cruise Control with steer assist takes this one step further. When activated, a Volvo will follow the car in front while maintaining a safe, uniform distance whether the lead car is accelerating or braking. The system can also adjust the steering to ensure lane discipline but, when the system debuts on the XC90 next year, the driver will have to keep hold of the steering wheel to comply with current legislation, although during the tests, it was possible to take both hands off the wheel, look out of the window, chat and send a text message. 'Distraction and inattentiveness are the most common cause of accidents in modern traffic. This technology makes driving safer and more relaxed in monotonous stop-and-go traffic,' explained Broberg.
Forget about parking -- just call your car to pick you up
Still, as well as the present, Volvo couldn't resist also giving a glimpse of the future with its communicating and self-parking cars. Just like Audi, Volvo has developed an autonomous parking technology with an iPhone app. Get out of the car at a designated drop off-point then send it on its way via a smartphone command. The vehicle will set off, find a space, park and send the driver a message saying where it is parked. When it's time to go, the driver hits the app again and the car returns to the drop-off point, automatically avoiding other road users and pedestrians in the process.
Likewise, via car-to-car and car-to-infrastructure technology, a driver receives timely alerts, such as how long it will take for traffic signals to change from red to green, or if there are icy or dangerous driving conditions ahead all through wi-fi and 3G data signals. 'There is considerable potential in this area as well as opportunities for many benefits in many spheres over and above road safety, such as a more uniform flow of traffic and additional comfort for road users,' said Broberg.
First Published Date:
06 Jul 2013, 16:21 PM IST
TAGS:
NEXT ARTICLE BEGINS