The Volvo XC90 sets new standards
The Swedish car-maker has invested its heart, soul and some $11 billion dollars in creating the seven-seat luxury off-roader and in doing so could have redefined the SUV market in terms of comfort, safety and even style.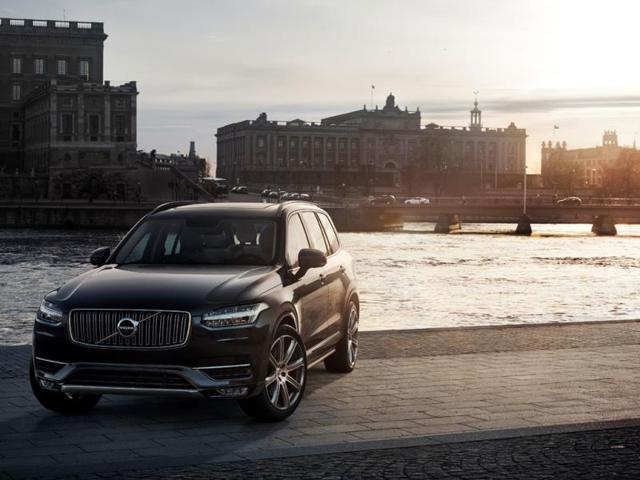 The Swedish car-maker has invested its heart, soul and some $11 billion dollars in creating the seven-seat luxury off-roader and in doing so could have redefined the SUV market in terms of comfort, safety and even style.
It's bold, clean in line, boasts an interior that could turn Range Rover owners' heads and offers the most comprehensive package of safety features and technologies available on any car today, including two world firsts designed to protect the driver and occupants if it should leave the road or pull out in front of another vehicle at an intersection.
'This is one of the most important days in our history. We are not just launching a car, but re-launching our brand. This day marks a new era for our company. The XC90 paves the way for a portfolio of exciting new cars to come in the following years,' said Håkan Samuelsson, President and CEO of Volvo Car Group.
But as well as bolder looks and space for seven occupants to sit in comfort, the XC90 should be no slouch either. The range-topping 'Twin Engine' model will come with a 2-liter, four-cylinder engine driving the front wheels that is both supercharged and turbocharged, while an electric engine powers the rear so that up to 400hp will be on tap but CO2 emissions are kept in check -- just 60g/km on the combined driving cycle.
As such, Dr Peter Mertens, Volvo's Senior Vice President, Research and Development, describes the XC90 as the first SUV without compromises but one that is still first and foremost a Volvo: 'The XC90 carries the Volvo badge, world-class safety is standard,' he says.
When the XC90 goes on sale in May, its City Safety package will enable it to brake automatically, day or night, when another vehicle, a pedestrian or a cyclist accidentally strays into its path. It will also be the first Volvo capable of tracking the car ahead and automatically following it at a safe distance -- a great feature for motorway driving; a number of luxury car brands, including Mercedes and Audi already offer a similar system.
However with its Run-Off road protection and Brake at Intersection systems, the XC90 is driving into new territory in terms of active safety features and further towards its 2020 Vision -- Volvo's aim to ensure that no one travelling in a new Volvo is killed as the result of a road accident by the end of the decade.
As the name suggests, Run-Off road protection senses when the car is unstable and attempts to balance braking and power to regain control. However, if the car rolls or leaves the road, the seatbelts will automatically tighten to hold all occupants in position. To minimize spinal injuries, the seats are designed to absorb energy and to cushion vertical forces.
Intersection braking will automatically bring the car to a halt if at a busy junction the driver is about to pull out into the path of another vehicle.
'The new technologies will take us a significant step closer to our vision that no one will be killed or seriously injured in a new Volvo car by 2020,' says Dr Mertens. 'Our starting point on safety is the same today as it was when the company was created almost 90 years ago: real-life situations. We study data. We crunch numbers. We innovate. The result is one of the safest cars ever made.'
Clutter-free interior
Away from safety, the cabin blends wood and leather with one or two well-considered idiosyncratic touches, such as a crystal glass gear lever and diamond-cut controls for the stop/start button and the sound system.
A sense of interior light and space has been achieved by ditching as many controls and buttons as possible and integrating a host of operations -- from the air conditioning to seat adjustments -- into the central touchscreen display. A giant tablet, its interface has been painstakingly developed to minimize driver distraction and to present only the most relevant information, such as navigation.
Volvo has confirmed that touchscreen display will support both Apple's CarPlay and Google's Android Auto smartphone mirroring technologies when it launches, meaning that music from either an iPhone or an Android device can be pumped through the 1,400 watt Bowers & Wilkins sound system and even here, Volvo is showing some very intelligent design. Rather than bury a subwoofer in the car's rear it uses air vented speakers, integrated into the vehicle's body so the effect is as if the entire cabin is a subwoofer.
The car will make its first official public appearance at the Paris Motor Show in October and aware that there could well be a long list of potential customers for the XC90, Volvo is releasing a special limited edition model that will be available to order exclusively online from September 3. Only 1927 examples will be built, each of which will be individually numbered and come with an Onyx Black exterior finish, 21-inch alloy wheels and a nappa leather interior.
First Published Date:
28 Aug 2014, 05:07 PM IST
TAGS:
NEXT ARTICLE BEGINS