Tata Motors aims to become number three player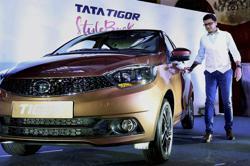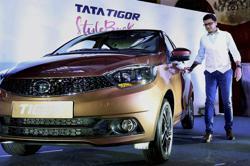 Kolkata: Vivek Srivatsa, Head-Marketing, Passenger Vehicle Business Unit, Tata Motors during launch of Tata Tigor, in Kolkata on Friday. PTI Photo by Ashok Bhaumik(PTI3_31_2017_000109A)
Tata Motors is eyeing to be the number three car manufacturer in the country by the end of 2019, a senior official of the company said here today.
"By the end of 2019, we want to be the No. three manufacturer in the country. Right now we are at the No. 4 position both country-wise as well as in West Bengal," Tata Motors Head Marketing Passenger Vehicle Business Unit Vivek Srivatsa said.
Srivatsa, who was here in the city for the launch of Tata Tigor in West Bengal, said that a couple of years back the company was the No. 6 or No. 7 manufacturer in the country.
In fact, Tata Motors in the last one year (April '16-Feb'17) has grown twice as big as the automotive industry growth in the country.
"In other parts of the country Tata Motors was growing close to 20% whereas the industry growth is about seven to eight per cent. Exactly the same situation prevails in West Bengal," Srivatsa said.
He said that in the last one year Tata Motors was the fastest growing manufacturer in West Bengal at 22% compared to the general industry growth.
Incidentally, the national market share of Tata Motors is of around four per cent which is the same in West Bengal, he said.
Asked which brands contributed to the growth, Srivatsa mentioned Tiago, launched last April, and Hexa, introduced last January.
The official said that both Tiago and Hexa had been accepted "very strongly".
The company is consistently selling about 5,000 units per month, he said pointing out that in the first year Tiago had received 83,000 bookings in 12 months.
"We have delivered so far 50,000 Tiago cars. Hexa on the other hand has contributed to the growth in a small way," he said.
With 120 units being sold per month, the official said that Zest was their fastest growing car in West Bengal with a national figure of 2,000 cars a month.
On the future of Nano, Srivatsa said that the company would continue making the car as long as there was a demand from the customers.
"Our strategy is very simple. As long as the customer demand is there, we will continue manufacturing it. And there is still a demand for it," he said. PTI SCH MD MD
First Published Date:
31 Mar 2017, 05:17 PM IST
TAGS:
NEXT ARTICLE BEGINS