Superbikes which recently hit the Indian market
2013-14 was a watershed year for superbikes in India. It was the year in which Harley Davidson got company, with the arrival of UK's Triumph.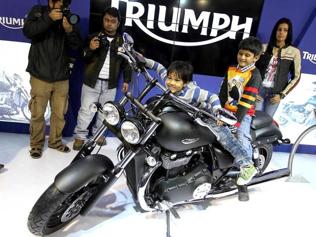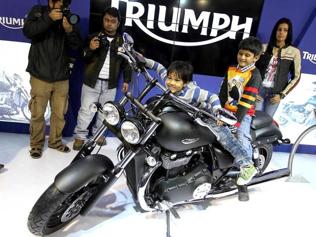 Superbikes which recently hit the Indian market
2013-14 was a watershed year for superbikes in India. It was the year in which Harley Davidson got company, with the arrival of UK's Triumph. Japanese bike-maker Kawasaki, after sitting on the sidelines for several years, took the plunge and introduced some of its best-selling models. Later in the year, off-road vehicle maker Polaris brought the marquee "Indian" motorcycle brand to India.

Funnily enough, perhaps the most significant development of the year was that giant bike-maker Harley chose to move beyond the "super" or 1,000cc-plus category, launching an all-new 750-cc cruiser and unveiling an even smaller 500-cc sibling.
Over the years, Harley Davidson, earlier famous for its 'rebel' image, has become associated with the middle-aged white American living out the dreams of his youth - now that he could afford it. But in the last 10-15 years, sales dried up, as have the baby boomers. The company then wooed women with sub 1-litre engine bikes --- a strategy that did not go down well with its traditional customer --- and is now targeting the "mass market" with budget offerings, starting with the R4-lakh Street 750.
The market is getting shaken, if not stirred.
"The pricing is amazing," said Bittoo Sondhi, former bike-racer, enthusiast and dealer of Suzuki bikes in Delhi, about the Harley move.
With the Street 750, Harley is looking at the youth and urban riders, as India's roads are notoriously unfriendly for cross-country cruises on giant bikes with laidback seating. "The ground clearance is higher, the engine is all-new liquid-cooled… we've taken feedback from riders on what they want, and this is what we came up with," said Anoop Prakash, CEO, Harley India.
What it will do to Brand Harley, is another question. Would this bid to make it more accessible to India's vast middle-class end up diluting its image of being a luxury product, associated with the higher income group? In the last 10-15 years, as the baby boomers faded away, sales dried up in the US, which led Harley to woo women with sub 1-litre engine bikes, and to foray abroad with cheaper offerings --- a strategy that did not go down well with its traditional customer. In its five years in India, it has been selling 400 bikes a year, in a price range of R6 lakh to R23 lakh.
Said Abdul Majeed, executive director at PricewaterhouseCoopers India: "It is a matter of perception. If it is communicated to the market properly, that the new bike is a totally different segment, it should not devalue the brand. After all, the new bike is not a R30,000 product, it is still costly and not mass-market."
Interestingly, this move towards the lower end of the price spectrum comes at a time when Harley is getting competition in its core market. January saw the entry of Harley's traditional rival, Indian, in India. They have three models built around the same 111-cubic inch (1,819cc) engine , with a starting price of R26.5 lakh. Their slogan is "The choice is here", pitched, obviously, at Harley. Target audience is the high income male who already owns luxury cars and such; the Indian is not pitched as an aspirational product, as Ross Clifford, director of motorcycles, Polaris, made it clear at the launch.
Suzuki, the Japanese heart of India's biggest car maker is the number two in the superbike category with sales of over 300 units a year, but does not tom-tom the fact. Its premier sportsbike, the Hayabusa (peregrine falcon, in Japanese) is probably the country's single-largest selling sportsbike. It was the fastest production bike, with an electronically restricted top-speed of 297 kph that is comparable to the falcon's top diving speed, but has an attractive price at about R16 lakh, endearing it to the value-for-money Indian customer.
Suzuki late last year launched a club for its owners, Suzuki Biking Lords, with plans to organise rides and track events, and a mobile app that will let owners keep in touch. "It is closed social media group --- owners can meet, coordinate rides, share experiences etc. And also get in touch with the company, instantly," said Atul Gupta, executive vice-president, Suzuki Motorcycles India.
Competition in this category has hotted up recently with Kawasaki's belated entry. "We have been watching the market closely," said Kawasaki India deputy MD Shigeto Nishikawa. "We believe it is becoming ripe now." Kawasaki has only brought sportsbikes so far, its Ninja series with their distinctive bright green bodies, and the 'naked' Z series street bikes.
The brand is popular among discerning bikers in Europe, and its Z1,000 and Z800 streetbikes are among the most popular in the Continent. They jostle with Triumph's Street Triple and Speed Triple, and Italian bike maker Ducati's famous Streetfighter, Monster and Diavel.
Ducati's story in India has been rather sad. The company is in litigation with its former Indian importer, and right now in India, the brand is simply associated with a mess.
What about Harley Davidson, the grand daddy of them all? "Oh, there are bikers, and there are Harley owners," said Sumant Singh, a biker from Chandigarh, dismissively. Harley Davidson is more known as a lifestyle product, all about bikes, beer, bonhomie and biking brotherhood, typified at events of the Harley Owners' Groups (HOGs) across the country.
"Harley is about a lifestyle," said Arun Thareja, head of ENT at Maharaja Agrasen Hospital and founder of the Group of Delhi Superbikers (GODs), which turned 16 recently. "They are cruisers, so the older riders prefer them. Women have also started buying them as the seating is low and it can be handled easily."
Agreed Sondhi: "They are known for clubbing and those kind of things. If you want a bike to really ride, people come to Suzuki." Moreover, the high pillion seating on sportsbikes is a put-off for the wives and girlfriends, who seem to prefer the glamour of the Harley.
Interestingly, Yamaha, which was the first company to bring big bikes to the country in 2008, is today languishing, despite its celebrity endorsement (Bollywood beefcake John Abraham) and its portfolio of sportsbikes and streetbikes. The R1, its premium sportsbike, is a legend in its own right, but Indian riders don't seem to have taken to it. Its patchy after-sales record may have something to do with it.
Customer care may prove the undoing of UK's Triumph as well. The company has taken its time to enter India, but it won hearts when it unveiled its entire array of bikes in the country, with competitive pricing. Four months later, though, it has only just commenced bookings, its Facebook page is rife with adverse comments, and the company is struggling with India's notorious red tape.
In Europe, the brand is famous for its nimble triple-engined street bikes and classics Bonneville and Thruxton, but the highlight of its lineup is the mammoth Rocket III, powered by a 2,300cc engine, the largest production bike in the world with power and torque comparable to large SUVs. Businessman Naveen Ansal, for instance, has an all-chrome customised Rocket III in his stable, and celebrity owners worldwide include Tom Cruise.
Last but not the least is Germany's BMW. The company seems to have decided to carve out its own niche, and disdains the mainstream, pricing its big bikes in excess of R29 lakh. "It is completely inexplicable," said Thareja. "They hiked prices beyond recognition, and are now out of the budget." BMW's K series tourer is considered peerless, and hitherto had little competition, but with the advent of Triumph's Tiger 1,200 and 800, priced below R20 lakh, and Suzuki's V-Strom at R15 lakh in January, the German bike-maker may have its work cut out.
Typically, riders evolve over the years, starting with small-engined sportsbikes before buying heavier and costlier superbikes, and mellowing down to cruisers in their later years.
This year, the market seems to be following Harley's lead in going for the small and mid-size segment, but that is another story.
First Published Date:
04 Apr 2014, 21:59 PM IST
TAGS:
NEXT ARTICLE BEGINS