Polo GT: only for the indulgent
Volkswagen Polo GT is the most powerful yet unpretentious small car in town. For a beast of a machine only a thriller will work, replete with a twist in the end. Read on. Sumant Banerji reports.

Volkswagen-Polo-GT
What happens when you spruce up a normal 1.2-litre petrol engine with direct injection and a turbocharger? You get a more powerful car. What happens when you combine that with a state-of-the-art 7-speed automatic transmission? It makes the Volkswagen Polo GT the most powerful yet unpretentious small car in town.
End of the story? Not quite. For a beast of a machine only a thriller will work, replete with a twist in the end. Read on.
What is the fuss all about?
To put things lightly, the combination of direct injection and turbocharger with a automatic gearbox is lethal. And when it is done in a sporty compact car, it is even more so. Despite being powered by an engine that is as big as the one in the conventional Polo, in the GT there is 40% more outright power and a whopping 60% more torque.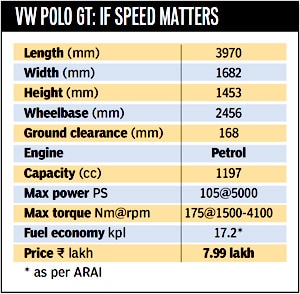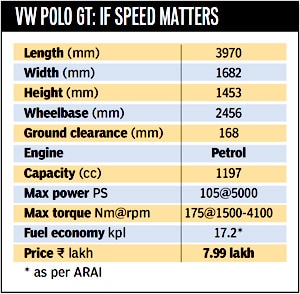 In effect, despite being a petrol motor, it revvs like a diesel. At the outset there is little to differentiate one car from the other barring the sundry GT badges and stickers here and there and a rear spoiler.
Polo has always been a neat executive looking car with clean lines and proportionate dimensions. It has the look of a timeless variety to it and though it will not grab attention immediately, it wont look dated even 10 years hence. With its chiselled head lamps, narrow grille and spunky alloy wheels, Polo is an unruffled design with a styling that is sure of itself.
Nothing has changed in the interiors too, except for the linear gearbox and the lack of a clutch pedal. High on quality with superb fit and finish the cabin is built to last. And unlike what the Polo was when launched initially, it gets all blings and whistles in features. Considering this is a fast car, it gets a fair share of safety features too.
That includes electronic stability programme, anti-lock brakes, dual airbags and hill hold -- a first for a small car in India. Hill hold prevents the car from rolling back on a hill or a slope even when the brake is not pressed. And all of it, is standard.
On the road?
Being the best on paper never won anybody anything. So how does all the technology fare on real-time Indian roads? The first thing that hits you when you tun on the ignition is how silent the engine is. Automatic cars are known to be sluggish and noisy. None of it is true for the GT. As the torque flows in at a very low 1,500 rpm, the car gets off the block in a flash. You don't even have to press the accelerator for that. Simply move the foot away from the brake and it hurtles forward.
The superior transmission negates any turbo lag that the car may have had. Drive it gently in the D mode and it will calibrate it to give you a decent bang for your buck. But it is the happiest when you revv the engine hard and throw it around on corners.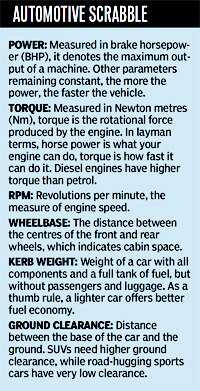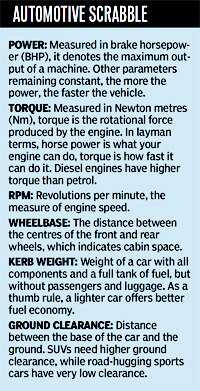 There is manic acceleration that does not quite hit because there is no turbo-boost anywhere. It is linear with just a gentle humm of the motor. And the ride and handling characteristic is such that you dont realise you are doing triple figures even in city traffic. Out on the open highway, it goes even berserk. With us, it crossed 180 kph and we think it could have done more if we had the guts.
It is not without reason that it is the fastest and most powerful small car in India.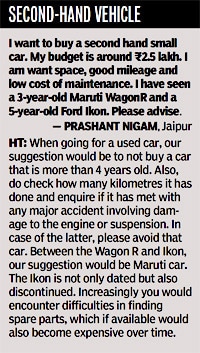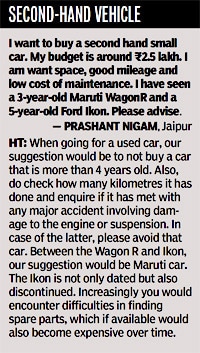 So, what's the catch?
For every good thing, you have to pay a price. At rupees 8 lakh ex showroom, this is also by some distance, the most expensive small car. And it is also run on the more expensive fuel. But what rankles even more, is that it is a guzzler. The ARAI claims of 17.2 kpl means nothing. Drive it like you should and you may still end up with single-digit figures. We managed 9 kpl. Drive it in sports mode and the way the car wants to be driven and it falls further to 7 kpl. This will throw you off guard and burn a big hole in your pocket.
Verdict
More than half of the small car buying populace in India will give the GT a miss simply because of the price. Another sizeable chunk are those who have the money but are practical and the guzzling characteristic of the car will not appeal to them.
That will leave a tiny slice of people who are enthusiasts and love a fast car. They don't mind the fuel economy as they know it is a trade-off one makes for manic performance. With the GT, VW flexes its muscles and shows what a technology powerhouse it is. And by launching it in India it makes a bold statement of intent.

First Published Date:
13 Jun 2013, 21:07 PM IST
TAGS:
NEXT ARTICLE BEGINS