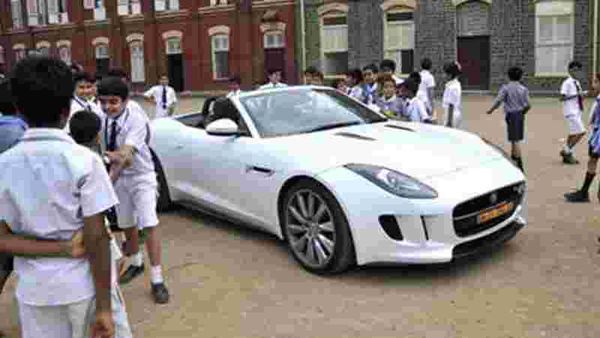 New Jaguar F-Type review, test drive
5 min read

.

Updated: 09 Jul 2013, 01:00 PM IST

It's a cloudy, muggy, rainy day here in Mumbai, but we've got our own little ray of sunshine today – Jaguar's fabulous new F-Type. Now we already know this is a stunning sportscar, and looking at the spec sheet we can tell it's going to be seriously quick too.

It's a cloudy, muggy, rainy day here in Mumbai, but we've got our own little ray of sunshine today - Jaguar's fabulous new F-Type. Now we already know this is a stunning sportscar, and looking at the spec sheet we can tell it's going to be seriously quick too.

Question is, how well does it work as a GT and a sportscar? And more importantly, how well will it work in Indian conditions? Will it be both useable on a regular basis as well as a hoot to drive when the opportunity arises? Those are the answers we are looking for during our first drive of this car on Indian soil.
Similar Bikes
The conditions the new F-Type has to face on Mumbai's streets are nothing short of challenging. With our monsoon-damaged roads looking like they've recently been the recipients of a carpet bombing, and traffic at its snarly worst, this 488bhp rag top has its work cut out. There are a couple of areas in and around the island city where we will be able to give this car a brief workout, and we'll be headed there as well. But enough perspective; now let's dive straight into the car.
Climbing into the driver's seat proves to be a bit difficult. You can't help but stop and stare at the F-Type's gorgeous lines. There's little doubt that this car is the spiritual successor of the famous Jag E-Type of the '60s with its long bonnet, clean crisp lines and gaping mouth. Designer Ian Callum has however managed to give the F-Type an identity all its own. There's a delicious flow to the lines of this car around the nose, the 'D'-shaped grille marks it out immediately as a Jag, and those vertically stacked inlets below the headlights look really special too. What's also neat is the way the shoulder line rises over the rear wheel and curves around to the rear. And don't those tail-lights and that tapering rear look stunning!
The F-Type is also tastefully done on the inside. The design of the cabin really is a fresh take on the insides of a sportscar, and as a result the driving environment is more modern cockpit than traditional leather-and-wood-panel job. Tacky-looking stalks aside, the quality on the insides is up there with the competition from Germany. The chunky steering wheel with the stubby paddle shifts feels great to hold and the knurled air-con knobs feel particularly nice. Also adding a touch of class is the white-on-grey dials. The F-Type's party piece, however, has to be the pop-up aircon vents; they emerge almost out of nowhere when you start the car and are just too cool.
Comfort levels aren't too bad either. You're not sat too low and visibility out is decent, so eyeballing those potholes is really easy. And for all that 488bhp, the F-Type is quite well mannered and easy to drive in traffic. It doesn't leap forward or lurch when you give it a bit of gas, and that's perfect for our traffic where getting on and off the throttle is a constant affair. What also impressed us was the fact that the F-Type didn't scrape its belly on speed breakers, though we did crawl over them real slow.
The other problem we often encounter with sportscars in India is that they're normally too stiffly sprung and hard, and that makes them difficult to use here. It isn't just bone-jarring ride quality per se, but also the ability to put down power cleanly. Jaguar, however, has taken care of that with the new F-Type. The ride is really absorbent and at times even shockingly comfortable. This means you can drive over some really rough patches, especially on our city roads here in Mumbai, which makes this car just so much more usable.
What you do get accustomed to very quickly is the extra attention from bikers and motorists, many of them with phones on the ready. Escaping them, once an appropriate opportunity presents itself however, is no sweat. And Mumbai's new Eastern Freeway is one such opportunity. This new 14km-long elevated freeway is the ideal place to stretch the F-Type's legs.
Jag has always been good at supercharged engines, but this V8 feels like it has just everything you need. It is responsive, always on the ball as soon as you hit the throttle and push harder, and you soon come face-to-face with the ferociously strong top end. The shove in the back once the car is able to put the power down is so strong that it feels nothing short of supercar-quick in bursts. And what makes driving this monster of a car even better is the phenomenal soundtrack. Put the hood down and you can hear the howl from the quad pipes in the back in surround sound. It pops, crackles and growls when you lift off and then goes completely bananas when you stand on the throttle.
Another fantastic bit on this car is the dynamic mode, selectable via a beautifully built military-grade toggle switch. Switch it on and the handling tightens up, allowing you to enjoy the road. A lot of this is down to the dampers that adjust themselves around a 100 times a second, meaning they almost always have the right amount of stiffness in them. This is also partly why the car drives so well. Of course, the all-aluminium chassis helps and so does the high-tech electronic rear differential, but what helps most is how well Jaguar has integrated all the systems on this car.
Fact File

Price Range (in lakhs)*
Ex-showroom price V8 S: ₹ 1.61 crore, V6 S: ₹ 1.37 crore (ex-showroom, Mumbai)
Engine
Fuel Petrol
Installation Front, longitudinal, RWD
Type V8, 5000cc
Transmission
Type 8-speed automatic
Dimensions
Length 4470mm
Width 1923mm
Height 1296mm
Wheel base 2622mm
Boot volume 196litres
Suspension
Front Double wishbone, coil springs, anti-roll bar
Rear Double wishbones, coil springs, anti-roll bar
Brakes
Front 380mm ventilated discs
Rear 376mm ventilated discs
Anti-lock Yes
Economy
Tank size 72 litres