Maruti drives in India's cheapest diesel car
Latest version of successful hatchback also claims to be most fuel-efficient in the country at 27.62 kpl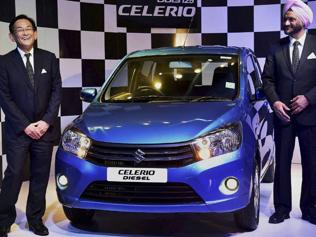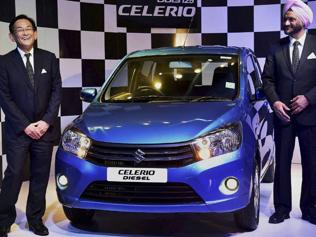 Kenichi-Ayukawa-L-MD-amp-CEO-Maruti-Suzuki-with-R-S-Kalsi-Executive-Director-Marketing-amp-Sales-Maruti-Suzuki-pose-with-company-s-Celerio-diesel-car-during-the-global-launch-of-Suzuki-s-first-diesel-engine-in-New-Delhi-on-Wednesday-Photo-PTI
India's largest carmaker Maruti Suzuki on Wednesday launched a diesel variant of its compact car Celerio at ₹ 4.65 lakh ₹ 5.71 lakh (ex-showroom Delhi), making it the cheapest diesel car available in the country.
The hatchback is powered by a 2-cylinder 800cc engine, one of the smallest diesel engines used in a car worldwide, and at 27.62 kpl, it is the most fuel efficient car in the country too.
Till now, Chevrolet's Beat that uses a 3-cylinder 936cc engine was the most affordable car at ₹ 5.05-6.28 lakh. Globally, only the Smart ForTwo uses a similar sized engine, but it is a two-seater and though more fuel efficient, is also more expensive.
"More than 40% of buyers in the low hatchback segment enquire about a diesel car so we believe the Celerio diesel will find ready acceptance," said R S Kalsi, executive director, marketing and sales, Maruti Suzuki India Ltd. "We are changing the dynamics by offering a product that has no competition. We think there is a lot of latent demand for a small diesel car," he added.
Maruti had launched the Celerio in February last year with an automated-manual transmission version. Till date, the company has sold 95,000 units of the Celerio and almost a third of them are automatic.
The engine, which churns out 47.6 PS of power and 125 Nm of torque is the first diesel engine that has been developed by Maruti and its parent Suzuki by themselves. So far, Maruti has primarily relied on Fiat's 1.3-litre engine. Deregulation of diesel prices last year, however, brought down the difference between prices of petrol and diesel resulting in a significant drop in demand for diesel cars.
"Diesel customers are the ones who drive more," said Kenichi Ayukawa, managing director and CEO, MSIL. "I expect the diesel variant to account for nearly 20-30% of Celerio's overall sales."
First Published Date:
03 Jun 2015, 01:21 PM IST
TAGS:
NEXT ARTICLE BEGINS