Land Rover's new Discovery Sport reviewed
Land Rover\'s Discovery Sport reviewed People will tell you that the new Land Rover Discovery Sport is a replacement for the Freelander, but there's far more to it than that. It is certainly another Halewood-built SUV, and a rival for the BMW X3 and Volvo XC60, but it is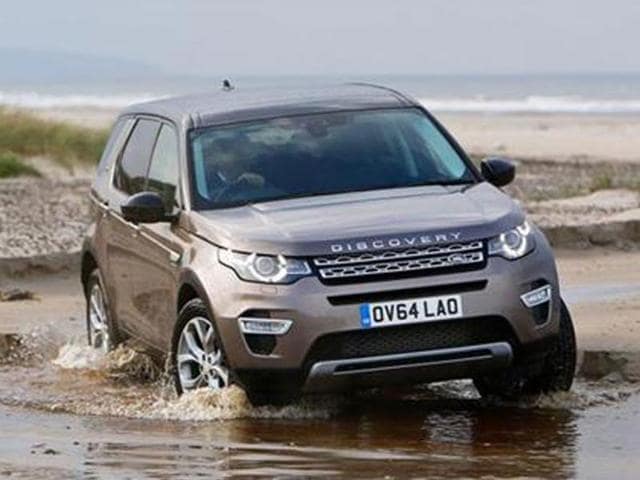 People will tell you that the new Land Rover Discovery Sport is a replacement for the Freelander, but there's far more to it than that.
It is certainly another Halewood-built SUV, and a rival for the BMW X3 and Volvo XC60, but it is longer, fitted with five-plus-two seating to its more spacious cabin, with the styling borrowed heavily from the Evoque, redefined as a member of the emerging Discovery family, which stresses its versatility and practicality.
Even Gerry McGovern, Land Rover's design boss and the chief architect of the new model's sleek new shape, agrees. "Others have great design," he says, "But Land Rovers need class-leading functionality.'
There's an interesting back story about the Sport's arrival. Land Rover's range of 4x4s has come to be dominated by the Evoque, whose annual sales of 120,000 a year are more than double the originally planned volume. The Freelander, closely related to the Evoque under the skin, was in danger of being glossed over, not least because its name has little cachet in the US or China. The company also needed a more modern-looking model that could fight and beat the X3 and XC60 while continuing to use existing manufacturing processes and share common components. Enter the Discovery Sport.
Though closely related, the Sport is far from identical to an Evoque under the skin. It has the same front suspension and transverse-engined mechanical layout, the steel chassis is nearly identical back to the B-pillar, but there's a completely new rear structure that extends the Sport's length (by 91mm) and wheelbase (by 80mm) and introduces a sophisticated new multi-link rear suspension which, along with the extra length, helps preserve interior space. This means the Sport's second row of seats can move back and forth, either to make a huge boot or provide class-leading second-row knee-room close to that of a Range Rover. For the first six to eight months of production, the only engine option will be the 188bhp SD4 diesel from the Evoque and Freelander, which is also shared with PSA and Ford. This was in our test car, driving through ZF's silky nine-speed automatic gearbox. Traction has been enhanced by continued improvements to the Terrain Response system that configures throttle, gear selection, torque distribution and ABS/traction control in four different modes according to driving conditions. In less than a year's time, the Sport will adopt JLR's advanced four-cylinder engine range made in its new Wolverhampton works, a move that should improve fuel consumption and cut emissions. At that stage, a two-wheel-drive version will become available as well for some international markets.
Two things strike you immediately when you slide behind the wheel. One is that there are no reminders of the Freelander; the other is that without aping anything they've done already, the design team has made this an obvious Land Rover. Not a Range Rover, a Land Rover. It's nicely appointed rather than outright plush. There are three green elliptical badges visible and the theme is logic, not luxury. True, there's a big centre screen that introduces a new infotainment system, but even that offers new levels of remote-control versatility without making an exhibition of itself. The same observations are true of the ultra-comfortable front seats, the surrounding trim and the generously proportioned second row located high enough to give occupants an excellent forward view. The sixth and seventh seats are plainly for kids, and they fold into the boot floor when not needed. They appear to take up remarkably little space, though if you have them, you have to compromise on a full-size spare wheel.
The ageing 2.2 diesel can be pretty vocal near idle, but it still has a wide envelope of torque expertly deployed with little hesitation by the nine-speed 'box to give very high-geared (thus quiet) cruising, plus effortless acceleration. Throw in low road noise levels and you have a quiet-cruising machine which makes normal-tone conversation possible even between the first- and third-row passengers. Wind noise isn't a problem below 160kph and even flat out at 196kph we found the car acceptably quiet. The only real intrusion comes when the diesel is extended through the gears. Oh, and there's a low-rev rumble when pulling top gear on light throttle.
Even Evoque stalwarts admit the new SUV has better steering. There's a new alertness and sensitivity near the straight-ahead, enhanced by the thick-rimmed wheel and further work to harness the subtleties of all-electric power steering. Engineers say the Sport's steering purity is enhanced by the superior geometry of the new suspension. It's a bigger car, but the new model feels easier than an Evoque to drive in all but the tightest going. This isn't the softest-riding SUV around; its firm damping does a fair bit to justify the 'Sport' part of the model's name. But it's also acceptably supple, as we discovered on a section of Belgian pave, and later sprinting along a rutted beach in Denmark. Though the average Discovery Sport will do most of its work on-road in towns, their test team say the Sport has even more traction and off-road capability than either a Freelander or an Evoque. As usual, it feels far more capable off-road than owners will need it to be. We never stranded it in various bouts of sand driving, fording vertically banked streams or rock crawling. Even on road tyres, the car has terrific traction. At the other end of the spectrum, it can charge along sinuous roads at a pace that belies its high-riding layout. Cornering grip is terrific. There's a bias towards understeer near the limit, but the Sport mostly goes where it is pointed with little body roll, the quick steering helping its feeling of agility.
It's fine combination of beauty, versatility and good driving characteristics bring a new sophistication to this class, and its polished interior, new infotainment system and impressive off-road ability create a pleasing all-round package. It will come to India in the second half of 2015 and is expected to compete with the likes of the BMW X3, Audi Q5 and Volvo XC60.
First Published Date:
23 Dec 2014, 07:40 PM IST
TAGS:
NEXT ARTICLE BEGINS