Hyundai Creta: This pseudo SUV scores on appearance, design
Hyundai Creta: Korean scores on looks, design, but Renault Duster handles better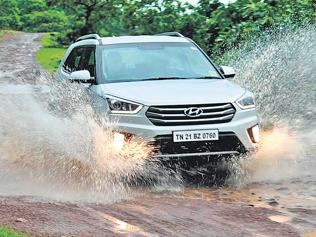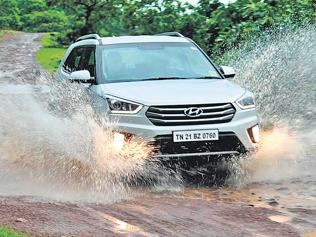 With Creta, Hyundai has again aced the design department.
Korean auto major Hyundai has made a good habit of launching at least one product before the start of the festive season that grabs headlines and gives it enough lift to sail through the year. Two years ago it was the Grand i10, last year was Elite i20 and this year it is its long in the making Creta SUV. It is a fluke of sorts that Hyundai and Maruti that best know the pulse of the market somehow missed the compact SUV space. Now that they are ready with their ammunition (S Cross review next week) one can hear the clear sound of gears being shifted.
Design and style
Clearly this is an area where Hyundai scores and Creta is no exception. Move over the rather silly nomenclature and you get a compressed Santa Fe. The raised stance, bold chrome grille, sweeping headlamps and rising waistline gives it a premium aggressive face. There is relatively less drama at the rear but this is a very well proportioned vehicle. Shod with either 16' or 17' alloy wheels it also has a decent road presence though the Duster with its wider tread has a stance a notch above. The only thing missing are the LED daytime running lights. Hyundai has used it weirdly as a stop light like in the Mahindra Scorpio.
The cabin inside is also very well designed even though it isnt as spacious as the Duster. Space at the back is good for two adults but a fifth will not be very comfortable. There is also a definite lack of thigh support at the rear and the rising waistline that looks so good from the outside makes the cabin a tad claustrophobic. The boot is also smaller. Yet, it is in the list of gizmos and features where Creta scores. While Duster's cabin looks very dated and uninspiring, Creta's is a modern cockpit with better finish, quality and more eye for detail.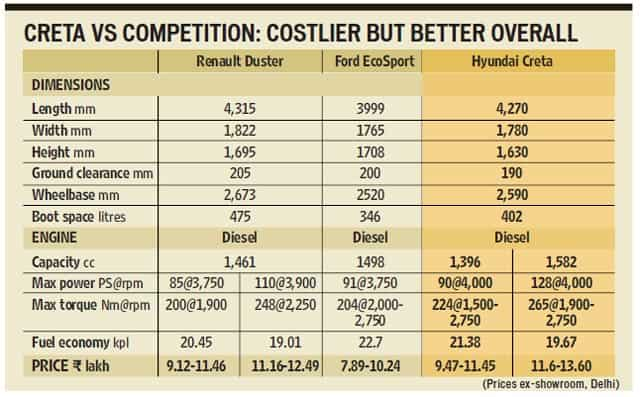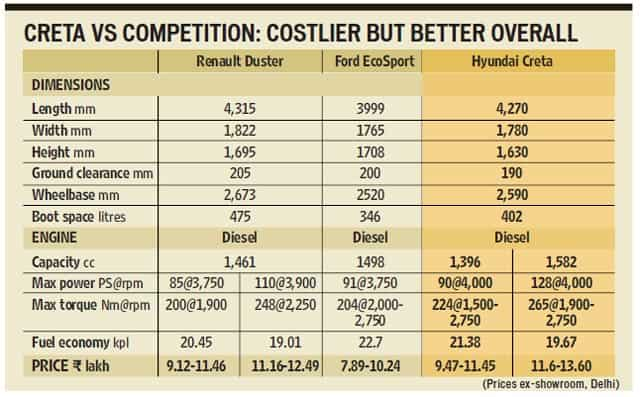 Performance ride and handling
Just like the 110 PS version in the Duster, Creta's 1.6 litre diesel powertrain is the pick of the lot in terms of performance. It packs quite a punch and dominates every other car in this segment on outright power. The 1.4 litre engine on the other suffers from a bit of turbo lag that makes it less fun but the car offers better ride quality and handles potholes and bad roads better than the Duster. In the city both engines have all the performance you would need. The perennial problem with Hyundai cars of vague steering and handling at high speeds undoes some of the good work. At very high speeds of over 150kph (the car can go that fast) it is a bit unstable and the Duster is more sure footed. Renault fares better at sudden changes in direction as well thanks to a more precise steering. Duster also scores with an all wheel drive version, which is expensive but a proper off roader. Creta has an automatic version that will find its fair share of takers. It is less attractive than the manual version but given the convenience and lack of options, it offers good value.
Fuel Economy
These days Hyundai's cars dont display instantaneous fuel economy or a distance to empty guage so you dont really know what fuel economy you are getting. Considering the controversy over fuel economy in US, we dont know if it is lack of confidence but the company claims it is slightly more fuel efficient than the Duster. Take it if you have to with a pinch of salt.
Verdict
Hyundai has taken just a bit of premium over the Duster while pricing the Creta. If the package of a vehicle is anything to go by, that premium is well worth. With rear AC vents, push start ignition and 6 airbags Creta offers much more than any other car in this segment. It is also two generations ahead of Duster and Scorpio in terms of design, styling and refinement. It loses out on handling and is less sure-footed at high speeds but makes up for some of it with better ride quality. Creta isnt the perfect SUV but is a good pretender at being one and that is what compact 'SUVs' are all about. Given the overall package and novelty factor, Creta clearly lays down the marker in this segment, which is still in its infancy.
First Published Date:
30 Jul 2015, 11:35 PM IST
TAGS:
NEXT ARTICLE BEGINS