Gentle breeze to a stormy ride, in the blink of an eye
Spanish for hurricane, the Italian supercar maker's latest offering is almost a practical car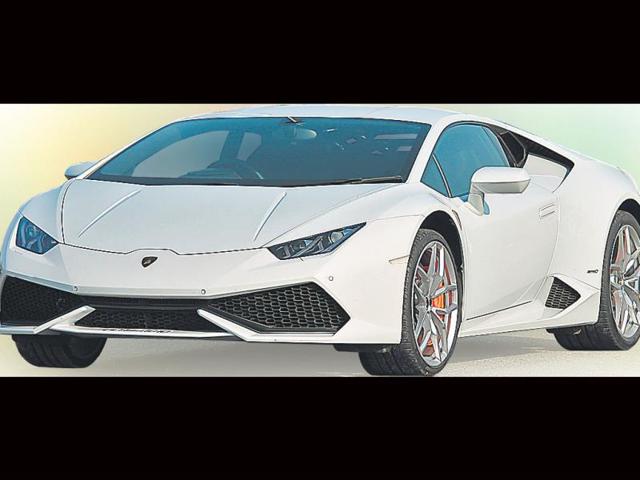 UNLIKE A FERRARI, a Porsche or a Maserati, you can never be sure of what to expect from a Lamborghini. The Italian company's latest offering, Huracan — Spanish for hurricane — is a successor to the Gallardo, the most successful Lambo in history. Only a Gallardo owner can tell whether it does that.
But for the rest, this is one Lamborghini that does not overwhelm.
At under 4.5 metres length, Huracan is not really a big car and the slanted steeply raked winds creen takes up most of the space. The central floating console, the steering wheel, the 12.3 inch TFT screen all ooze technology, while the car itself sits ultra low on the road. Getting in or out are not easy, but that is true of every hypercar.
The part-aluminium, partcarbon fibre hybrid chasis makes the car light and nimble. Powering the monster is a 5.2litre V10 supercharged petrol engine that has done duty on the Gallardo and the Audi R8, remapped to meet the Huracan's requirements. Peak power of 602 bhp and torque of 560 NM means you get to 100 kph in under 3.5 secs. Blink, and you missed it.
Push the ignition button and there is an almighty roar at the back (engine is behind you) guaranteed to startle fellow motorists. It will startle even you the first few times. The sound settles down to a low thrum and remains fairly subdued, but floor the peddle and the crackle returns. Acceleration is manic and relentless, and given a clean stretch of road, it flies past 200 kph without even panting.
The car's feted ANIMA system, which allows you select driving modes, adds further drama. There are three settings —strada, sport and corsa — with progressively tighterthrottle response, damping settings and chassis stiffness. Even in the softest strada mode, the car is not very benign, but in corsa it becomes an outright psychopath.
The Huracan does not disappoint you on any technical parameter and is a worthy successor to the Gallardo. It is a refined, chaste and an almost practical Lambo (if there could be one) that demands less from the driver. There is so much technology on hand (the standard 135mm ground clearance can be elevated to 175 mm while navigating rough roads, for instance, at speeds below 70 kph) that the drive feels almost mechanical. Huracan doesn't overwhelm or scare you to bits like the Aventador, and puritans may feel it is a sad departure from the Lambo DNA, while some would scoff at the commonality with the Audi R8. But it does bring Lamborghini to the realm of the rich amateur who needs a bit of hand-holding in a hyper car.
First Published Date:
12 Dec 2014, 11:17 AM IST
TAGS:
NEXT ARTICLE BEGINS