Ford, VW, Nissan, Skoda, Audi, General Motors may give Auto Expo 2018 a miss
The executives cited non-availability of India-specific models to showcase in the show and financial constraints as reasons for not participating. The auto expo is scheduled to be held in Greater Noida, near New Delhi, in February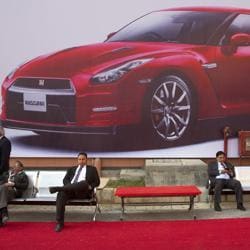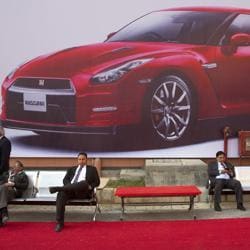 Exhibitors sit and talk under the Nissan GTR luxury car billboard during an Auto Expo in Greater Noida on February 3, 2016
At least six automobile companies are likely to skip the biennial Auto Expo 2018, South Asia's largest show, as they seek to cut costs amid weak sales.
Ford India Pvt. Ltd, Volkswagen India Pvt. Ltd, Skoda India Pvt. Ltd, Audi India Pvt. Ltd, Nissan India Pvt. Ltd, Ducati India and General Motors India Pvt. Ltd (which is exiting India) have decided against participating in the show, at least one executive in each of the companies said, requesting anonymity.
Eicher Motors-controlled Royal Enfield, Bajaj Auto Ltd and Harley-Davidson India Ltd skipped the show in 2016 citing high participation cost and inadequate returns and have also decided against participating in next year's event.
A Skoda India spokesperson confirmed that the company will not participate. Emails sent to the other companies did not elicit any response till press time.
The executives cited non-availability of India-specific models to showcase in the show and financial constraints as reasons for not participating.
"They have not been able to sell vehicles. All the money that they get from customers, half of that goes to the government in terms of taxes," said a senior executive at a car maker who did not wish to be named.
In the four months ended 31 July, sales at Ford India grew 0.24% from a year earlier; GM India sales plunged 70%; and Nissan's sales fell 7.15%. Skoda India's sales grew 29% and Volkswagen grew by 3.84% from a low base. That compares with the 7.29% growth in the Indian passenger vehicle industry during the period.
"Auto Expo is not only about price that they pay for the space but also about construction, labour, imported materials and cars," the industry executive cited earlier added.
While several companies are likely to skip the show, SAIC's MG Motor unit, Peugeot and Kia Motors Co are likely to participate for the first time.
A spokesperson for Society of Indian Automobile Manufacturers (SIAM), the organizers of the Auto Expo, said that preparations are going on and it's still receiving bookings.
The auto expo is scheduled to be held in Greater Noida, near New Delhi, in February. It provides companies a platform to showcase their products, concepts and futuristic technologies. Above all, it is an opportunity for them to build their brand in a country that is expected to be the third largest car market in the world by 2025 with an annual size of more than 9 million units. The Auto Show, which runs for around a week, on an average attracted 75,000 people during its last edition in 2016.
"But, it does not mean that sales swell immediately after the show. We end up spending anywhere between ₹0-60 crore but returns are not as desired. The excitement about new concepts fizzles out soon," said an executive from one of the six companies cited earlier.
Writing for The Detroit News in January, columnist John McCormick questioned the relevance of auto shows with companies increasingly skipping big shows. Ford, for example, did not attend Paris in 2016. And in Detroit this year the list of no-shows, included Porsche, Jaguar and Land Rover.
"Lots of factors are at work here. Firstly, auto companies are fed up with the costs involved in a full-scale media presentation, which can exceed $5 million. Multiply that figure by the number of global tier-one shows and it's easy to see why automakers are increasingly saying no," McCormick wrote.
Another key element is the transformation of the media over the last decade. The dissemination of information via social media channels and content-hungry websites has upended the old order dominated by magazines and newspapers.
"Now speed is all-important and brevity takes precedence over well-researched longer stories," McCormick said.
India, however, is still an emerging market where car penetration is still 18 per 1000 people as against 800 per 1000 in the US. Global auto markets have started to saturate or are growing in low single digits. India continues to be the fastest growing market and a big hope for future of automobiles.
First Published Date:
07 Sep 2017, 08:12 AM IST
TAGS:
NEXT ARTICLE BEGINS