Auto sales in 2013-14 dip despite excise cut
Discounts, freebies not enough to woo customers as overall industry volumes slump by 5%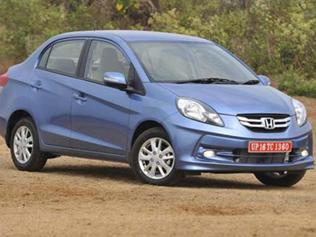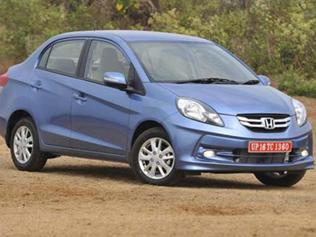 Auto sales in 2013-14 dip despite excise cut
Domestic passenger vehicle sales declined for the second consecutive year in 2013-14 as a sluggish economy, high inflation and fuel costs slammed the brakes on what was the fastest growing market in the world.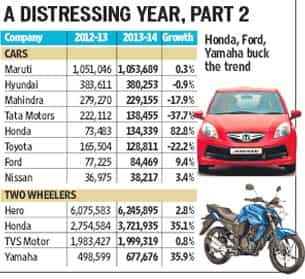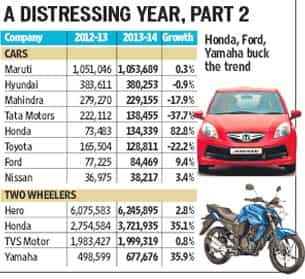 Discounts, freebies and an excise duty cut were not enough to woo the customer to showrooms, as overall industry volumes slumped nearly 5%. Market leader Maruti managed a marginal rise, but most others saw high double-digit sales dips.
"The excise duty cut saw inquiries going up, but not sales," said Pravin Shah, head of Mahindra & Mahindra's automotive division. "We hope sentiments improve after the elections."
Only Honda and Ford managed some growth. Honda's Amaze and new City gave it an 82% sales surge, taking it past Toyota. Ford saw a 9.4% growth on the back of the EcoSport, but the sales of its other vehicles has lagged.
"Growth of per capita disposable income over inflation was negligible or negative. This was the most important factor that drove down sales," said Kumar Kandaswami, senior director, Deloitte Touche Tohmatsu India. "Due to the high inflation, there was a drop in domestic saving rate — consumers were under stress to maintain their lifestyles. This situation does not support purchase of cars, in general.
The excise duty cut during the budget in February proved to be a dampener as well, and there was no respite in the declining trend in March. Maruti Suzuki saw its sales decline by 5.2% in the domestic market while Mahindra saw a steeper 9% fall. Tata Motors, in the middle of a product revamp, saw a near 40% decline.
First Published Date:
02 Apr 2014, 11:44 AM IST
TAGS:
NEXT ARTICLE BEGINS