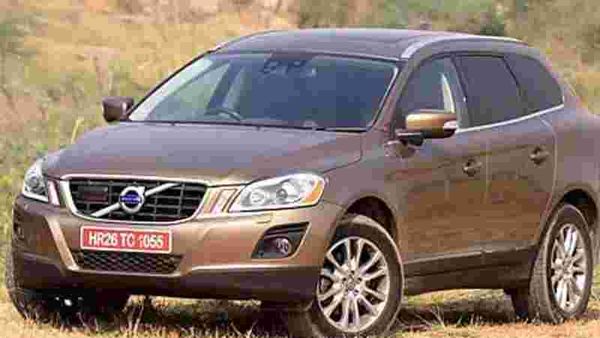 Volvo XC60
6 min read

.

Updated: 16 Jan 2013, 05:57 PM IST

Volvos have traditionally been very accomplished, very safe and very, very understated. Now, finally, there's a Volvo you can stare at.

Volvos have traditionally been very accomplished, very safe and very, very understated. Now, finally, there's a Volvo you can stare at.

In Sweden, it is hip to be square.
Similar Cars
This is a cultural thing. Simple but clever cubist shapes dominate their designs and straight lines and bold curves are beautifully used. And the designs work. Furniture company IKEA is a massive success all over the world and Volvo gets the same respect as car makers from Germany. But not in India. There is no IKEA centre here and for every Volvo sold, at least 10 other Indians opt for various other German cars. Of course, this relative lack of success is not all down to the straight lines and Volvo's saloon, the S80, actually looks quite nice from the rear. Still, a little more aggression and a little less 'play it safe' in the design of the cars could do wonders.
This then, the far-from-understated new Volvo XC60 could be just the medicine. Yes, there are plenty of Volvo design cues carried over. The grille has a diagonal chrome strip in it, the strong shoulder line is present, and the very attractive XC90-like tail-lights, now with LEDs, are a sure Volvo giveaway. But instead of safe lines and boxy stand-up proportions comes an altogether new stance. The design is tipped forward, the detailing of the chin is very aggressive and the skinning of the car is tightly stretched and muscular. The car looks stunning in the flesh, even better than in pictures, and it's pretty individualistic too. The XC60 gets smoked-out rear windows, a rub strip around the bottom and luscious big alloys that give it a well-planted stance.
Under the skin, this Volvo shares mechanical bits with the Land Rover Freelander, both using the P24 platform developed for Ford's now- defunct Premier Automotive Group. As expected, a super-stiff chassis and independent suspension take care of dynamics and, as ever, this car has more autonomous and intelligent safety systems than a nuclear submarine. Even Volvo, ever bashful, says this is its safest car ever. And the great thing is that the safety features are all available in India. Even though this car is a crossover, more high estate than SUV, Volvo will position the XC60 as a compact SUV, placing it next to the Q5 and the X3. But that's alright because the XC60 can play the SUV well too. Ground clearance is an impressive 230mm, there is an on-demand four-wheel-drive system from Haldex and you get a hill descent system that, in addition, works in reverse too.
Many cars look impressive at a distance. You love the styling, get drawn in and then come in for a closer look. Sometimes however, closer examination proves to be disappointing. This is certainly not the case here as the Volvo's build is impeccable. It feels tough, solidly built and large, standing on its tall suspension and it has a genuine luxury product vibe about it. The precision with which the doors close just has to be experienced.
There are acres of space on the inside and the cabin looks very inviting as well. There's plenty of piano-lacquered wood, beveled brushed aluminium frames and beautifully double- stitched two-tone leather seats that make you want to touch them. They are so inviting that I step right in, just to see how comfortable they are. Now Volvo is famous for making super-safe cars, Volvo is famous for being understated and Volvo is famous for making cars that last forever. What the company is not famous for, at least in India, is simply brilliant seats. It should be, because these are some of the finest seats I've sat in. They are supportive in the right places, feel like they are one size larger than normal and they are even brilliant to look at. And there's plenty of legroom in the rear of the car, enough for a six-footer to sit behind a six-footer and be comfortable. As with other Volvos of this generation, some low-rent plastics look out of place and the functionality of some of the parts is poor. The array of buttons can get confusing, it's easy to mix up the knobs, and why does the automated hatch work in slow motion?
You don't expect to extract much driving pleasure from behind the wheel of this behemoth in the traditional sense, but very soon an impression of invincibility shines through. For a start, the thick wood- rimmed steering wheel feels very special. And it's not just the wheel. The steering is beautifully weighted, the XC60 muscles its way down the road impressively, and in 'comfort' mode the dampers and widely spaced suspension towers absorb all sorts of rough patches and craters without too much deviation of the car. Yes, there is a layer of stiffness and you are apprised of the condition of the road quite often, especially if there are some coarse sections present, but large bump absorption is so good that you just tend to drive over bad bits without really slowing down.
In 'comfort' mode though, the XC60 does roll a fair bit. Take a couple of corners quickly - this car encourages you to do this - and you feel uncomfortable as body control feels loose. However, hit the 'sport' button and things tighten up considerably. The big Volvo turns into corners with plenty of enthusiasm, straight-line stability and braking inspire even more confidence and you can really carry a lot of speed into a corner. Closer examination of this Volvo reveals why this system is so effective; it's a semi-active setup that adjusts the shocks upto 500 times a second.
This is no BMW X3 and you can't term the handling as chuckable but it's not dull to drive either. Also, while the Volvo is relatively easy to manoeuvre in traffic, it is a large car that often shows its bulk, especially when you are trying to squeeze into gaps in traffic.
What's slightly disappointing is the D5 diesel under the hood. Performance is up to par, 0-100kph comes up in under 10sec and this car pulls consistently hard from anywhere in the powerband. But the twin-turbo unit gets a bit vocal at the top of the power band,. feels strained and not very happy to rev either. So you tend not to ask it to deliver maximum performance. And the six-speed auto, though perfectly capable for normal commute, feels a bit slow-witted when pushed hard. Clearly, this car is for covering miles and miles at a quick but not rapid pace.
What sets the XC60 apart from its other siblings is that it is a hugely appealing car, one that pulls at your heartstrings. It offers something different from the more conventional appeal of SUVs like the BMW X3 and the Audi Q5 and that, for Volvo, is an advantage. The XC60 is beautifully finished, has the ability to go off tarmac, drives and steers well and is jammed tight with cutting-edge safety features. It is massive (very important in our market), gives the impression of delivering more car for your rupee, and its insides are both robust and plush at the same time. Volvo will offer a two-year 60,000km warranty with all scheduled services provided free.
There's little doubt that this is the most interesting Volvo to come to India. And we think customers will agree.

Fact File
Price Range (in lakhs)*
Ex-showroom price ₹39.5 lakh (ex-showroom Delhi)
Engine
Fuel Diesel
Installation Front, transverse
Type 5 cyls in-line, 2400cc
Bore/stroke 81.0/93.15mm
Power 205bhp at 4000rpm
Torque 42.82kgm at 1500 - 3250rpm
Power to weight 109.68bhp per tonne
Transmission
Type Automatic
Gearbox 6-speed
Dimensions
Length 4628mm
Width 1891mm
Height 1713mm
Wheel base 2774mm
Boot volume 495 litres
Ground clearance 230mm
Chassis & Body
Weight 1869kg
Wheels 17inch
Tyres 235/65-R17
Brakes
Front 328mm Ventilated discs
Rear 302mm ventilated discs
Anti-lock Yes
Performance
0-20 1.26
0-40 2.60
0-60 4.55
0-80 7.09
0-100 9.90
0-120 14.32
Acceleration in gear
20-80kph in 3rd gear 6.43s (in kickdown)
40-100kph in 4th gear 7.30s (in kickdown)