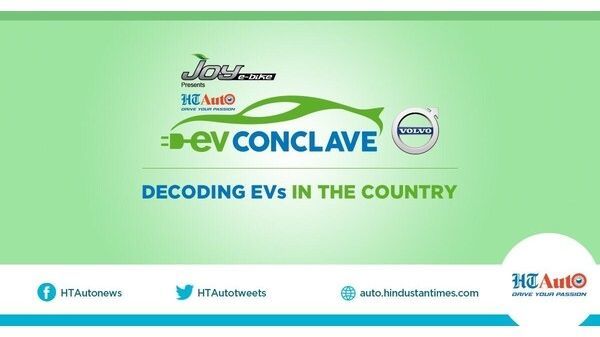 PROMOTIONAL
EVs: The future of mobility in India
4 min read

.

Updated: 17 Aug 2021, 07:02 PM IST

The Joy e-bikes presents Hindustan Times Auto EV Conclave 2021, powered by Volvo car India, held on August 10 and August 11, put the spotlight on the future of EVs in India and what you can expect in this space in the years to come.

The future of transportation is here. Electric vehicles or EVs are all set to transform very the way we commute. Today, 12 million passenger EVs, one million commercial EVs and more than 260 million electric two and three-wheelers are being used by people around the world.
Similar Bikes
The EV wave is gripping India too, as we aspire to reach our vision of 100 percent electric vehicles over the next decade.
As climate change becomes an area of major concern for the Earth, and the United Nations Framework Convention on Climate Change (UNFCCC) looks at reduction of emission intensity the world over, it is time for each of us to pitch in to make a difference. Towards this, vehicular emissions are one of the largest contributors to air pollution.
The Joy e-bikes present Hindustan Times Auto EV Conclave 2021, powered by Volvo car India, held virtually this year on August 10 and August 11, put the spotlight on the future of EVs in India and what you can expect in this space in the years to come.
The two-day event started with a one on one session with Volvo, which offered an overview of the ongoing EV movement in India. Volvo's much-awaited XC40 Recharge electric vehicle is going to make a debut in the country later this year. Jyoti Malhotra, Managing Director of Volvo India also discussed the company's expectations from the Indian market and the push towards EV seeing government incentives towards EVs, lowered prices of batteries and increased prices of petrol and diesel.
"Globally, we have committed that we are going to become a fully electric car company by 2030. However, we believe that we can do this even faster in India looking at how things are. We are already gearing up for that, and XE40 will be our first offering in the EV space," Malhotra said at the session.
This was followed by an insightful session 'Taking EV to the Masses in India – Challenges and Opportunities', in which industry experts came together to brainstorm the challenges in taking EVs beyond the Metros and key learnings from EV movements around the world.
The session saw attendance from Vivek Srivatsa, Head – Marketing, Passenger Cars at Tata Motors, Vikram Gulati, Country Head, and Senior Vice President, Toyota Kirloskar Motor, Jeetender Sharma, Founder, and Managing Director, Okinawa AutoTech and Ravindran Nambiar, President, Ward Wizard Innovations and Mobility Limited.
"The EV space is hotting up in India because there is a mass adoption being pushed from all sides. Various government subsidies and policies and rising awareness towards the environment are fueling demand for EVs, especially the two-wheeler category, in the country," said Nambiar. Today, customers have access to a wide range of options available and EVs have become far more affordable too, owing to subsidies offered to customers by State governments and incentives to manufacturers.
The sessions also discussed dependence on China for components and how that can be brought down, private-government collaborations to make EVs more affordable and views on government policies, both at the National and State levels. A keynote session was delivered by by Union Minister for Road Transport and Highways Mr Nitin Gadkari.
Day 2 of the HT Auto EV Conclave took the EV story further to offer insights on the market response to EVs launched by bigwigs like Mercedes, Jaguar and Audi, views on possible duty cuts to bring down prices and the fate and future of conventional luxury cars in this fast-changing landscape.
The proceedings of the day started with a keynote address from Alok Kataria, Minister of State Transport, Uttar Pradesh government, who spoke about the scope of EVs in the country.
This was followed by a session, "Luxury EVs – Can top-down effect boost clean mobility movement", which saw the top faces of India's industry – Martin Schwenk, Managing Director and CEO at Mercedes-Benz India, Balbir Dhillon, Head at Audi India, and Jyoti Malhotra from Volvo – speak about EVs, India's EV growth and where exactly are luxury cars placed in India's EV market.
The major disruptor in the Indian EV space has been in the two-wheeler segment, where Joy e-bike is a major player as India's first and fastest-growing electric two-wheelers company. Day 2 also featured a special interaction with Ravindran Nambiar about this two-wheeled revolution. He spoke about the disruption this ecofriendly and cost-effective mode of travel is about to bring in the country and the challenges in the journey.
The next panel, with experts Harsha Kollaramajalu, CTO at SemaConnect and Pankaj Dubey, CEO and Managing Director at Power Global India looked at another critical issue – 'The policy ecosystem for EVs in India', where experts spoke about the EV incentives being offered by different states in the country and their impact on the conversion from ICEs to EVs.
They also explored the possibility for Make in India for local EVs and EV components and varied options to scale up the infrastructure in the future, so as to replace conventional ICE vehicles with modern, low emission EVs and the kind of changes India needs at the policy level to create a truly EV-ready ecosystem. Further, the gender demographics of EV buyers were discussed., looking at whether women play a role or influence in the decision of buying an EV.