Electric scooters: Your ultimate commuting buddy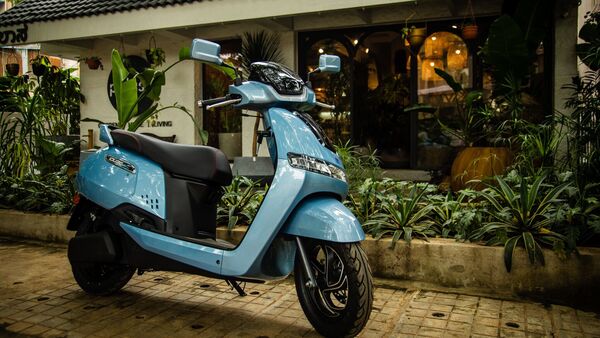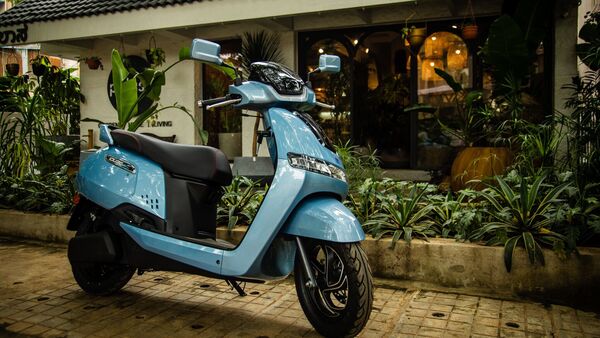 While TVS iQube is stylish and futuristic, it doesn't sacrifice practicality.
In India, two-wheelers rule the roads! With over 22 crores of them zipping around, outnumbering four-wheelers more than three times, it's clear that these nimble vehicles are the go-to choice for millions of Indians. And with the rise of electric vehicles, this number will only increase.
Trending Bikes
Find more Bikes
But what is it about electric two-wheelers that makes them so popular? Well, take a trip to Bangalore, for example, and you'll quickly understand. According to a report, the average commuting speed in Bangalore is 18.5km/hr, with rains making it even worse. The traffic congestion is so bad that even a short journey on a four-wheeler can become an hour-long struggle. But on a two-wheeler, you can easily weave through the traffic and reach your destination swiftly. And if it's an electric scooter you don't have to worry about the rising fuel costs that can easily drill a hole in your pocket!
Electric scooters are a hit across generations from boomers to Gen Zs. For many women too they have become the go-to vehicle helping them become self-reliant as these scooters are lightweight, sturdy and easy-to-ride.
As per data from the government of India's Vahan portal, 2022 saw an impressive surge in electric two-wheeler sales in India, with a staggering 305% increase from the previous year. These vehicles averaged a remarkable 51,280 units sold per month, translating to an average of 1,686 units sold daily throughout the year. Electric Two-Wheelers (ETWs) are increasingly becoming the go-to option for riders.
Electric scooters were once considered non-sturdy. But not any more. With major OEMs like TVS Motor Company offering dedicated electric scooters like the TVS iQube, today's electric scooters are designed without sacrificing performance, have excellent build quality & are also environmentally friendly. They also give you a sufficient range for worry-free daily commutes. The TVS iQube ranges up to 100km on a single full charge. This is sufficient for your daily commute in a city like Bangalore, where the average commute distance is 50-70 km daily.
Check out the features of the sleek and trendy TVS iQube here.
What makes electric scooters a great commuting buddy?
There's no denying that electric scooters have progressed by leaps and bounds in terms of innovation and design. The stylish and modern TVS iQube Electric bike turns heads with its sleek shape and all-LED lighting. You can find one that speaks to your style with 11 different colour options.
The scooter is packed with features designed to ensure smooth driving and a seamless user experience. You canget multiple hi-tech features like Bluetooth music playback and adedicated Alexa skillset for iQube* (available with iQube ST) while riding the scooter. And with a 7-inch touchscreen* (available with iQube ST) which offers voice commands, social media notifications, and navigation assistance, you can keep an eye on your connections even while on the move.
While TVS iQube is fashionable and futuristic, it doesn't sacrifice practicality. The large seat and spacious flat footboard ensure you can ride in style AND comfort. The TVS iQube is designed to tackle all of India's conditions, from the flooded streets during monsoon season and the soaring heat during summer. The battery is IP67/AIS156 certified and comes with a 3-year/50000 km guarantee to provide worry-free ownership.
For charging these trendy electric scooters, various solutions are available, including home charging, portable charging, and public charging. Fortunately, many electric scooters now have a charging cable for added convenience. In particular, the TVS iQube boasts a nifty and portable charging cable that can be used at any 15A charging point without requiring additional installations,making it chargeable practically anywhere.
The TVS iQube offers a cost-effective solution that puts a twist on your average petrol vehicle. With an average cost of just ₹0.2 per kilometre*, this scooter is a budget-friendly alternative to traditional petrol vehicles. Imagine only paying ₹10 for a 50 km daily commute! Plus, with zero emissions and minimal noise pollution, you can feel good about reducing your carbon footprint while enjoying a comfortable and convenient ride.
*It only takes 2.5kWh to charge a scooter battery to full capacity, which equates to around 2.5 units of energy at ₹8 per unit: you'd be looking at a total of ₹20* for that charge, which should last you 100 kilometres.
Easy financing options
Electric scooters are affordable in India, with a price range of ₹75,000- ₹1,00,000. It is all the easier to get one with a two-wheeler loan to buy electric scooters. Two-wheeler loans are available from banks and non-banking financial institutions (NBFCs). Top banks offer loans with several advantages, including minimal documentation, a simple online application process, and no hidden fees.
You can own a TVS iQube with easy EMIs from Bajaj Finance, IDFC First bank, TVS Credit, Tata Capital, and IndusInd Bank.
Additionally, the Indian government offers various incentives and subsidies for electric vehicles under the Faster Adoption and Manufacturing of Hybrid and Electric vehicles (FAME). These include:
Direct incentives under FAME-II: The central government provides a direct incentive of

₹

15,000 per kWh of battery capacity on electric scooters and bikes, up to a maximum of 40% of the vehicle cost.
Lower GST rates: The Ministry of Finance offers a lower rate of 5% GST on all electric vehicles, which is significantly lower than the GST rate of up to 28% for conventional vehicles.
Tax benefits for first-time buyers: First-time buyers of electric vehicles can avail of tax benefits of up to

₹

1.5 lakh under the government's schemes.
These incentives and subsidies are applicable throughout India and are in addition to the state-level incentives that may be available for electric vehicle buyers. For instance, the Delhi government provides ₹30,000 subsidy @ V ₹5,000/kWh of battery capacity.
The TVS iQube has features that will make your daily travels safer, smoother, and more enjoyable. Here's a rundown of the top features you won't want to miss:
Reverse parking assist:Say goodbye to awkward parking situations and hello to easy manoeuvring with the reverse parking assist feature. It'll help you avoid obstacles and make parking a breeze.
Navigation assist: No more getting lost or taking longer routes! The navigation assist feature will easily guide you to your destination, saving you time and energy.
Vehicle crash/fall alerts:Stay informed and take immediate action if necessary with this feature that notifies you of any accidents or falls your scooter experiences.
Incoming call alerts:Don't miss a beat while riding - stay connected with incoming call alerts that allow you to keep your eyes on the road while staying connected.
Remote charge status check: Keep your scooter charged and ready for any journey by using the TVS iQube app to check the charge status remotely.
Live vehicle tracking:Monitor your scooter's location and keep it secure with the live tracking feature that lets you track your vehicle in real time.
Distance to empty:Avoid running out of charge unexpectedly by keeping an eye on the distance to empty feature that helps you plan your trips accordingly.
Geo-fencing: Set boundaries for your scooter and receive notifications if it goes beyond those limits, ensuring your vehicle is always safe and secure.
Alexa Skill Set (currently available in iQube ST): Take convenience to a new level by using Alexa to check your vehicle's charge status, and more. You can even give voice commands to Alexa to perform actionslike setting the top speed of the vehicle.
Final words
As the electric-scooters boom gains traction in India, the move towards electric vehicles could revolutionize driving habits: a new generation of drivers may prefer electric vehicles over petrol-powered ones.And the TVS iQube is the perfectbuddy for running errands around town or zipping to the office, with arealrange of up to 100 km per charge.
Gone are the days of endlessly refilling your motorbike with insanely priced petrol. The iQube's electricpowertrainwill save you from burning a hole in your wallet. And not only is this electric scooter cost-effective, but it's also eco-friendly, allowing you to do your part in preserving the planet while you ride.
With its sleek design and effortless acceleration, the TVS iQube is sure to turn heads and make your daily commute a breeze. So why settle for a run-of-the-mill scooter when you can have a superhero on your side?
Book your TVS iQube today and experience the best in smart and sustainable mobility.
Disclaimer: This article has been produced on behalf of TVS by HT Brand Studio.
First Published Date:
04 Apr 2023, 12:48 PM IST
Recommended for you
View all
NEXT ARTICLE BEGINS


Shop Now

55% OFF

19% OFF

73% OFF