Electric scooters: All you need to know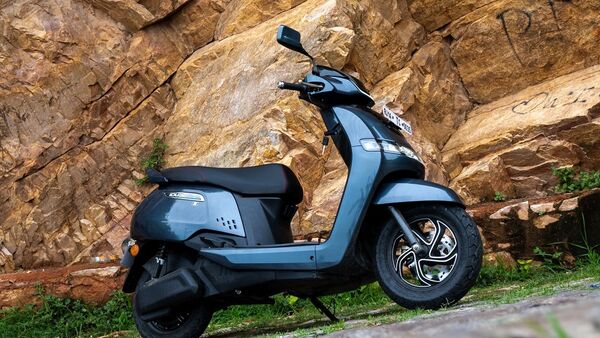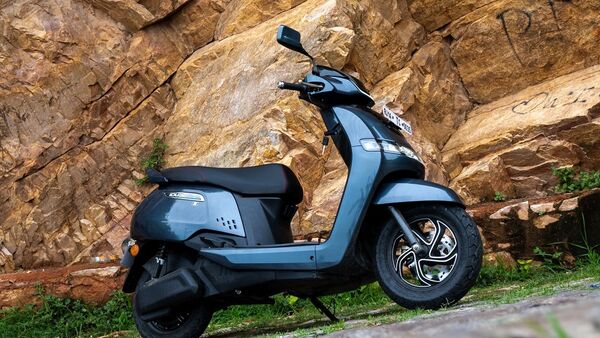 Once you roll the throttle, iQube will whisk you away quickly and quietly as if you're on a magic carpet.
With the extreme climatic changes, we've been seeing, as well as the increasing prices of fuel (a litre of petrol costs ₹106 in Kolkata and ₹102 plus in Bangalore), the adoption of electric scooters might be considered a much-needed eco-friendly and inexpensive solution to going about one's everyday commute.
Trending Bikes
Find more Bikes
Electric scooters not only help you save a lot on running and maintenance costs but also give you a better riding experience through instant pick-up and connected features. They now also come with a sufficient range and associated ecosystem to give you worry-free rides.
Electric scooters work on electric motors. Power for electric scooters comes from a DC battery rather than a fuel-powered engine. All electric motors have an electric controller, which senses the electric signals from the throttle and tells the battery to release energy to the motors on the wheels. The electric power is sent to rotate the wheels of the electric scooter, providing movement and speed.
As electric scooters do not have an engine, they come with a motor, this makes electric scooters incredibly sleek and fun to ride. Take, for example, the TVS iQube. Once you roll the throttle, iQube will whisk you away quickly and quietly, as if you're on a magic carpet. Click here to check out the features of TVS iQube.
How are electric scooters beneficial?
Electric scooters are becoming a popular form of personal transportation that offer several benefits:
Pocket-friendly alternative to fuel
Electric scooters like the iQube have become increasingly popular for travel these days, not only because of their convenience but also due to their affordability. It requires only 2.5kWh to charge a scooter battery to full capacity, which equals roughly two and a half units of electricity at ₹8 per unit: you'd be looking at a total of ₹20* for that charge which should take you on an enjoyable 100 km-long ride, as compared to a typical spend of almost Rs. 200 on petrol scooters! Electric scooters are a much more economical option than others with ICE; the more you use them, the more money you save. (*Calculations are based on average electricity and fuel rates. They may vary depending on location)
Reduces air and noise pollution
The pollution caused by petrol-powered two-wheelers can't be understated. Every time they're used, they spread air pollution and noise pollution that can have lasting health effects on people. But electric scooters are here to save the day! They're battery-powered, so they don't release smoke. Thus, reducing air pollution significantly. Plus, their engine is quiet compared to petrol-powered two-wheelers, so you get the added benefit of reducing noise pollution. The TVS iQube is one of the most silent electric scooters out there and helps you enjoy a peaceful ride without any noise. See for yourself!
Easy to use
Electric scooters don't have an engine, making them lightweight and simple to ride. They have evolved to have similar, or even better, pick-up, acceleration and top speed of their petrol counterparts. The iQube, for example, can go from 0 to 40 kmph in just 4.2 seconds and has a real usable range of 100 km per charge. Moreover, electric scooters have become easy to charge. The TVS iQube, for example, comes with a portable charger that can be used in any standard 15A socket. In just a few hours, the battery will be charged and you can also monitor the battery status through the TVS iQube app or dashboard so you always know when to charge it.
Feature loaded
Electric scooters come with a range of features that you usually won't find on regular scooters, such as navigation, geofencing, crash alerts and much more. Additionally, they usually come with their own app, giving riders access to vehicle stats and tracking features. The TVS iQube goes even further, offering 118+ features that take it from basic to being a practically smart commute. Plus, the Q park feature makes reverse parking absolutely hassle-free!
The TVS iQube mobile app allows consumers to track the charge status, live vehicle tracking, vehicle crash/tow alert and geofencing among many other useful features.
The iQube is also telematics enabled, so the consumers get many features on the scooter dashboard itself. Like the "Distance to empty" feature on the dashboard keeps you constantly informed on the estimated range of your iQube. Its telematic system can also notify the owner of unauthorised movements, such as theft or crash/fall of the vehicle. Live location status will be available on TVS iQube's app and alerts sent to saved emergency contacts in case of an accident. Furthermore, TVS iQube has a unique call alert where incoming calls and messages appear on the scooter dashboard while riding. Last but not least, TVS iQube's instrument cluster displays turn-by-turn navigation instructions when connected to a smartphone app so you never get lost!
If you want to check your vehicle's live status, TVS also has you covered; with its live tracking feature, you can make sure that your vehicle is safe and sound.
Another feature TVS iQube offers is geo-fencing – meaning that users can set geographical boundaries for their vehicles, and be notified if the vehicle is moved beyond the set boundaries.
Also, with the Alexa Skillset for iQube*, you can check vehicle status and give multiple voice commands to your vehicle even via Alexa! (*Available only with TVS iQube ST)
Electric scooters are a convenient, efficient and fashionable way to get around. The TVS iQube Electric bike, with its modern silhouette and sleek shape is a real head-turner. Its all-LED lighting adds an edgy futuristic touch. You can spot people glancing as you ride by – the iQube sure gets you second looks! What's even more important is, while being a stylish scooter, the iQube keeps in mind the practical requirement of space for scooter users, and this is evident in the large seat as well as flat footboard.
Charge on the go
Most electric scooters now come with a charging cable. The TVS iQube has a handy and portable charging cable that can be used at any 15A charging point, with no additional installations required.
You don't need to charge your scooter daily. A good rule of thumb is to keep the battery charged between 30% and 80% of its maximum capacity. If you're going on a long journey, ensure the scooter is fully charged.
The average battery life ranges from 2-5 years depending on the brand and how you maintain your battery. To enhance the battery longevity, you should keep some points in mind:
Allow your scooter to cool down before connecting it to the charger.
Use only the original battery charger.
Charge in a cool, dry environment.
Turn your scooter off while it is charging.
Do not overcharge your battery.
Software updates right at your fingertips
We frequently hear about Over-The-Air (OTA) updates when discussing electric scooters. But have you ever wondered how these updates work & what they do to your scooter?
Just like smartphones, premium Electric Scooters, these days pack a whole lot of features which ensure the proper functioning of the vehicle. Along with good hardware, the software is critical to a scooter's performance and safety.
Having the "privilege" of OTA updates means you don't have to go to the service centre if your Electric Scooter has a software problem. The company's cloud-based server can deliver OTA updates remotely over Wi-Fi or cellular networks. OTA updates also allow new software-led feature addition and updation of latest versions of existing softwares in the scooter.
Wrapping Up
When considering which electric scooter to buy, TVS iQube is the best choice. It is safe, sturdy and comes loaded with features. The scooter also keeps you connected with a 7-inch touchscreen that offers voice command*, Alexa skillset*, Bluetooth music playback, and even social media notifications* on-screen among multiple other features. TVS knows its customers inside out and has designed an incredibly reliable iQube range of electric scooters that is perfect for any urban commuter. The iQube also comes with 24x7 Roadside assistance, a dedicated relationship manager, and the latest IP67/AIS156 certifications topped with a 3-year/50000 km warranty on the battery for worry free ownership experience. Add to this the fact that TVS iQube is available in 11 attractive colour variants - and what more could you ask for? So let's book your TVS iQube today — and zoom around town.
Disclaimer: This article has been produced on behalf of TVS by HT Brand Studio.
First Published Date:
11 Mar 2023, 09:06 AM IST
Recommended for you
View all
NEXT ARTICLE BEGINS


Shop Now

55% OFF

21% OFF

73% OFF