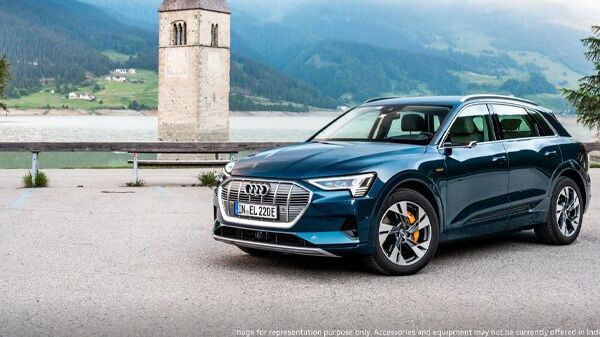 PROMOTIONAL
Audi India introduces EV models, brings the promise of 'future is an attitude'
4 min read

.

Updated: 06 Aug 2021, 07:27 PM IST

Audi has forayed into the electric vehicle space in India with three variants of its electric car: the Audi e-tron 50, the Audi e-tron 55 and the Audi e-tron Sportback 55.

Industrialisation is the reality of today — and although it has brought about a huge transformation, there's another side to the story. Some of the pressing challenges that we are dealing with include higher temperatures, increased greenhouse emissions, and rising carbon footprint. Mobility is one of the largest causes of environmental pollution, because it primarily relies on fossil fuels that are known to have a negative impact.
Similar Cars
Fortunately, environmental awareness is on an upsurge, not just in society and political circles, but also in the capital market. Sustainable mobility is the need of the hour, and global automotive players like Audi are embracing this change with open arms. They are systematically shrinking their carbon footprint in order to safeguard their competitiveness and demonstrate social responsibility.
The good news is Audi has now forayed into the electric vehicle space in India with three models of its electric cars: the Audi e-tron 50, the Audi e-tron 55 and the Audi e-tron Sportback 55. Furthermore, Audi India is targeting 15% sales in the country to come from electric cars by 2025.
An exciting journey ahead
Audi India is committed to the goal of electric mobility, but at the same time, wants to provide their consumers with a variety of choices that fulfill their demand for both luxury and utility. In the words of Mr. Balbir Singh Dhillon, Head of Audi India, "The Audi e-tron 50, the Audi e-tron 55, and the Audi e-tron Sportback 55 are the perfect confluence of luxury, zero emissions, performance and everyday usability. With the three offerings, we have a proposition for every type of EV customer in the small but growing luxury SUV space. To ease the transition to electric mobility – we are offering several benefits and packages including after-sales, charging and ownership. To take it a step forward, we are also offering a best-in-class 3 year buyback. This is just the start of Audi India's electric journey and you will hear from us very, very shortly on our next EV offering."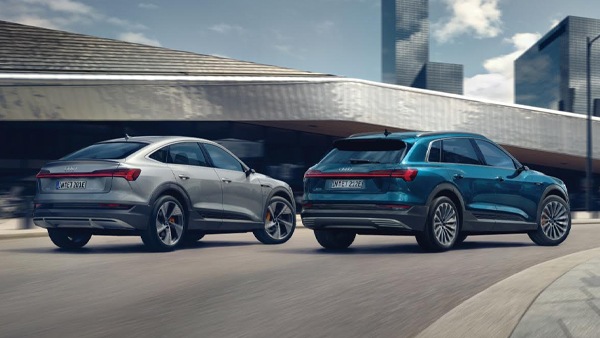 The Audi e-tron is not just another SUV, but an umbrella brand for all Audi electric vehicles. Coming to the specifics, these models boast an array of top-notch features like a 31.24-cm, fully digital Audi Virtual Cockpit, Comfort key with gesture-based lid operation, Bang & Olufsen premium sound system and 4-zone climate control system. The Audi e-tron 55 and the Audi e-tron Sportback 55 draw power from a 95 kWh battery and have a range of 359-484 km (WLTP combined). Moreover, both these cars boast 300 kW of maximum power and 664 Nm of maximum torque.
On the other hand, the Audi e-tron 50 draws power from a 71kWh battery and has a range of 264-379 km (WLTP combined). The Audi e-tron 50 boasts 230 kW of maximum power and 540 Nm of maximum torque.
The design aesthetic has always been Audi's biggest advantage, and they have proved it yet again. The Audi e-tron has a futuristic design that strikes you at the very first glance - be it the platinum grey single-frame grille to the modern taillights. The Audi e-tron has four horizontal struts that have been integrated in the digital Matrix LED headlights, making it a head-turner wherever it goes.
Along with this, there are various digital initiatives that include a Savings and Range Calculator, Charging Time Calculator, Audi e-tron Hub, Audi e-tron on Audi Shop, Digital Retail and a State-of-Charge relay – all of this on 'myAudi Connect'.
The app also has a dedicated Audi e-tron Hub that gives complete access to guides on Audi e-tron basics like setting up the charging equipment, setting recuperation levels and learning how to maximize range on your Audi e-tron.
The models are priced at:
Audi e-tron 50 - 99,99,000 (Price ex-showroom - in INR)
Audi e-tron 55 -1,16,15,000 (Price ex-showroom - in INR)
Audi e-tron Sportback 55 -1,17,66,000 (Price ex-showroom - in INR)
Curated packages for the EV user
What's more, Audi's vision is not limited to offering incredible car models. They also have a whole gamut of curated packages for their EV customers, so that they can have the best ownership experience. The luxury carmaker's goal is to be there for their customers, every step of the way. Some of their Service plans range from two to five years. A standard warranty of two years and a High Voltage Battery warranty of eight years or 160,000 km, whichever is earlier are also available. The options for Extended Warranty are available across a period of 2+2 years or 2+3 years. Additionally, Comprehensive Service Plans are available for either four or five years, depending on the scheme chosen by the customers.
There's more…
That's not all - customers can also enjoy a best-in-class buyback, where they are assured of a lucrative buyback price up to a period of three years from the date of purchase. This is if they decide to upgrade or sell their Audi e-tron 50, the Audi e-tron 55 and Audi e-tron Sportback 55 in the future.
What's more, they are offering a complimentary 5-year Roadside Assistance, which includes company-trained assistance on call in the unlikely event of their Audi e-tron or Audi e-tron Sportback needing mechanical intervention whilst on the road.
Future is an attitude
Ever since its inception, Audi has always believed in progress over perfection. This aspect is not just visible in the design of their cars, but also in other areas. It has always been about recognizing the potential in every situation, even where there are challenges galore. It's all about pushing the boundaries today for a better tomorrow.
With so much and more that Audi offers, it's time to experience this life up, close and personal. Customers can book the Audi e-tron 50, the Audi e-tron 55 and the Audi e-tron Sportback 55 online (www.audi.in) from the comfort of their home or can register their interest at the nearest Audi India dealership.