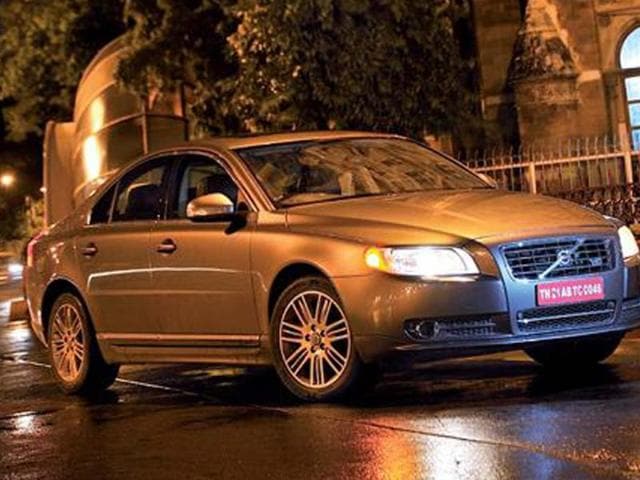 Volvo S80 V8 AWD test drive
7 min read

.

Updated: 18 Jan 2013, 05:21 PM IST

It gnashes its teeth and snarls menacingly, it whoops when you blip the throttle and responds so hard to any flexing of your right foot, you'd swear it was alive; a living, breathing beast of a motor. With big, big teeth.

The best time to take Volvo's 315bhp S80 V8 out for a spin is when the roads are empty.

It gnashes its teeth and snarls menacingly, it whoops when you blip the throttle and responds so hard to any flexing of your right foot, you'd swear it was alive; a living, breathing beast of a motor.
Similar Cars
With big, big teeth.
Sure, one man's noise pollution is another man's music. Opera, heavy metal, qawwali, take your pick. But Volvo's V8 is a maestro. It sings in the right key, jumps octaves with the precision of the Berlin Philharmonic and there's never a hiccup or overrun. And when you have an empty basement parking playing the part of a natural amplifier, there really is nothing better. Only wish it were much louder and not relatively civilised.
What about a V8 rumble or a discordant woffle, you ask. Well to begin with this is no ordinary V8. Not American, British, European or Scandinavian, this motor actually comes from Yamaha in Japan. Probably why it sounds more like a pair of R1 superbikes playing in concert, than anything else. Still enough of a 'eargasm'.
I leave the empty office parking lot to the screeching fruit bats who've just retuned from a night of plunder and tickle the throttle to let the big saloon up the steep ramp. The clock reads 3am. Windows slightly down, I set off. I can't get enough of that soundtrack.
The large Volvo slips effortlessly into the night, like a battleship slipping out into a choppy ocean. Some of the roads around the office have been destroyed by the rains and so I crawl over them. But there's really no need - the suspension of the Volvo is set up to be comfortable above all else (remember their largest market is the US), and the S80 simply smothers everything but the worst bits. There is some jiggling at low speeds on broken ground due to the low profile of the tyres and the occasional thump and thud, but overall it's simply superb. Despite its formidable weight of nearly two tonnes, the S80's suspension seems to skip lightly over the bumps, as the V8 tugs it forward at just a hint of throttle. With a 315bhp V8 sitting east-west in the nose, you'd think this car would be provided a suspension that has rocks for springs. But no, nothing comes in the way of it delivering a comfortable, pliant ride.
I'm wide awake now, the effect of the Red Bull I swallowed earlier still fizzing in my brain. And since the roads are devoid of all distractions and moving chicanes, I point the nose in the direction of some interesting tarmac. Though the S80 doesn't have massive freight train-dragging torque just off idle like a small-block V8, there is enough enthusiasm in the motor to get you to the sweet spot at 2500rpm double-quick. And the six-speed auto 'box is a bit slow to shift (emphasis on comfort here). So even as it cruises smoothly, vibration-free, all you need to do to double your pace is tap the throttle a little harder to elicit a downshift.
The motor is now nice and warm, so it's time to give the V8 its head. A longish straight approaches and I mash the throttle. The gearbox jumps a couple of gears down, dropping the motor right into the powerband at 5000rpm and the Volvo shoots forward like an arrow. And this rate of acceleration doesn't let up. It just keeps going and going and going. Enough to get you jumping with excitement. The top end of the powerband is particularly frenzied, but it also loves to be revved and offers no resistance to being spun faster, all the while accompanied by that delicious snarling soundtrack. If Honda were to make a V8 for a sportscar, it would be something like this Yamaha unit.
And then once you've tasted 315bhp, you want your next fix. Which comes up at the next straight. Back on the throttle as yellow street lights get reeled in at an alarming rate, this time around I'm even more aghast. The gearing seems spot-on for a quick romp through the gears and this huge car displays searing pace. The secret of its virility seems to be its short stroke and large piston bore. The pistons don't need to travel a long way up and down and that means they can respond faster. Engines with long strokes make better torque, but with almost four-and-half litres and eight cylinders there's more than enough torque at hand. Volvo claims a 0-100 time of 6.5 seconds, but on our fuel it's likely to lose a bit. Still with a power-to-weight ratio identical to that of the lighter but less powerful Audi A4 3.2 FSI Quattro, this car is unlikely to ever be a slouch. Every half-decent stretch of road is yanked hard under the Volvo's wheels and then just to make sure I'm not dreaming, I go and drive the best bits again.
With a pillowy Yank tank ride and light steering, the Volvo won't drive as well as the Audi. It has all-wheel drive, giving it good traction. But that's about it. This S80 didn't come with the adjustable dampers you get in other markets and that means it rolls as much as the HMS Queen Mary in bad weather and pitches a bit too. As a result, it feels larger than it is from behind the wheel and doesn't shrink around you like a BMW 5 Series can. You can still extract a good amount of driving pleasure from it though. The steering is reasonably responsive, the Volvo turns in willingly and handling is trouble-free, with no nasty surprises.

It's also hard not to notice how comfortable you are in the cabin. With the windows up the insulation of the S80 muffles almost all outside noise. Only sharp ridges elicit a whack from the suspension, the motor at cruising speed could be absent for all practical purposes and Volvo's massive, leather-lined sofas are just perfect for a relaxed amble. The seats are at least 15 percent larger than even a Mercedes E-Class and there is a substantial amount of support for your shoulders and thighs. Sporting some very high quality leather with attractive stitching and piping, these seats are easily as comfortable as those on cars of a higher class. The colour scheme on this car also looks particularly alluring. The dark tan seats, cream piping, dark wood trim and a silver ring around the steering wheel all look suitably upmarket. Those floating needles on the instrument panel look cool at night and the wooden steering wheel is extra-special — it's thick, high quality and a joy to use.

The rear seats are equally comfortable — huge space, great support and generally difficult to fault. The dashboard however isn't as well-built as Volvo's German competitors. The unsupported central console feels a bit flimsy, and some of the buttons are not of the same quality as its many rivals'.
However, apart from the seats, the best bit is the Dynaudio music system. With its incredible clarity, awesome depth and a programmable sound stage and equaliser it'll encourage you to often take off for a drive just to listen to the stereo. And you get DVD screens for the rear seats as well.
It starts to drizzle but I stop by the seaside anyway. It's weird, being in the heart of Mumbai with no one else around. Under Marine Drive's yellow sodium-vapour lamps, the wet S80 looks pretty stunning — that heavily raked 'flying buttress' rear C-pillar that flows in one sweep, the arrow-like profile, the crisp detailing. Of course the S80 V8 is not for everyone. It's not likely to give you a better average than six kilometres per litre and when all 315bhp is used, it will struggle to deliver five. Still, if you aren't fazed by fuel bills that are forty percent higher, if your daily commute is not too long or if you aren't averse to funding a gold-lined swimming pool in Arabia, no car in its class offers the comfort, excitement and thrill of the S80 V8. Okay, the handling is more limo than sports saloon and some bits are not built as well as on the German cars. But for comfort and excitement, nothing can match it. Costing as much as the six-cylinder Merc E280, BMW 530i and Audi A6 3.2 FSI, it provides a fun alternative to the Germans. And with Volvo's insane obsession for safety and a pageful of safety features, 352 airbags among them, I'll bet you anything it will be safest too.

Fact File
Price Range (in lakhs)*
Ex-showroom price 54.08 lakh (On-road price Mumbai)
Engine
Installation Front, transverse, all-wheel drive
Power 315bhp at 5950rpm
Torque 44.8kgm at 3950rpm
Dimensions
Length 4851mm
Width 2106mm
Height 1493mm
Chassis & Body
Weight 1920kg