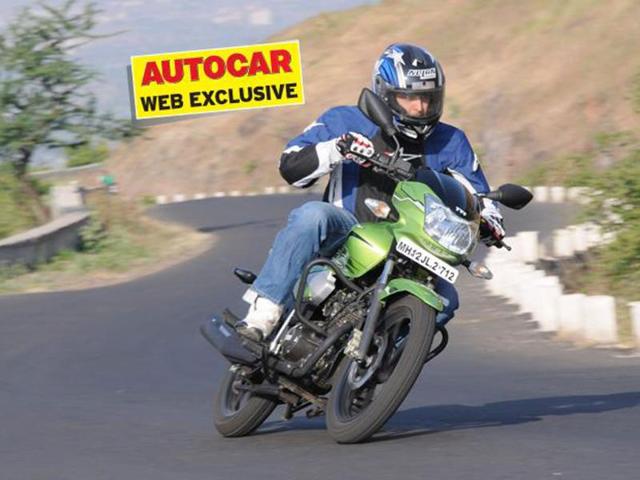 TVS Phoenix 125 review, test ride
6 min read

.

Updated: 26 Nov 2012, 07:11 PM IST

The Phoenix is a serious shot from the Hosur based TVS Motor Company, aiming at nailing a bulls-eye in the keenly contested and key 125cc motorcycle segment.

TVS is back with a bang in the 125cc segment. The new Phoenix 125 aims to soar above the rest of its competition. Will it succeed?

The Phoenix is a serious shot from the Hosur based TVS Motor Company, aiming at nailing a bulls-eye in the keenly contested and key 125cc motorcycle segment.
Similar Bikes
There are several strong players in the Indian 125 space, and the South Indian bike maker has been forced to work really hard to penetrate this space, with only moderate success to date. TVS's previous Flame 125 model was never a big hit with us, and more importantly, never did make any significant dent in the Indian market. Better late than never though, now still makes a good time for the Phoenix to make good and set TVS's sales charts afire. The Phoenix offers some first-in-class features, a refined engine and it sits astride innovative suspension. All of which still doesn't answer the question everyone is waiting to hear.
Does the Phoenix have enough grit to cement TVS's feet firmly in the 125cc segment, and offer you a good 125 motorcycle, one that is able to rise above its many able rivals?
Design
TVS's Phoenix is a commuter motorcycle with conventional, still attractive styling and universal appeal. This new TVS 125 is smartly designed, and comes equipped with six-spoke alloy wheels, while its engine, exhaust and a few other parts are all finish in black. A broad, bikini fairing accommodates the headlight, which works well at night to produce a bright, well focused and conical spread when using low beam and also has integrated, LED powered pilot lamps. The digital instrument bay sports an amber-backlit display, with a trip meter, cascading fuel gauge, low battery warning, and service due reminder, all sheltered beneath a tinted visor. The prominent speedometer is a case of form over function, its digital display being cumbersome to read on the go. The Phoenix however has excellent palm grips, and switchgear that works with a smooth feel. The choke lever is mounted at switchgear level, that makes it handy and convenient to reach, but its design could have been better formed. TVS has equipped the Phoenix with a hazard warning switch as standard, making for a first in this segment, and this proved helpful whenever parked on the road shoulder.
We appreciate the high quality control levers on this TVS, however missed the presence of a cable-play operating nut for the clutch lever. The Phoenix rear-view mirrors functioned perfectly throughout our test ride. Prominent decals adorn the Phoenix, and boldly declare it a 125. The well-padded seat is covered with dual-textured fabric, running from the Phoenix's ample and rounded fuel, this providing comfy knee indents for a rider's thighs. At the rear you have an alloy grab handle and flush-fitted taillight.
The Phoenix is a well-built motorcycle, and shows off good paint lustre, thorough attention-to-detail and adequate overall fit-and-finish.
Performance
The Phoenix 125 houses a revised, four-stroke, 124.5cc, single alloy cylinder and air-cooled short-stroke engine, with bore and stroke measures of 57mm x 48.8mm. The 'Ecothrust' engine uses a CV carburettor, a step in the right direction for this segment, and a paper type air-filter element. The Phoenix engine uses a moly-coat layer for its piston, and deploys hard chromed rings. The Phoenix's engine churns out 10.9bhp of maximum power at 8000rpm, and 1.1kgm of torque at 6000rpm. The Phoenix powerplant is suitably tuned for good low and mid-range grunt, which we experienced as being apt for negotiating congested Indian urban traffic. The Phoenix is a refined and smooth motorcycle that runs vibe-free throughout its broad power band. Throttle response proved adequate for a 125cc motorcycle while riding in the city.
The Phoenix uses a four-speed transmission that worked with positive feel throughout our test, but we would have preferred to find a one-down, three-up shift pattern here instead of the all-up shifting gearbox provided. Clutch feel is light, helping to make riding in urban Indian conditions a pleasant affair. Final drive is transferred via a fully-enclosed drive-chain, which isn't as attractive looking as an exposed chain, but is certain to impress users with superior reliability in demanding, dusty and frequently damp Indian conditions.
The Phoenix although not the fastest in its class, is a quick enough 125cc bike, accelerating from 0-60 in 7.3 seconds during testing by us, and going on to achieve a true top-speed of 96kph when riding flat-out in top gear.
Ride, handling & braking
The Phoenix makes a comfortable commuter bike, astride which travelling around the city becomes a breeze. Its upright riding position feels comfortable for a commuter bike, adding to which is its long, well-cushioned seat. The new TVS 125 uses a single downtube, tube steel frame assisted by a rectangular section swingarm. It deploys telescopic fork front suspension, and a pair of novel shock absorbers at rear called 'series spring', consisting of multi-rated springs coiled one over another, split by a separator.
Handling is just as good as any 125cc motorcycle in India, the handlebar and footrests being well positioned, promoting a light feel and neutral steering. Stable cornering manners are always at hand on the Phoenix, a bike that proved to be nimble and agile to manage in heavy traffic. Ride quality on the Phoenix is plush, the new suspension working well to soak in all undulations and potholes Indian roads frequently offer.
Straight line-stability proved fair, the Phoenix offering a wide-for-its-class, 90/90 x 17inch, rear tyre, with fair grip on offer for a commuter bike, whether riding in dry or wet conditions. The Phoenix is available with a 240mm, petal-type front disc, and 130mm drum rear brake, these doing a good job while providing ample stopping power. The Phoenix stops with confidence, holding its line well even during emergency braking. We managed to stop the bike in 17.33 metres from 60kph during brake testing.
Economy
TVS's commuter motorcycles have always proved fuel efficient in the past, and the same is true for the Phoenix 125. The Phoenix 125 acquits itself at the fuel efficiency stakes, returning us a respectable 56.8kpl in real world city riding conditions, this reducing to 54.4kpl when riding out on the open highway.
Verdict
TVS's Phoenix scores fairly well across parameters, carrying out its commuter duties efficiently. It may not make the perfect choice in its segment for someone who is looking for a sporty, speedy 125, in which case you should look no further than the Bajaj Discover 125ST. The Phoenix simply wasn't built for this. TVS's attractively styled new 125 offers a smooth and efficient engine, which fits the bill, as does its good ride quality, adequate comfort and light handling manners. All of this makes the Phoenix a serious contender from TVS, one that is certainly going to be hard-to-beat in its segment as a well-built, comfortable and sensibly priced motorcycle, suitable for daily commuting duties in India.
Technical Specs
Fact File
Engine
Fuel Petrol
Installation Inclined from vertical
Type 124.5cc ,Single-cylinder, air-cooled, four-stroke
Bore/stroke 57/48.8mm
Power 10.9bhp at 8000rpm
Torque 1.1kgm at 6000rpm
Power to weight 94bhp per tonne
Transmission
Gearbox 4-speed, 4-up
Dimensions
Length 1985mm
Width 740mm
Height 1065mm
Wheel base 1265mm
Boot volume 165mm
Chassis & Body
Wheels 6-spoke alloy, 17 inches
Tyres 2.75 x 17-90/90 x 17 inches
Suspension
Front Telescopic forks
Rear Multi-rated, series spring shock absorbers, rectangular swingarm
Steering
Type 240mm petal disc/ 130mm drum
Performance
0-20 1.13
0-40 3.45
0-60 7.3
0-80 14.79
Economy
City 56.8kpl
Highway 54.4kpl
Tank size 12 litres
Range at a glance - Engines
Diesel ₹51,000-₹53,000 (Ex-showroom, Chennai)