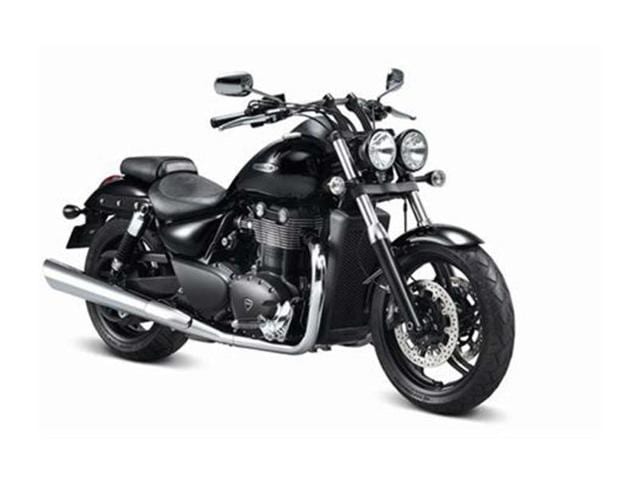 Triumph readies India bike line-up
5 min read

.

Updated: 01 Nov 2013, 12:09 PM IST

British big bike specialist Triumph is all set to take their eagerly awaited plunge into India, official launch date confirmed for Nov 28, 2013.

British big bike specialist Triumph is all set to take their eagerly awaited plunge into India, official launch date confirmed for Nov 28, 2013. First seen here at the 2012 Auto Expo, Triumph Motorcycles (India) Pvt Ltd are now set to bring Indian enthusiasts a wide range of big bikes starting this Nov, extending from the iconic, affordably priced Bonneville to the top-of-the-line muscular Rocket III.
Similar Bikes
To give you some idea of models to expect, Triumph's evergreen Bonneville should be the most affordable motorcycle offered in its India portfolio. The Bonnie derives styling from the 70's, a retro bike that houses an 865cc, parallel-twin, four-stroke and air-cooled engine. The fuel-injected classic bike engine will generate maximum power of 67bhp at 7500rpm and peak torque of 6.93kgm at 5800rpm. Triumph is also tipped to be bringing the Bonneville Thruxton to India, a sporty Bonnie variant modified along 'café racer' lines, in tribute to the manufacturer's success at the Thruxton racing circuit, where they won top three positions in the Thruxton 500 endurance event, 1969.
Also part of the Triumph India line-up is sure to be the Street Triple, a smaller capacity sibling to the Speed Triple with related styling. The Street Triple sports minimalistic body panels and sharp features, leading back to its tail. The Street Triple will offer a 675cc, in-line and Triumph trademark three cylinder, four-stroke and liquid-cooled engine which generates 105bhp at 11850rpm and a peak torque figure of 6.93kgm at 9750rpm. Its aluminium twin-spar frame comes fitted with KYB upside down front forks, and a KYB monoshock at the rear.
Triumph's renowned and widely acclaimed supersports bike, the Daytona 675 too is slated to be part of the Indian contingency, a sharply styled, track focused fully-faired in bike which has only recently been given an extensive make-over. The Daytona 675 uses a new 675cc, in-line, three cylinder, four-stroke and liquid cooled powerhouse, which outputs 126bhp at 12500rpm, while peak torque is 7.54kgm at 11900rpm. The high revving, short-stroke 675 engine offers a bank of wider, ceramic coated aluminium bores, that meet a close ratio 6-speed gearbox.
Triumph's Speed Triple is also India bound, a naked sportsbike with minimal body panels and exposed bug-eyed headlights that give it a distinct appearance. The Speed Triple makes a capable race track tool, and houses a 1050cc, in-line three cylinder, four-stroke and liquid-cooled engine, making 133bhp at 9400rpm and a peak torque number of 11.3kgm at 7750rpm. Triumph recently made the new Speed Triple 3kg lighter, giving it a narrower frame that promotes improved handling. For suspension, the Speed Triple uses top of the line Ohlins kit.
To rival BMW's on-and-off road adventure touring models, Triumph will also offer the exciting and ideal for Indian conditions, Tiger 800 XC. The 800 XC uses an 800cc, in-line three cylinder, four-stroke and liquid-cooled engine. The XC makes 94bhp at 9300rpm, while peak torque is strong, at 8kgm churned out at 7850rpm. The Tiger is held together by a robustly constructed, tubular steel frame, developed to carry a good payload of luggage and withstand the rigors of prolonged off-road riding conditions. The Tiger also comes with a 645 watts generator, for power supply to electrical accessories, making for convenient living when using the bike for long distance touring.
Triumph's Thunderbird Storm should also be part of the cruiser line-up in India. In typical cruiser fashion, the Storm uses twin headlights, with pull back handlebars, a tapered fuel tank, all-black engine and 5-spoke alloy wheels with a dual-sided, chrome finished exhaust. The Storm houses a big, 1699cc, parallel-twin, four-stroke and liquid-cooled engine. This generates maximum power of 97bhp at 5200rpm and copious peak torque of 15.9kgm at 2950rpm. The Thunderbird tips the scales at 339kg and is held together by a tubular steel twin spine frame. Hefty 47mm Showa forks are deployed up front, while twin shocks do duty at the rear.
Triumph's power packed Rocket III is also expected to make it to India in Nov, an iconic touring motorcycle that sports a commanding presence, and intimidating size. The behemoth Rocket III lives up to its name, with a massive, 2294cc, in-line three cylinder, four-stroke and liquid-cooled engine. This shaft driven motorcycle generates 105bhp at 6000rpm and solid peak torque of 20.7kgm at 2500rpm. The touring motorcycle space in the country has been well received where manufacturers like Harley-Davidson have taken flight from the word go. It's a segment in the spotlight here, with the imminent upcoming entry of Indian and Victory motorcycles coming soon.
Expected prices for Triumph's range is as follows, a slight premium over the really attractive pricing announcements made a while ago at the 2012 Indian Auto Expo, since when raw material and production costs have understandably risen. We estimate Triumph will price their Bonneville at close to ₹ 6 lakh, the Thruxton at a slight premium over this, while the Street Triple will be offered for about ₹ 6.25 lakh, the Daytona 675 at ₹ 7.5 lakh, Speed Triple for ₹ 8.5 lakh, the on-off road Tiger 800 XC at somewhere around the ₹ 10 lakh mark, the Thunderbird Storm at ₹ 17.5 lakh and the pricey Rocket III at approximately ₹ 22.5 lakh.
Triumph will commence Indian operations via its new CKD plant in Manesar, where bikes start rolling out from in a few days from now, and a sizeable number of hand-picked dealers covering the country, starting with the cities of Hyderabad, Bengaluru, Delhi and Mumbai, followed by Pune, with 5 more dealerships planned to go on steam by the fiscal end, March 2014. Every dealer will offers after sales and spares service and support, with properly trained technicians in place, as well as a round-the-clock bike support system. Triumph Motorcycles (India) Pvt Ltd will also offer a range of their own riding gear and motorcycle accessories, specially handpicked for Indian conditions.
There's much to look forward to on another front too, with Triumph tipped to be working furiously behind the scenes to go on to launch a smaller capacity motorcycle for large sales volumes in developing markets such as India in the near future. Work continues at the Triumph production unit in South India, which will play a key role when the small capacity bike makes its debut. Undoubtedly, the upcoming baby Triumph motorcycle holds the potential to be a massive till-ringer for the legendary British motorcycle manufacturer.