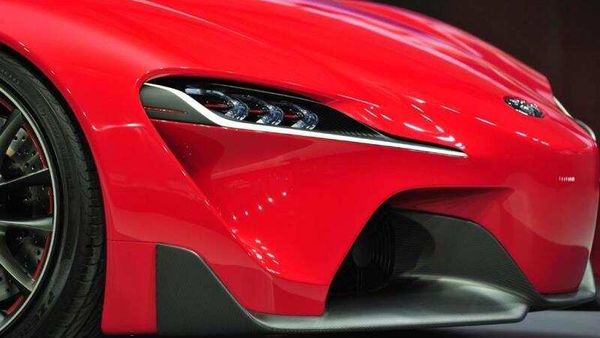 Toyota revs up design with 'spiritual pace car'
2 min read

.

Updated: 14 Jan 2014, 06:35 PM IST

Toyota revved up its design credentials Monday with a sexy new concept for a sports car aimed at helping to reshape the previously staid Japanese automakers reputation.

Toyota revved up its design credentials Monday with a sexy new concept for a sports car aimed at helping to reshape the previously staid Japanese automaker's reputation.

A race car pit crew opened a shiny red box to reveal the curvaceous FT-1 sports concept -- Future Toyota 1 -- to a cheering crowd of hundreds during the first day of press previews at the Detroit auto show.
Similar Cars
'This is a symbol of Toyota's design future, a spiritual pace car,' said Kevin Hunter, president of Calty Design Research which developed the concept.
'This provocative concept truly captures the passion, excitement, and energy of the Toyota we are evolving into and embodies elements of the emotion and performance that Toyota will imprint upon future production designs.'
Toyota had previously designed its vehicles so they would be 'liked by everyone and as a result we took less risks and tried not to stray too far,' Hunter said.
But Akido Toyoda, the grandson of Toyota's founder and a race car enthusiast who took over as chief executive in 2009, is determined to invigorate products with Waku-Doki: a palpable heart-pounding sense of excitement.
The aim is to move away from design by consensus and to build cars that spark an emotional reaction in order to connect more deeply with customers.
While Toyota currently has no plans to bring the FT-1 to its showrooms, it is a model of the 'engaging design' being implemented throughout the world's largest automaker's lineup, said Bob Carter, head of automotive operations for Toyota Motor Sales USA.
'We're going to be more emotional in our styling and more fun to drive,' Carter said in an interview on the sidelines of the show.
The new approach has already come to market with the Toyota Avalon and Corolla models launched last year, Carter said.
It will be evident again on Tuesday when Toyota's luxury brand introduces the Lexus RC-F, Carter said.
'That one is a beautiful car,' he told AFP, adding 'it's the highest performance Lexus V8 that we've done.'
Toyota's more emotive styling helped it grow US sales by seven percent last year to 2.3 million vehicles, Carter said.
It expects to increase US sales by another 100,000 vehicles in 2014 even as the overall industry begins to plateau at an annual rate of around 16 million following four years of dramatic growth as sales recovered from the 2008 crash.
'We had a terrific year in (20)13, we really think we're well positioned for (20)14,' Carter said.
The FT-1 was initially devised for the popular Sony Playstation racing game Gran Turismo.
Akio Toyoda tested it out on a virtual Fuji Speedway and was so captivated by its styling and performance that he gave the go-ahead for a live model, Hunter said.
And while it may be years before Toyota brings a sports car back into its lineup, enthusiasts won't have to wait to share Toyoda's joy at testing out the FT-1.
The virtual version will be available for download on Gran Turismo starting Tuesday.