Toyota Corolla Altis: Performance plus looks
The world's largest selling car gets a major overhaul, and appears set to prolong its legacy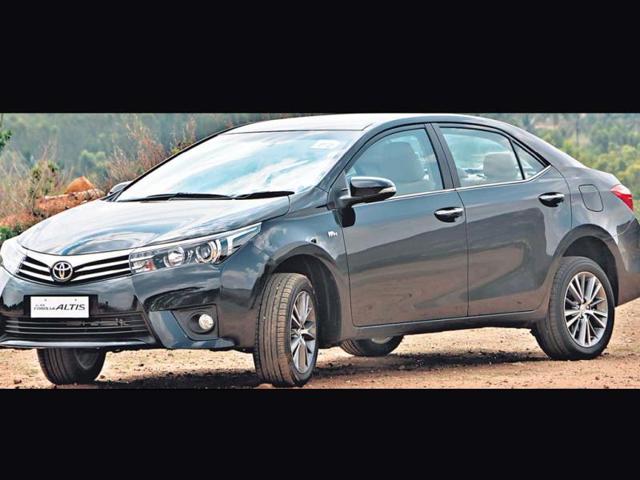 For Toyota, re-designing a car of the stature of Corolla Altis would have been no mean task. It is the largest selling car in the world and has been there since 1997. It accounts for over 20% of Toyota's overall global sales— and Toyota is the world's biggest car maker! Tinkering with a successful product is risky: everyone knows that.
But Toyota wants to break from its image of a conservative and boring carmaker. The Corolla, obviously, is the first one to go under the knife. Will the new look work?
Exciting exterior
There are many examples of companies fooling customers with cosmetic changes in the name of a generational shift. With the new Corolla, clearly, it is a major overhaul, even if the underpinnings remain largely the same. The face has been entirely re-done with new LED headlamps, lots of chrome in the grille, a bigger fog lamp cluster and air dams. It is a sportier and more aggressive stance, accentuated by 16" alloy wheels on the top trim bringing it at par with competition. Make no mistake, this is the best looking Toyota.
Plusher, roomier cabin
The new Altis gets a heavy dose of creativity in the cabin as well. A fresh dashboard layout and instrument console with better materials is one aspect. The main talking point is more space and features, especially at the back keeping in mind that most of these cars are driven by chauffeurs. The wheelbase of the car is 100mm longer, which translates into more legroom at the rear. It also gets reclining rear seats — a first in the segment. Updated features include a 7"-infotainment screen, a rear parking camera and push-start ignition. The one thing still missing is rear air con vents. It is not quite at par with an Elantra for flamboyance or Octavia for sheer build quality, but this is a far more plush cabin than the one we are used to in a Corolla.
Same engines, more refined
There are no major changes in terms of powertrain as Corolla retains the 1.8-litre petrol and the 1.4-litre diesel engines. The petrol develops 140 PS peak power and 173 NM torque and is available either with a 6-speed manual or 7-speed automatic transmissions. The company has worked on the suspension settings striking the right balance between handling and ride quality. It is now better at tackling corners and will not disappoint — should you want to get behind the wheel. The automatic variants also get paddle shift gears that add a bit of flair to the drive. The diesel, however, has been built solely for economy, and feels underpowered. There is perceptible turbo lag below 2,000 rpm, and it tops out faster as well. But its fuel economy is compensation for the lack of fun.

Verdict: back with a bang
Traditional wisdom says a mass selling car must be a little conservative as quirky design does not appeal to everybody. The new Corolla dismisses that and may have a disruptive impact on global markets. In India, it faces stiff competition with the Chevrolet Cruze and Hyundai Elantra. A more powerful diesel motor would have left no room for complaints. With the company's legacy, there is enough going for Corolla to increase its fan base in its new avatar.
First Published Date:
30 May 2014, 11:04 AM IST
TAGS:
NEXT ARTICLE BEGINS