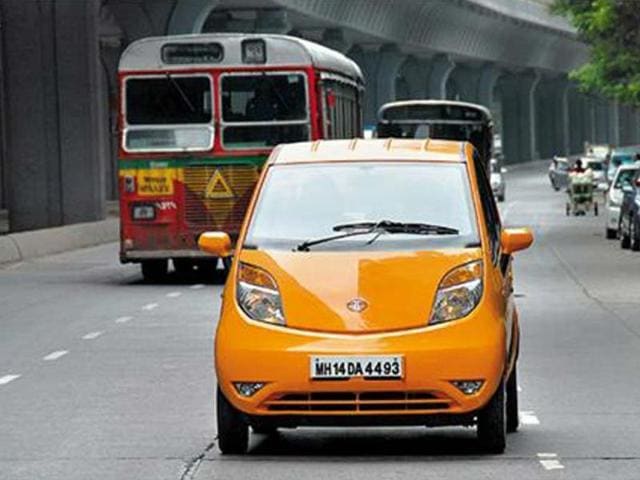 Tata Nano LX 2012 (Final Report)
3 min read

.

Updated: 09 Oct 2013, 11:25 AM IST

January 2012 – that's when this Papaya Orange Tata Nano first rolled into our crowded office parking lot, and boy, has time flown by since then.

January 2012 - that's when this Papaya Orange Tata Nano first rolled into our crowded office parking lot, and boy, has time flown by since then. Just about everyone in the office has spent time with it in the months since, even the boss - who likes swapping his E-class for it every once in a while for a change of pace.
Similar Cars
But I can safely say that over the last 17 months, no Autocar India staffer has put more mileage on its clocks than I have. So now that it's time for it to go back to Tata, I'd like to bid it farewell.
The car so far has covered 7,400km and almost all of it has been city driving in and around Mumbai and I am glad to say that, except for the light coloured seats which get dirty easily, the car still looks as good as new. The light coloured dashboard with matte silver inserts gives it a more upmarket ambience compared to the dull grey interiors of the older car. There's hardly any squeak or rattle despite the continuous torture from constant driving on Mumbai's infamously potholed roads.
There's no escaping the choppy ride, thanks mostly to those tiny 12-inch wheels. You do get tossed around a little and that sometimes gets pretty uncomfortable, but after this long, I've learnt to ignore it. The roomy cabin is a pleasant place to be in except for the engine noise which filters through. You can also quite easily tell exactly when the engine fan is on or not, thanks to the racket it makes.
You might think tackling city traffic in a tiny little box such as this might be a bit nerve-wracking, but it isn't, really. Confidence is the one thing that the Nano gives you at the wheel. The seating position is nice and high, and couple that with the great visibility and the ridiculously short overhangs, and you realise you don't need fantastic judgment to punt the Nano around town. This makes it an ideal car for learners, especially if they live in a big city.
Speaking of the seats, they're not something you'd expect to improve during an annual update, but the 2012 car was a huge leap forward in terms of comfort, particularly from the driver's seat. Get into our car after the previous model or even say a Maruti Alto 800 and you'll notice it instantly.
The Nano was a big help during summer last year, when my relatives were visiting on vacation. The list of visitors included my beloved, travel-loving, 89-year-old grandmother, and she deputed me as her official chauffeur. The 2012 Nano ticked three very important boxes on gran's list of car comforts. First the living room-like space in the cabin. Second, the seats are positioned at a near-perfect height, so senior citizens can simply slide right in. And third, the air-con is quite effective too - an essential, given Mumbai's weather in May.
Another unexpected plus point of our Nano is its Papaya Orange paint scheme, which as my colleague Kedar once discovered, is a huge advantage in itself. You simply cannot lose this car in a parking lot. Despite having no recollection of where he left it, a minute's walk through the crowded mall lot was all it took for him to find it. The car's 1,652mm height no doubt helped.
In over a year, we haven't had too many mechanical maladies to report. The steering became heavier than usual and the clutch was heavy and non-progressive, but a quick visit to the service station rectified both problems. We even got the clutch cable changed under the generous four-year/60,000km warranty. It's very light on the pocket as well, all the time it was with me, I got a fuel economy figure of around 15-17kpl with the AC on in normal city driving.
Apart from the power-steering (please Tata, it's more important than power windows), the only thing I really missed in the car was a music system. The good news is that Tata has just launched an even further updated version of the little Nano which gets a few chrome strips, a glovebox, an integrated music system with a USB, Bluetooth and four speakers.
Finally, it's time to bid farewell to our Nano and I wholeheartedly enjoyed each and every day of driving I had with it. Now I can't wait to get my hands on the 2013 car.
Akbar Merchant
Odometer: 7,402km
Price: ₹ 2.47 lakh (on-road, Mumbai)
Test economy: 17.45kpl (overall)
Maintenance costs: None
Faults: Faulty clutch cable