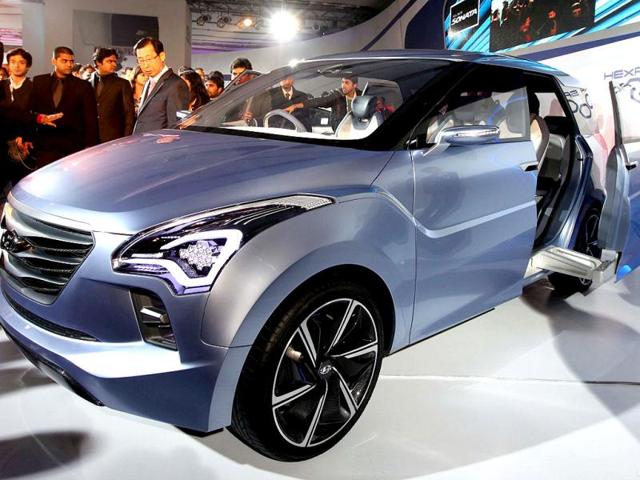 Small goes big, biggies go small
1 min read

.

Updated: 06 Jan 2012, 02:09 AM IST

Makers of small cars such as Maruti are looking at SUVs, while European biggies VW and BMW are bringing their li\'l ones. Sumant Banerji reports.

Reputed small carmakers in India - Maruti, Hyundai, Tata - are going big, literally. While companies like BMW, Mercedes and Audi, synonymous with big luxury sedans are doing just the opposite, hitting India with their range of compact cars.

India's largest carmaker Maruti, having mastered the art of frugal engineering, showcased its big car ambitions with concept XA Alpha.
Similar Cars
The Alpha will be the foundation for its first indigenous sports utility vehicle.
Alongside this it would also launch a multi utility vehicle Ertiga, another first, on Friday to tap the burgeoning utility vehicle segment that accounts for over 15% of the industry.
Arch rival Hyundai too showcased its concept of a global compact SUV, the Hexa Space. Like Maruti, Hyundai has negligible presence in the utility vehicle segment at present.
The companies largely perceived as expert small carmakers have a psychological barrier to cross - the Indian consumer is not happy buying a bigger car from a small carmaker.
'We will keep trying various tricks to overcome that,' said Mayank Pareek, managing executive officer (marketing and sales), Maruti Suzuki India Ltd. 'I believe if the car is good and is positioned correctly then the market will accept it.'
At the other end of the spectrum, the situation is exactly the opposite. The largest selling luxury carmaker in the country, BMW, brought the Mini, a ₹25 lakh car but so small, even the humble Tata Indica is longer.
Mercedes Benz scrambled its concept A class and B class, models destined to hit the roads by year-end. Audi is also keen to bring its A1 compact.
'For sure we would bring in the A1 at some point of time,' said Peter Schwarzenbauer, member of board, Audi AG. 'We have to maintain a fine balance and don't want to go too mass market too quickly. But no doubt there will be appetite for a luxury car small in India.'