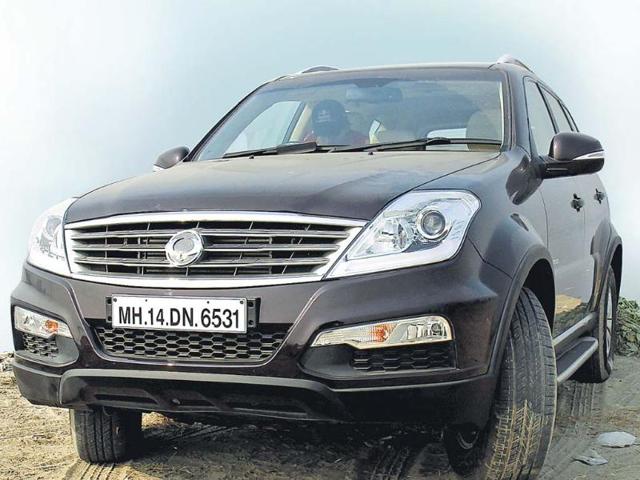 Rexton: Korean skin for M&M
3 min read

.

Updated: 01 Dec 2012, 11:41 AM IST

The launch of South Korean SUV specialist Ssangyong\'s first offering in India, the Rexton, is a more significant event that just any mundane car launch. Sumant Banerji writes.

The launch of South Korean SUV specialist Ssangyong's first offering in India, the Rexton, is a more significant event that just any mundane car launch. Ssangyong is homegrown utility vehicle major Mahindra's first successful global acquisition. Its interest in Ssangyong at a time when the latter was struggling for survival, was more to with acquiring technology than the Korean company's marketing prowess or brand equity.
Similar Bikes
In the Korean market, Ssangyong is dwarfed by Hyundai-Kia and has a single-digit marketshare.
In this background, though the Rexton itself is important, it is more significant as an indication of future products from Mahindra.
Exterior
The Rexton is one of the bigger SUVs around (see table). It is shorter only than the age-old Ford Endeavour, widest and tallest (almost). Yet, it does not quite have the road presence of segment leader Fortuner, Pajero or even Mahindra's own XUV5OO, and looks less like a brute and more like a ruffian in a tuxedo. The sloping bonnet and the curved grille give it a sedan-like look.
It does not quite look as distinct as the XUV, but there is an subtle understated appeal to it. The flared wheel arches atop the 16' tyres give it a muscular look from the side, which does not look forced. The rear is relatively bland, with dated trapezoidal tail lamps. The door sits quite low, which is good as that renders easy access to the luggage area. In terms of design, the Rexton does not quite bring anything new to the table.
Interiors
If you are carrying mental baggage from Mahindra's other vehicles, the Rexton would come as a revelation. Interiors are plush and well laid-out and a definite two steps up even from the XUV. The two-tone black-and-beige combination lends an upmarket feel all around. The seats are big and solid, so is the steering wheel; the instrument panel is simple, the way it should be. There is adequate leg room in the front two rows - the one niggle is the low seating position, partly attributable to the vehicle's high ground clearance. The middle row is a tad uncomfortable for long drives, as you are forced to sit all hunched up. The problem is worse in the third row.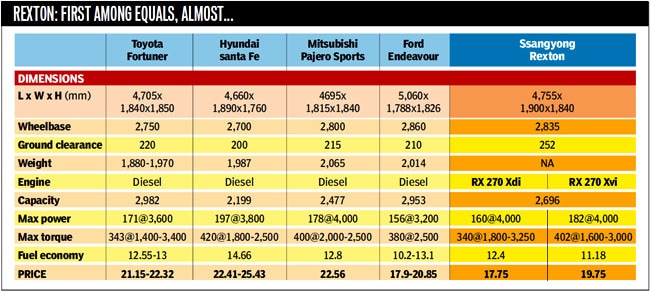 There are a few ergonomical problems as well: entering and exiting are a pain, for instance, due to its raised stance and short step ladder. The touch-screen music system, though part of standard package, appears like an after market fitment (though it is not). But there is plenty that Mahindra can borrow.
Performance, Ride and Handling
Rexton sports a single 2.7-litre 5-cylinder diesel engine, variously mapped for different performance levels. The automatic version develops a class-leading 182 PS power and 402 Nm torque, while the manual version, with focus on fuel economy, has 160 PS power and 340 Nm of torque. The automatic variant also has more features including an all-wheel drive as standard. On paper, this is better than any other vehicle in its class, barring Hyundai's Santa Fe.
Bring the engine to life, and you become aware that this is a more refined animal than a Fortuner. At idling, the vibrations and engine noise are minimal. Push the throttle and the 5-cylinder pot jolts you awake with a loud crackle. The automatic gearbox is not quite as advanced as what we get these days and holds gears longer than one would like, so the acceleration and the noise level occur in fits and starts.
On the positive side, the steering is very light which makes short work of city traffic. Handling is not quite precise, though, and you may find the car feeling its way around. It is heavy as well, which restricts its off-road capabilities. It can handle bad roads, but don't think about dune bashes or slush baths. But the other SUVs in this category - Fortuner, Santa Fe and Endeavour - don't do serious off-road either. Only the Pajero is a true off-roader.
Fuel Economy
Its dimensions and weight make the Rexton a fuel guzzler. ARAI figures suggest it drinks a litre every 11 kilometres in the automatic and 12.4 kms in the manual variants. In our sporadic runs around the city and a few on highways, we never got more than 9.2 kmpl.
The good part is that the fuel is diesel, so a 78-litre fuel tank will give you a range of over 700 kilometres for less than ₹4,000 in fuel bill. Not bad, considering that you also save at least ₹2 lakh on the price.