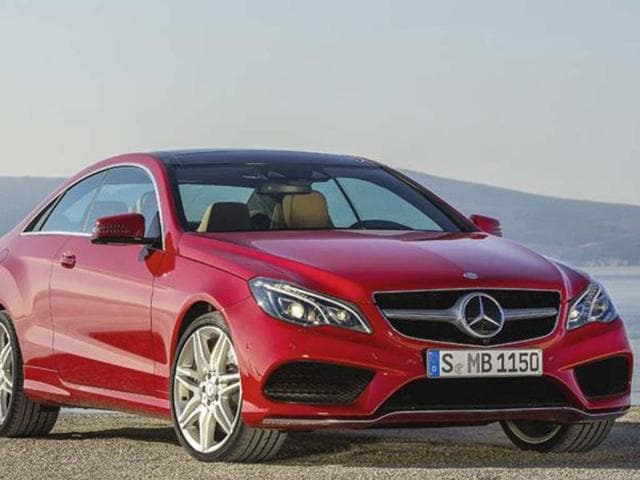 Refreshed Mercedes E-class coupé and cabriolet unveiled
2 min read

.

Updated: 04 Jan 2013, 05:54 PM IST

Mercedes-Benz has revealed a facelifted version of the E-class coupé and cabriolet.

Mercedes-Benz has revealed a facelifted version of the E-class coupé and cabriolet.

Following hot on the heels of the facelifted E-class saloon and estate, the two door duo eschew the quad headlamp treatment of the outgoing model for a more cohesive look that brings a pair of larger headlamps configurations.
Similar Bikes
The grille has also been made larger and now boasts Merc's latest propeller-inspired look for a cleaner appearance.
The engine line-up for the facelifted E-class coupé and cabriolet continues to mirror that of the standard E-class saloon and estate with a single petrol and two diesel units. All are carried over from the outgoing model with detailed upgrades that are claimed to provide incremental improvements in fuel economy and emissions.
The global engine line-up includes the entry-level turbocharged 2.0-litre four-cylinder direct-injection petrol engine which develops 181bhp in the E200 and 208bhp in the E250. It is supported by a 2.1-litre four-cylinder common rail diesel with 168bhp in the E220 CDI and 201bhp in the E250 CDI. Topping the range is a 3.0-litre V6 common rail diesel unit that endows the E350 with 248bhp.
The E500 coupé, with its twin-turbocharged 4.6-litre V8 engine, has been deleted from some markets like the UK.
As with their predecessors, Mercedes-Benz's new mid-range two door models also offer the choice of two gearboxes, depending on which engine they run. Included is a six-speed manual and an updated seven speed automatic with a steering wheel column-mounted shift lever. Both gearboxes come with standard stop/start and brake energy recuperation systems.
Mercedes-Benz is flagging up increased levels of standard equipment, too. Collision Prevention Assist (a radar-based collision warning system, with the ability to brake the car in order to reduce the severity of an impact) and Attention Assist (a system used to detect drowsiness) are fitted as standard.
In line with Mercedes-Benz's aim to further consolidate its reputation as a leader in safety technology, the new E-class coupé and cabriolet also receive an optional stereo multi-purpose camera that provides a three-dimensional view up to 50 metres in front of the car. The camera also permits the inclusion of a range of hi-tech anti-collision systems, including Distronic Plus with Steering Assist, which helps to keep the car centred in a chosen lane and tracks traffic in tailbacks. And with Brake Assist Plus with Junction Assist, the car is able to detect cross traffic and pedestrians and can boost the braking power if the brakes are insufficiently applied by the driver to avoid an impact.