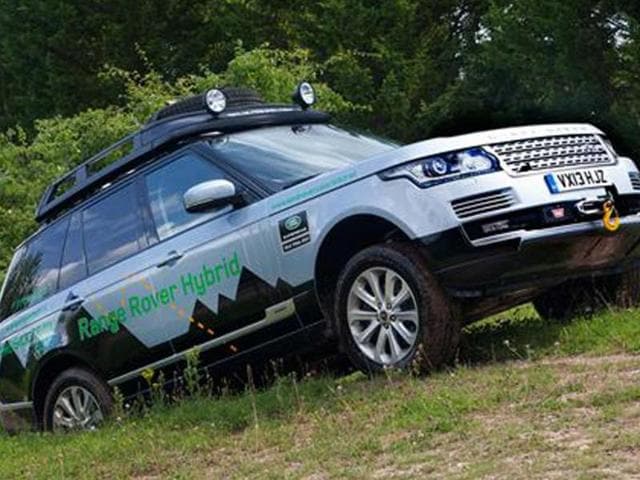 Range Rover hybrid lineup revealed
1 min read

.

Updated: 22 Aug 2013, 06:16 PM IST

New hybrid versions of the Range Rover and Range Rover Sport have been revealed.

New hybrid versions of the Range Rover and Range Rover Sport have been revealed.

Land Rover claims spectacular economy gains, "staggering" performance, uncompromised comfort and even better refinement than conventional diesel and petrol Range Rovers. Manufacturing is understood to be starting very soon.
Similar Cars
To prove the new hybrid models, which are claimed to deliver similar levels of off-road capability and durability to conventional models, Land Rover is planning a 10,000-mile expedition called '2013 Silk Trail'. This will follow ancient trading routes running through 12 countries from France to India, via Poland, Russia and China, and reaching the Mumbai HQ of Jaguar Land Rover's parent company, Tata Motors, in mid-October.
The hybrid system for both models combines the Range Rover's familiar TDV6 diesel and a 35kW electric motor integrated with the eight-speed ZF automatic gearbox to create a powertrain with peak power of 335bhp. The entire hybrid system, including its lithium ion battery, adds less than 120kg to the models' kerb weights, considerably less than the weight saving Land Rover achieved by converting both models to all-aluminium body/chassis construction.
The two hybrid models' kerb weights are similar (2372kg for the Sport, 2394kg for the Range Rover) so their claimed performance and economy figures are close to identical.
With V6 diesel and electric motor in full swing, the Sport is marginally faster, with a 225kph top speed (Range Rover 218kph) and its 0-100kph acceleration of 6.7sec beats the larger model by 0.2sec.
Both hybrid models return 44.1mpg (approx 19kpl) on the combined UK cycle and emit just 169g/km of CO2, a 16 per cent reduction against a conventional Range Rover TDV6.
Each model delivers practical inner-city performance up to a 48kph top speed for about one mile when in their driver-selectable electric-only mode (the motor's peak torque is 17.2kgm) and there is a regenerative system that harvests kinetic energy when the car is coasting or braking.
There is no packaging compromise, either. Both models are available with full-sized spare wheels and the standard Sport's 5+2 accommodation is offered in the hybrid as normal.
"We are very excited to be introducing these models," said Land Rover global brand director John Edwards. "They're the world's first hybrid 4x4s with true Land-Rover-level off-road capability."