New Volkswagen Touareg review, test drive
8 min read

.

Updated: 26 Nov 2012, 07:13 PM IST

You would have to be blind to mistake the Touareg for anything other than a Volkswagen. The headlights look like they've been taken straight off a Passat, as do the taillights, and that rather round shape isn't anywhere as adventurous as its exotic name suggests.

You would have to be blind to mistake the Touareg for anything other than a Volkswagen. The headlights look like they've been taken straight off a Passat, as do the taillights, and that rather round shape isn't anywhere as adventurous as its exotic name suggests. Also missing is the old Touareg's decidedly SUV-ish feature - the tailgate-mounted spare wheel.
Trending Cars
Maruti Suzuki baleno
1197 cc | Petrol | Manual
Maruti Suzuki ertiga
1462 cc | Petrol | Manual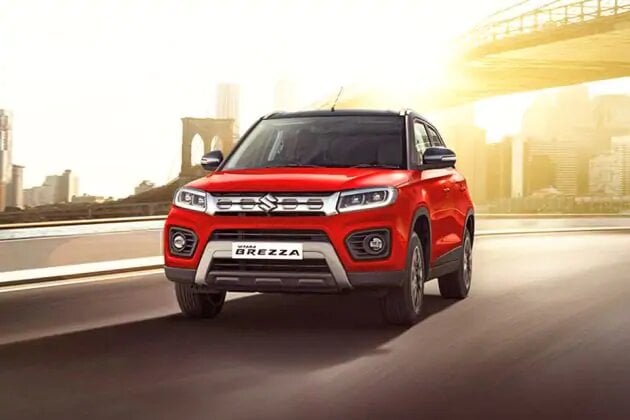 Maruti Suzuki vitara-brezza
1462 cc | Petrol | Manual
This new one makes do with a space-saver and a portable air-compressor stored away under the boot floor. Still, it's an inoffensive design and the Touareg's got tremendous presence - a fact confirmed by the number of heads it turned everywhere we went.
This Touareg (codename: 7P5) shares VW's PL71 platform with the Audi Q7 and the Porsche Cayenne. Volkswagen is quite proud of the fact that, despite being bigger than the car it replaces, it weighs at least 203kg less. Look at the spec sheet and you can see where Touareg 2 has grown - it is longer, wider and more importantly, has a 40mm longer wheelbase that substantially improves cabin space. More impressive still is the Touareg's fundamental rigidity, which has risen by more than five percent, making it one of the stiffest vehicles in it class.
Suspension is by way of independent double wishbones all around and adjustable air springs. The air suspension has five settings - Loading, Sport Normal, Comfort Normal, Off-Road and Special Off Road. At its Special Off-Road height, the Touareg has an impressive 300mm of ground clearance and looks quite formidable standing tall on its springs. At this height, it can ford 580mm depths too and in VW's own words "ensure fish stay outside the Touareg."
In other markets, Volkswagen offers a low-range transfer case and lockable differentials for serious off-roading, but Indian cars will have to make do with the regular all-wheel drive system and a special off-road program that activates hill-descent control and tweaks ABS, ESP, traction control and electronic differential lock settings. Not offering the full-blown off-road kit

is a good move - it will help keep costs down. Most owners won't venture too far off tarmac and if they do, this standard Touareg is pretty good on the loose stuff anyway.

Interiors >>
At the suspension's regular height setting, you slide onto the seats; on the Special Off-Road height, you climb up into them. Either way you'll be stepping into an interior that isn't particularly exciting. Sure, there is that interesting information display between the dials and the part-wood, part-leather steering wheel is different, but overall, it's pretty much a VW parts-bin raid. What makes up for this lack flair is exceptional fit and finish. Everything feels well screwed together, the switches work with
the solidity you expect from a German car, and there is a genuine sense of luxury in here. We're not sure about the chocolate brown interiors though and there are a few bits that feel less rich than the rest - the black surround for the audio system for example.
Still, you will like the typically well thought-out cabin and the straightforward, uncluttered layout for the controls. It is rather well equipped as well - there's a superb Bluetooth system, fully powered seats with memory, a touchscreen audio system that doubles up as a screen for the reverse camera and dual-zone climate control system. It also gets nice touches like keyless entry and go, a massive panoramic sunroof, switches in the boot to lower the rear suspension for easy loading and a couple more that drop the rear seats to improve the already cavernous boot space. Surprisingly, there are no paddle-shifters and the steering reach/rake adjust is manual.
You won't complain about the front seats - they are supportive, comfortable and well bolstered. Even the rear seats have plenty of legroom thanks to the longer wheelbase, and there is enough thigh support to keep you happy on long-distance trips as well. The seats slide as well to trade legroom for increased luggage space. What's disappointing, however, is the absence of a third row of seats - the Touareg is strictly a five-seater. Boot space is good though, at 580 litres with the seats up and a furniture-swallowing 1642 litres with them folded flat.

Performance >>
With just 240bhp to haul its 2135kg kerb-weight around, you would expect the Touareg to be a modest performer at best. However, in cars like this, it's the torque that counts and this is something the 3.0-litre V6 diesel dishes out in spades. It makes 56kgm of the stuff and most of it is accessible from as low as 1500rpm. Pair this with the eight-speed gearbox and a reasonably chunky powerband and you have an SUV that performs like you expect it to.
When you step on the heavily sprung throttle pedal, there's an initial pause before the nose gently rises and the Touareg defies its weight. Performance is strong and acceleration doesn't let up until you are well past 150kph. Even then, 200kph is just a few seconds away and it feels entirely comfortable blitzing distances at this speed all day long. For the record, it hits 100kph in an impressive 7.47sec and will cross the 200kph mark in under 40sec.
Part of the reason it performs so well is because of the eight-speed gearbox. The first six gears are for thrust and the last two super-tall ones for cruising. This provides the Touareg with a delightfully flexible range of performance - it's long-geared and lazy when you want it to be, yet urgent enough when you ask for more acceleration. That the gearbox is pretty intuitive and responds reasonably well to throttle inputs only makes it all the better.
We've praised this V6 TDI's refinement in the past (it's similar to the one in almost every Audi sold in India), and its no different here. Apart from a really slight whine at low engine speeds, you will find nothing else to complain about. It even sounds very petrol-like from the outside, so the Taj valet won't think any less of you either.
We did have an issue with the brakes though - despite posting an impressive emergency stopping distance, the brakes felt too wooden and slightly tricky to modulate.

Ride and handling >>
On the move, the Touareg is agile in a way such a big, heavy vehicle has no right to be. The steering in particular is weighty and has little slack off-centre, so you can place the SUV precisely where you want to. There's loads of grip from the full-time four-wheel-drive system and the 255/55 R18 tyres. Even body roll is well contained. Sure, it's no BMW X5 when you're pelting down a mountain road, but it's still impressive.
The suspension offers two modes - Sport and Comfort - and surprisingly, it's the Sport mode that's more comfortable. When you're in Sport, the ride is impressively flat and the suspension is pliant enough to absorb almost everything you throw at it. It's only the sharp edges that result in thumps. Stick in comfort and even this trait disappears, the trade-off being more float and wallow at high speeds. Naturally, there's more body roll in this mode as well.
What's really impressive though is how tough the Touareg feels, the chassis stiffness shining through. It really feels like it can take battle-tank levels of pounding and this, needless to say, is a huge plus on our roads. In the confines of traffic, you do feel its girth, but you could say the same about a Q7, and it is not easy to judge where its extremities lie. You do end up relying on the front and rear park sensors and the reversing camera quite a lot.
Off road, the Touareg performs pretty well, the short overhangs and high ground clearance allowing you to get pretty far without damaging bodywork. We didn't get to test it in slush though.

Fuel Efficiency >>
Thanks to the torque and the eight-speed gearbox, you can expect a reasonable 7.5kpl in the city. The tall cruising gears also help it achieve a decent 11.8kpl on the highway. This and the simply humongous 100-litre fuel tank means you can comfortably go 1000km between fill ups. Volkswagen isn't offering the fuel -saving Bluemotion tech here tough.

Verdict >>
We tried really hard to find faults with the Touareg and apart from the five-seat limitation and slightly plain cabin, we really couldn't find any. The Touareg gets a lot of things right - the engine is strong and refined, it rides comfortably and the handling is much better than what you could expect from a two-tonne SUV. It is well-built, spacious, generously equipped and is generally a comfortable place to be in. It does everything you expect of a premium SUV and, more importantly, feels expensive. Its just that at the pre-Budget-estimated ₹60-65-lakh price, it is quite a big jump over the previous Touareg. Sure you get a lot more, but now VW's premium SUV is periliously close to some of the more prestigious brands.
Technical Specs
Fact File
What it costs
Ex-showroom (Delhi) ₹60-65 lakh (est)
Warranty NA
Engine
Fuel Diesel
Installation Front, longitudinal
Type 6-cyls in vee, 2967cc
Bore/stroke 83.0/91.4mm
Compression ratio 16.8:1
Valve gear 4 valves per cyl, DOHC
Power 240bhp at 3800rpm
Torque 56kgm at 1750-2750rpm
Power to weight 111.47bhp per tonne
Torque to weight 26kgm per tonne
Transmission
Type All-wheel drive
Gearbox 8-speed automatic
Dimensions
Length 4795mm
Width 1940mm
Height 1709mm
Wheel base 2893mm
Boot volume 580-1640 litres
Chassis & Body
Construction Five-door SUV, monocoque
Weight 2153kg
Tyres 255/55R18, Bridgestone Duelers
Spare SpaceSaver
Suspension
Front Independent, double wishbone, air springs
Rear Independent, air springs
Steering
Type Rack and pinion
Type of power assist Hydraulic
Turning circle 11.9m
Brakes
Front Ventilated discs
Rear Ventilated discs
Anti-lock Yes
Performance
0-20 0.63
0-40 1.71
0-60 3.23
0-80 5.21
0-100 7.47
0-120 10.44
0-140 14.26
0-160 19.26
0-180 26.66
0-200 38.67
Economy
City 7.5kpl
Highway 11.8kpl
Tank size 100litres
Range at a glance - Engines
Diesel 3.0 Diesel, 240bhp, ₹60-65 lakh (EST)