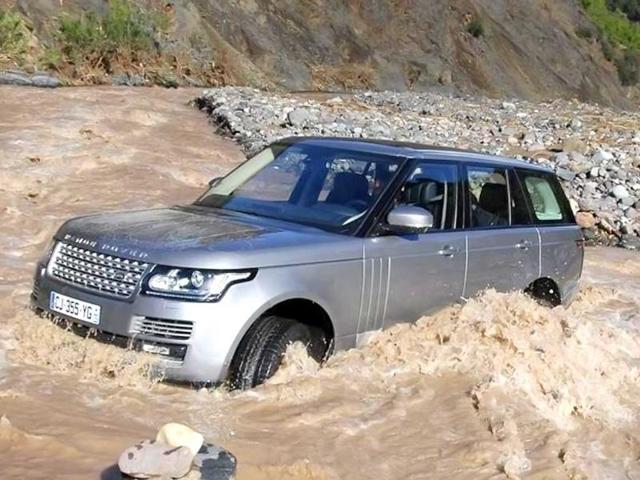 New Range Rover review, test drive
3 min read

.

Updated: 08 Jan 2013, 03:32 PM IST

The new 2013 Range Rover is lighter, more frugal, more spacious and significantly more refined. We give you our first impressions.

The new 2013 Range Rover is lighter, more frugal, more spacious and significantly more refined. We give you our first impressions.

Land Rover created a sensation when it launched the original Range Rover back in 1970.
Similar Cars
An interesting blend of hardcore offroad vehicle on the one hand and semi-luxury car on the other, it transformed SUVs forever. Now, four decades later, Land Rover hopes to do the same with the new Range Rover, a car that is much greener, even more luxurious, better to drive on road and all but unstoppable off it.
To make such a large leap forward, JLR started with almost a clean sheet and a radically different approach. The new Range Rover, or the L405 as it is called internally, is the first SUV in the world to use an aluminium chassis, which makes it much lighter than any of the competition. Some models in fact are a massive 200kg lighter, and this gives it a huge advantage as far as performance and efficiency are concerned. Other tech highlights include four tall air springs, a new eight-speed gearbox and an even better four-wheel-drive system.
We drove both the petrol and diesel V8 versions and we were very impressed, to put it mildly.
The new twin-turbo 4.4-litre diesel SDV8 (expanded from the previous 3.6 V8) now packs a generous 334bhp. It's attached to an eight-speed ZF automatic gearbox. Performance is effortless. You only really hear the engine as it starts, even the idle is subdued and there is a faint V8 "woofle". Mostly the car just glides as if propelled by a giant elastic band attached to the horizon, gear changes are rarely felt, and refinement on the move is almost as good as that of a petrol car. Squeeze harder on the gas and 0-100 takes a brisk 6.9sec, and the eight-speed gearbox allows you to access the best part of the diesel engine's powerband, even in everyday driving.
The petrol V8 has a supercharger strapped on for added performance. It gets the same eight-cylinder motor as before, turning out the same 503bhp but performance is much stronger as it is lighter and has an eight-speed gearbox too. Planting the accelerator pedal unleashes a kick of thrust that is unrelenting and scarcely believable and acceleration still feels strong after the car has crested 200kph.
There's a new-found sense of athleticism to the way in which it drives as well now. On the roads it feels tall but more stable than the previous model, with an even smoother ride and an even more relaxed and accurate steering. Stability in long high-speed corners is sensational and the uprated Brembo brakes give you enough confidence to carry speed into corners. On tighter corners you do feel the weight more and the active anti-roll bars need to work harder. What's not surprising is just how light and easy to drive it feels even in city traffic; the earlier car was something special as well.
Also not surprising is just how good it is offroad. You can raise the car right up on its air springs to 'walk' over the largest obstacles, active differentials keep sending torque where traction is best, and the low range only adds to the big SUV's offroad prowess.
It's also much more of a luxury car now. The levels of quality on the inside are right up there with luxury cars like the S-class. The grain of wood and leather is second to none, there's a mind-blowing Meridian sound system and, like any luxury car, it's stuffed to the brim with luxury features.
Expected to hit showrooms this year, the new Range Rover elevates the SUV to an all-new plane; its combination of luxury, performance and offroad ability quite unique. The best things in life, however, cost an arm and a leg, and this is the case with the new Range Rover too - it's expected to cost around ₹1.7 crore.
Fact File
Price Range (in lakhs)*
Ex-showroom price ₹1.7 crore (estimated, ex-showroom)
Engine
Fuel Diesel / Petrol
Installation Longitudnal
Type 4367cc V8 diesel / 4999cc V8 petrol
Power 334bhp at 3500rpm/ 375bhp at 6500rpm
Torque 61.1kgm at 1750-3000rpm /52.05kgm at 6500rpm
Transmission
Type Four wheel drive
Gearbox 8-speed auto
Dimensions
Length 4999mm
Width 2073mm
Height 1835mm
Wheel base 2922mm
Chassis & Body
Weight 2160kg (3.0 diesel) 2200kg (5.0 petrol)
Suspension
Front SLA suspension with twin lower links with air springs/ Adaptive Damping/ passive anti roll bar
Rear Integral link suspension with air springs/ Adaptive Damping/ passive anti roll bar
Brakes
Front 380mm ventilated discs
Rear 365mm ventilated discs